Romantic hotel Paris: Hotel Trianon Rive Gauche offers an idyllic setting for a romantic getaway. Located in the 6th arrondissement of Paris, just a few minutes' walk from the Latin Quarter and Luxembourg Gardens, our 4-star hotel promises an unforgettable experience. Comfortable rooms, private balconies and breathtaking views over Paris: our charming hotel has everything to seduce you.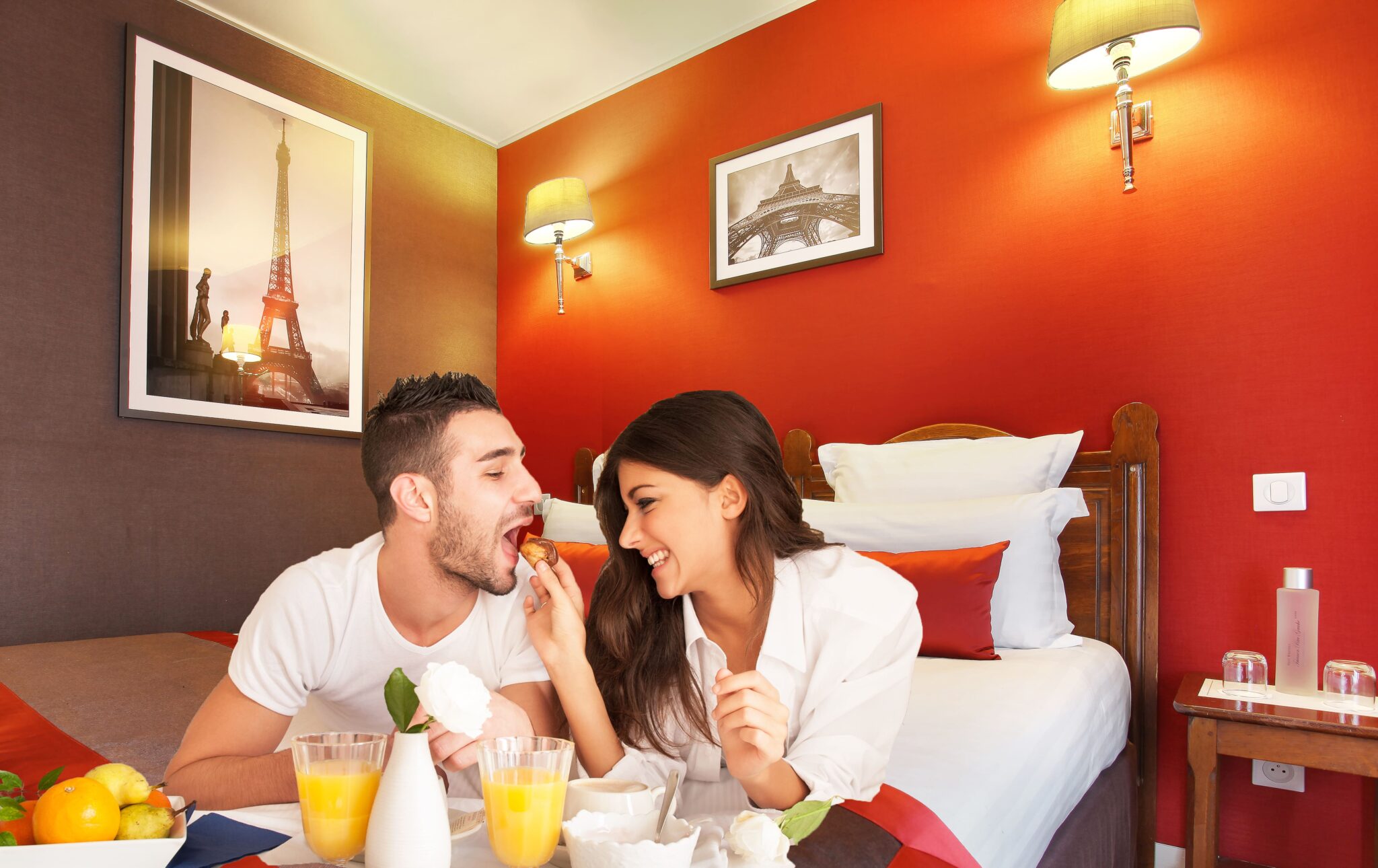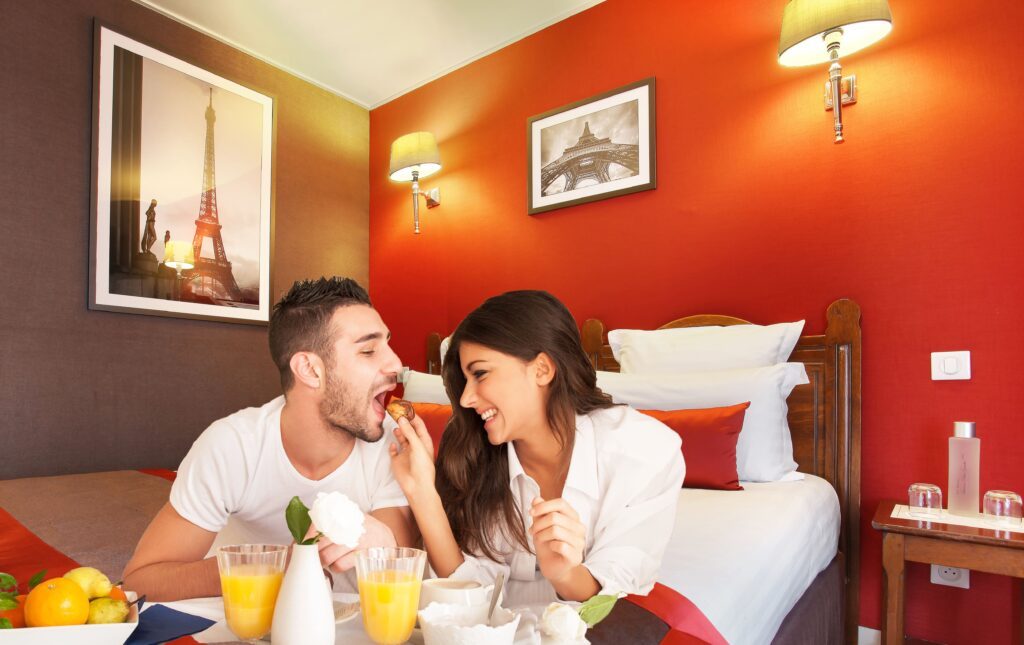 Our beautiful 4-star hotel offers many advantages that will make your stay in Paris unique:
✔️Hotel with ideal location
✔️Rooms with breathtaking views of Paris
✔️Delicious breakfast
✔️A team devoted to your well-being
✔️A stay committed to sustainable tourism
A romantic room in Paris
For a romantic stay in Paris, choose a beautiful address in a historic district. The romantic atmosphere of the 5th and 6th arrondissements is ideal for a romantic getaway away from the hustle and bustle of Paris. The hushed ambience of our Parisian hotel rooms promises a romantic experience. To make your stay unforgettable, we offer a range of packages for booking. Our romantic pack includes 1 Rose, mini macaroons and 1/2 bottle of champagne. You can enjoy your pack in the comfort of your room, or, for the lucky ones, enjoy a glass of champagne and mini macaroons on your balcony. It's the perfect surprise for your loved one!
Superior room with Eiffel Tower view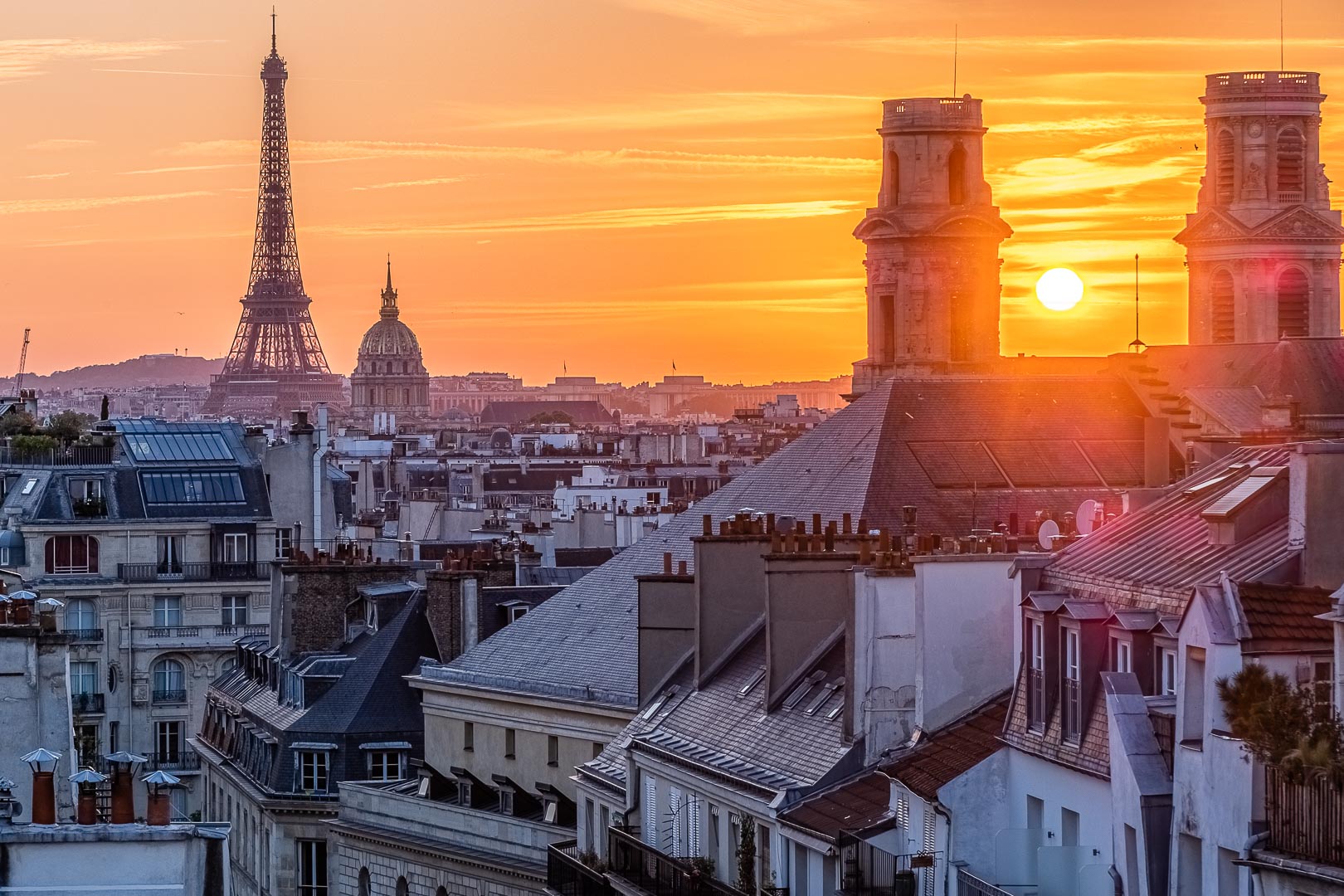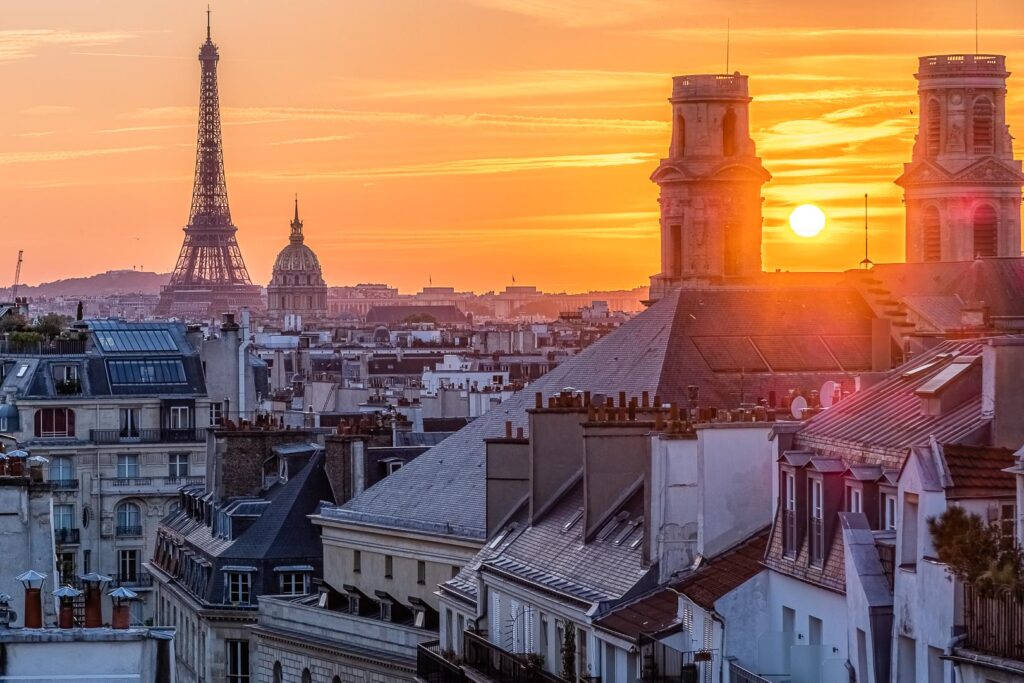 Our unique hotel welcomes you to its magnificent Superior View room. These rooms offer breathtaking views of Paris. You can admire the beauty of the Parisian skyline from your room with a view of the Eiffel Tower or the Pantheon. Want to make your stay even more exceptional? Book a special welcome with a bed of petals and a bottle of champagne to enjoy a glass of champagne with your partner! A coffee machine is also available for a relaxing break at any time of day.
Superior room with balcony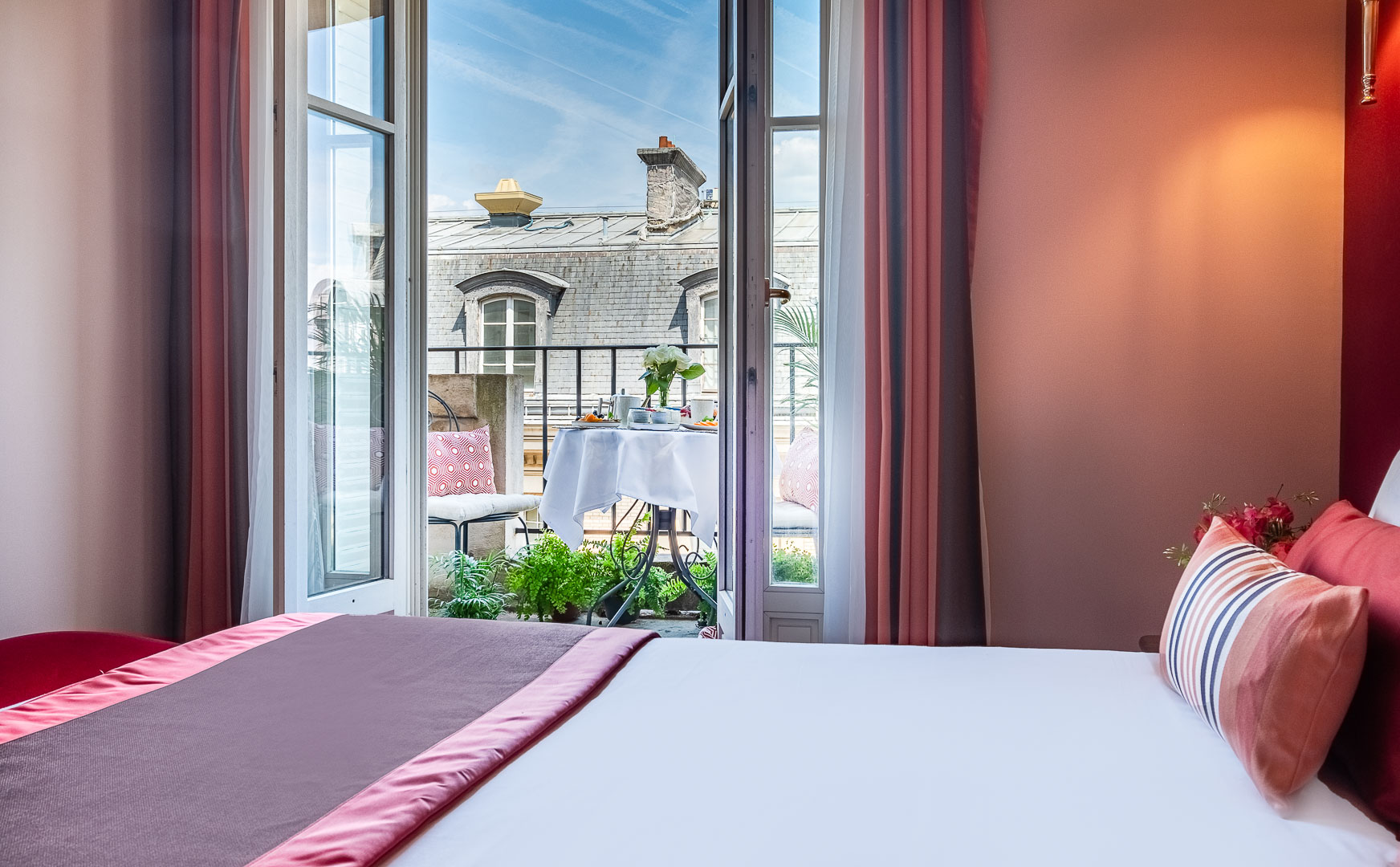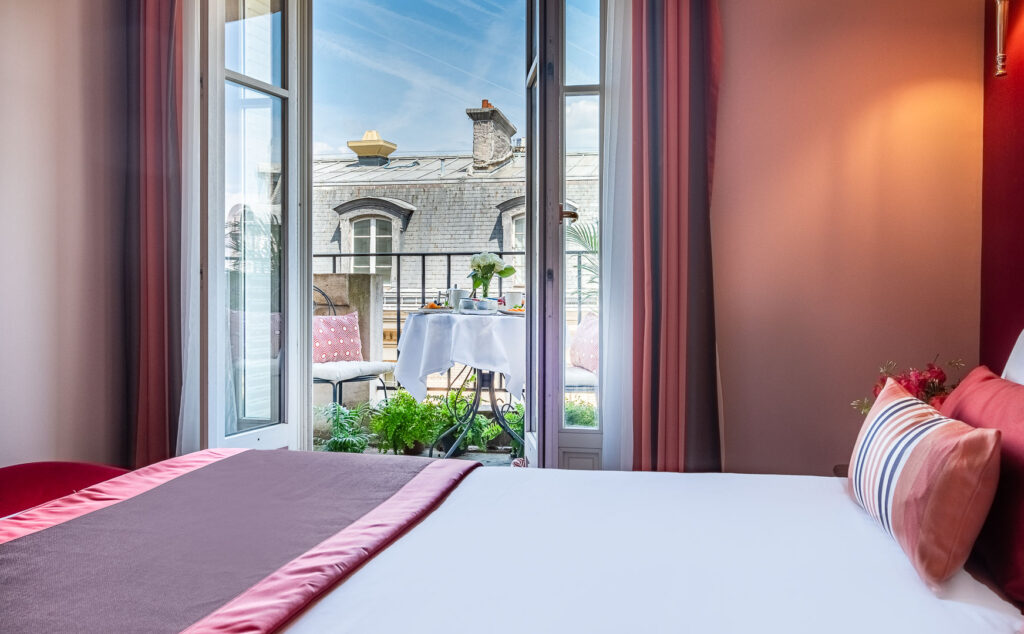 For your next romantic getaway, choose our Superior room with balcony and enjoy a private balcony and coffee machine. Enjoy our delicious breakfast or a sparkling glass of champagne! Bathroom with shower or bathtub, our team will do its best to meet all your expectations concerning your private bathroom. What's more, we offer a wide range of in-room services, including a glass of champagne, rose petals and macaroons. Our 4-star Paris hotel also serves a wine list and a delicious cocktail list, which you can enjoy in the cosy ambience of our lounge or in our elegant rooms.
How much does a night in a romantic hotel Paris cost?
For a romantic stay in one of the best hotels, we recommend choosing a 4* boutique hotel in a charming Parisian neighborhood. You can choose from a wide range of accommodation options, from boutique hotels to large chains, from 1-star to 4-star… The most important thing is to find a 4-star hotel that matches your budget and expectations.
The staff at the 4-star Hotel Trianon Rive Gauche look forward to welcoming their guests with a charming welcome and offering them a stay in the truly romantic setting of our 4-star luxury hotel.
Our rooms provide the perfect balance between classic and contemporary: bathroom with shower or bathroom with bath, room with king-size bed or queen-size bed, room with balcony, room with view of the Eiffel Tower or view of the Pantheon… There's something for everyone!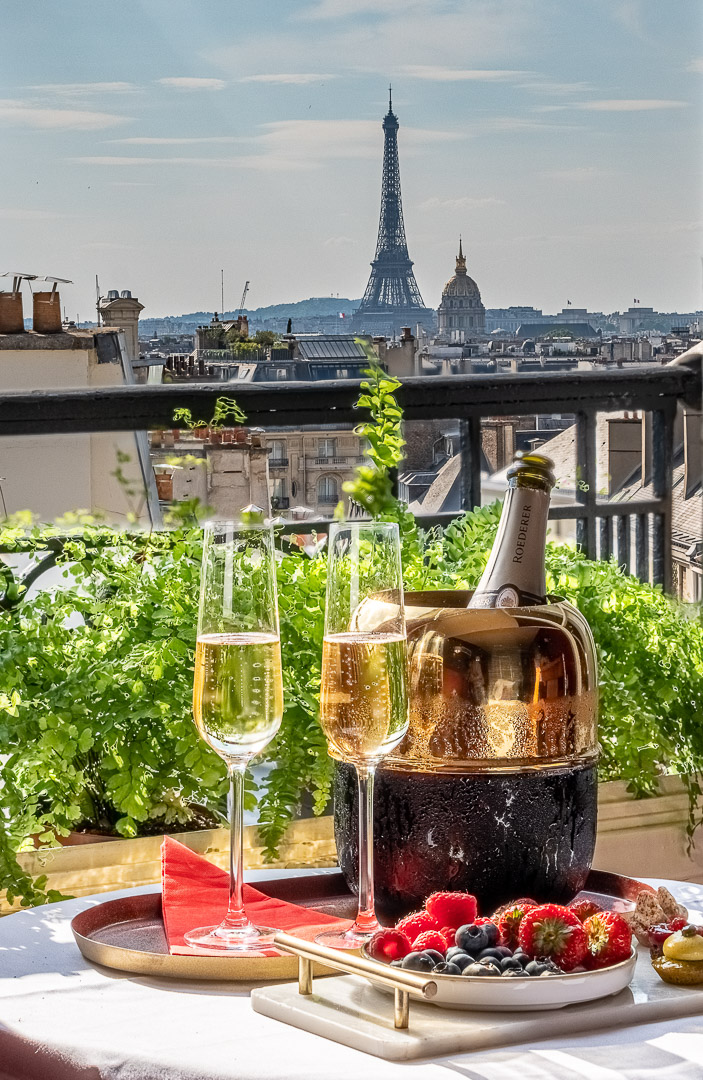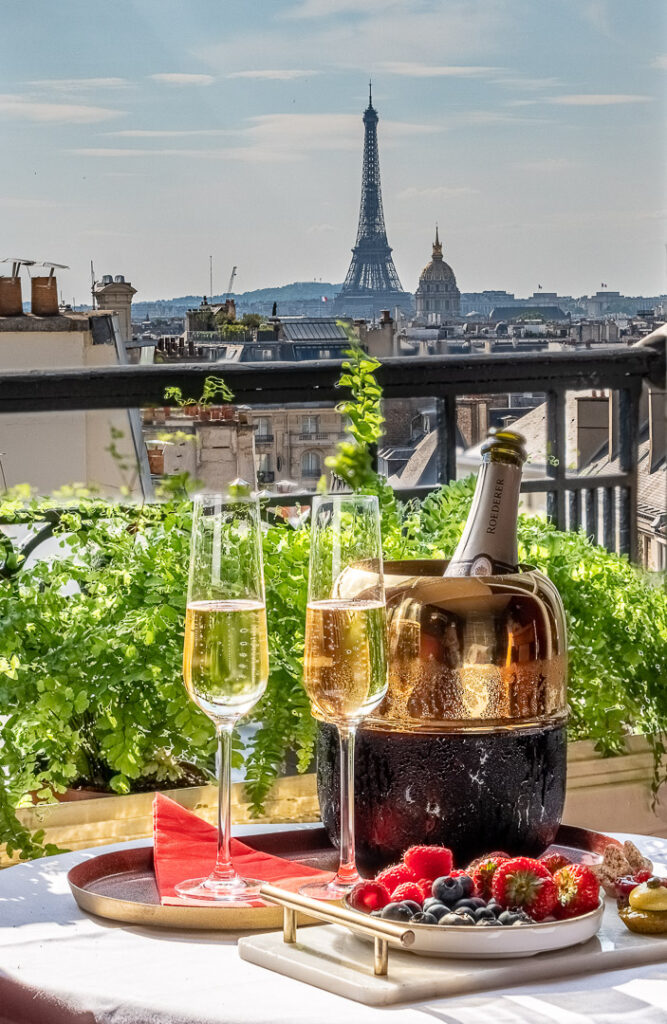 Our delicious breakfast is served as a hot and cold buffet in our lounge, or as a continental breakfast in your room for a lighter atmosphere, every day from 7:00am to 11:00am. All our rooms come with a welcome tray, and some have an in-room coffee machine.
Room service, bathrobe and slippers, bottle of champagne, macaroons, roses and balloons: our 4-star hotel is atrue nest of comfort. We do everything we can to surprise our guests and make their stay unforgettable!
Some romantic ideas and suggestions
Looking for a great address? The 4-star Hotel Trianon Rive Gauche is ideally located in central Paris. Just a few minutes' walk from the Luxembourg Gardens, the Pantheon, Rue Mouffetard and a host of delicious restaurants: you'll be able to sample the flavors of French cuisine. What's more, our 4-star hotel is within easy reach of Paris train stations (Gare du Nord, Gare de l'Est, Gare de Lyon). It's also easy to get around Paris and visit the capital's finest attractions: Musée d'Orsay, Arc de Triomphe, Galeries Lafayette, Musée du Louvre, Musée Grévin, Jardin des Tuileries, Cour des Vosges…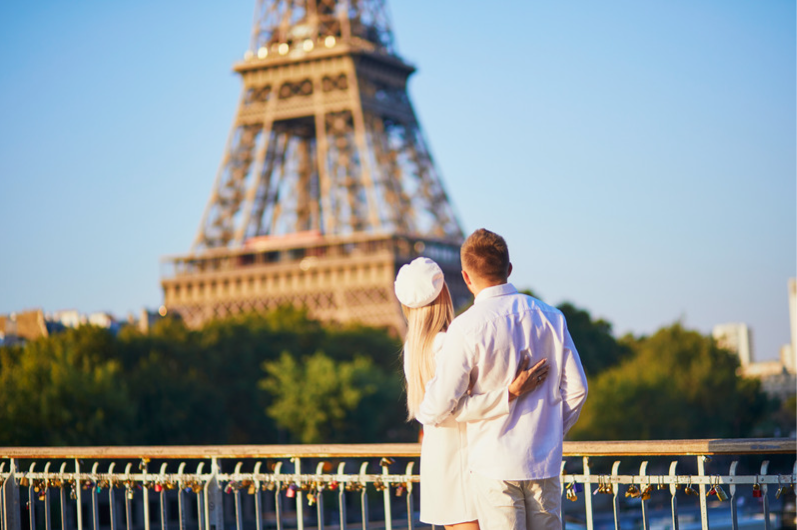 Best activities for a romantic stay in Paris
The ideal location of our 4-star hotel will enable you to discover the authentic Saint Germain des Prés district: a Parisian atmosphere where you'll find the best 4-star hotels and the prettiest Haussmann building facades! Our concierge will suggest the secret address not to be missed near our hotel left bank.
The best restaurants in Paris, the trendiest cocktail bars to enjoy delicious cocktails: all the best activities are just a few minutes' walk from our 4-star hotel. You can book your Paris outings before your stay on our City Guide page, or during your stay with the help of our reception staff. Our receptionists would be delighted to guide you in your search for the perfect outing.
A chef's dinner on the Seine
Looking for an unforgettable dinner on the Seine? Our concierge team is on hand to organize the most romantic meal of your life with you. Whether it's lunch, dinner, brunch or a wine tasting, we'll make it happen. What could be more romantic than enjoying a glass of champagne with your loved one on the Seine in front of the sparkling Eiffel Tower? It's a not-to-be-missed moment that will make your stay in Paris magical.
Guided tours
If you like the simple things, like strolling the beautiful streets of Paris hand in hand, you'll love our guided tours of Paris. The guide will take you, for example, to the beautiful literary district of Saint Germain des Prés, the romantic Montmartre, the sultry Pigalle or the trendy Marais. It's up to you to choose according to your passions and interests. In any case, Paris remains the most romantic city in the world! It's the ideal setting for a romantic stroll, whatever the season.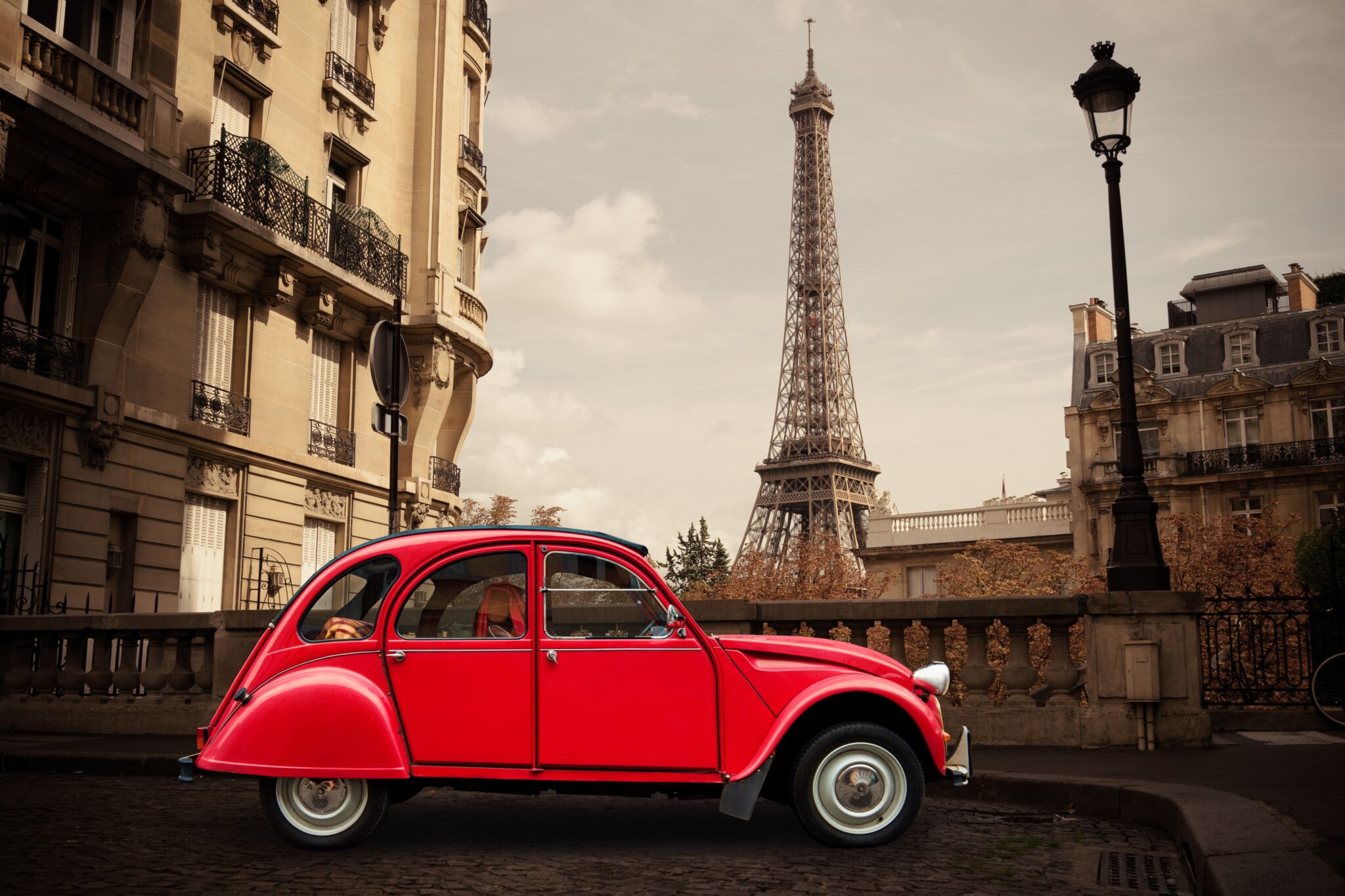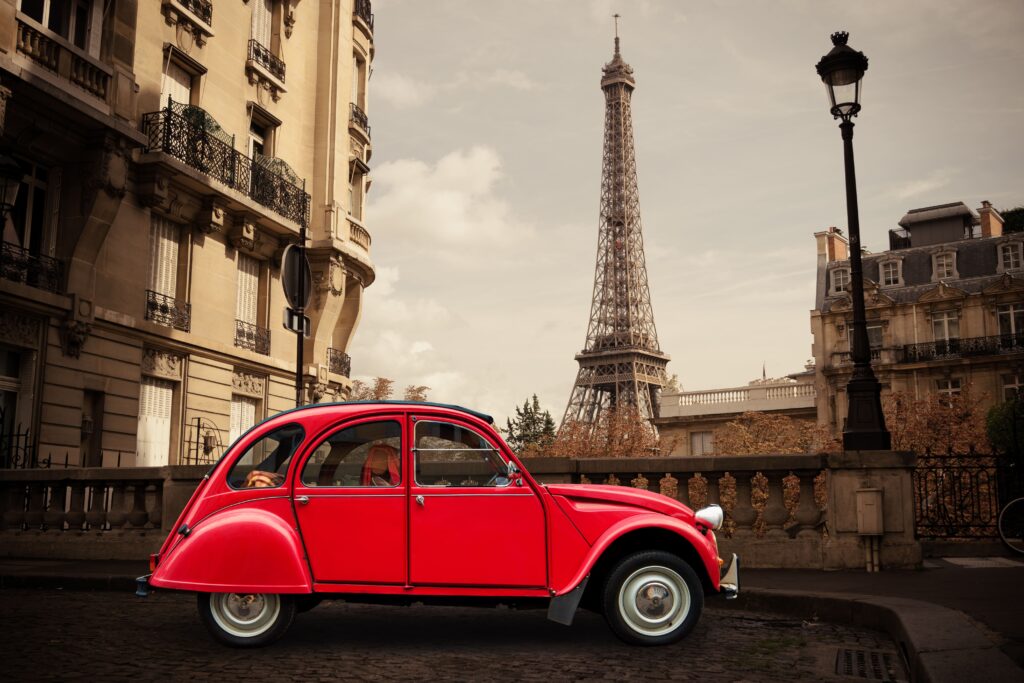 Parisitour 2CV
Would you like to visit Paris from the comfort of your own little cocoon? 2CV tours are for you. Your chauffeur will pick you up at the hotel and take you on a tour of Paris by car for 1 to 3 hours, depending on your wishes. This little jewel of an automobile allows you to see the whole of Paris in just a few hours, and ensures you have a great time in the company of a guide.
Pastry classes
For a wonderful experience, we suggest you take a pastry-making class! Contact our reception team directly to sign up for one of our workshops. You'll learn how to make delicious macaroons with your other half, and enjoy an incredible gourmet experience for two. You'll take home a unique souvenir of Paris: a macaroon recipe you can reproduce at home over and over again! Who doesn't dream of taking a little piece of Paris home with them? You will be able to relive the trip with every bite!
Paradis Latin
For a colorful evening, book your dinner at the Paris Latin cabaret. Located just a few minutes' walk from our 4-star hotel, this luminous establishment is anything but a discreet façade. It's the oldest cabaret in Paris! Nestled in the heart of the Latin Quarter since the 19th century, the Paradis Latin offers exceptional burlesque shows. Poetic, funny and sensual, it's a not-to-be-missed show that you can admire while enjoying a delicious dinner concocted by a Michelin-starred chef.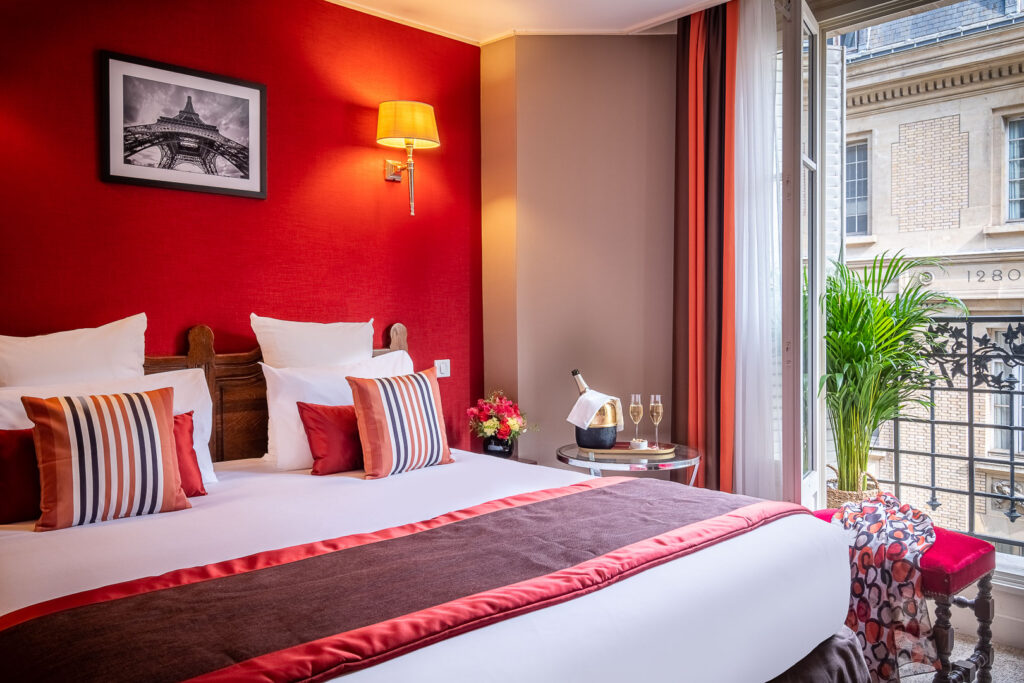 For a dream stay in Paris, choose Hotel Trianon Rive Gauche! Our ideal location, our rooms overlooking the Eiffel Tower and our dedicated services make our romantic hotel one of the best 4-star hotels in Paris. Paris is the most romantic city in the world, so make the most of every inch of it with your partner for moments you'll never forget.
To make sure you don't miss out, follow us on Instagram and Facebook.