Business travel hotel in Paris: the Hotel Trianon Rive Gauche is your ideal choice
If you're a business traveler seeking the perfect place for your stay in Paris, Hôtel Trianon Rive Gauche is your ideal choice. Our dedicated service for business trips is designed to streamline every aspect of your business journey. Whether you're planning an incentive trip for your team, corporate seminars, business conventions, or simply require a meeting or conference room, our hotel offers tailor-made solutions to meet your specific requirements.
When you select our hotel for your business travel, you have access to a user-friendly booking platform, allowing you to make reservations with just a few clicks. You can choose the type of accommodation that best suits your business stay and even have the option to customize your booking with high-quality services, such as full-board if you prefer to dine on-site. The reservation process is as straightforward as child's play, designed to make your stay even more enjoyable and hassle-free.
Comfort and Budget for Optimal Business Travel
Comfort is an essential aspect for professionals on the move. At Hôtel Trianon Rive Gauche, we have taken measures to ensure that your business stay lives up to your expectations. Our elegant rooms are designed to provide a conducive environment for relaxation.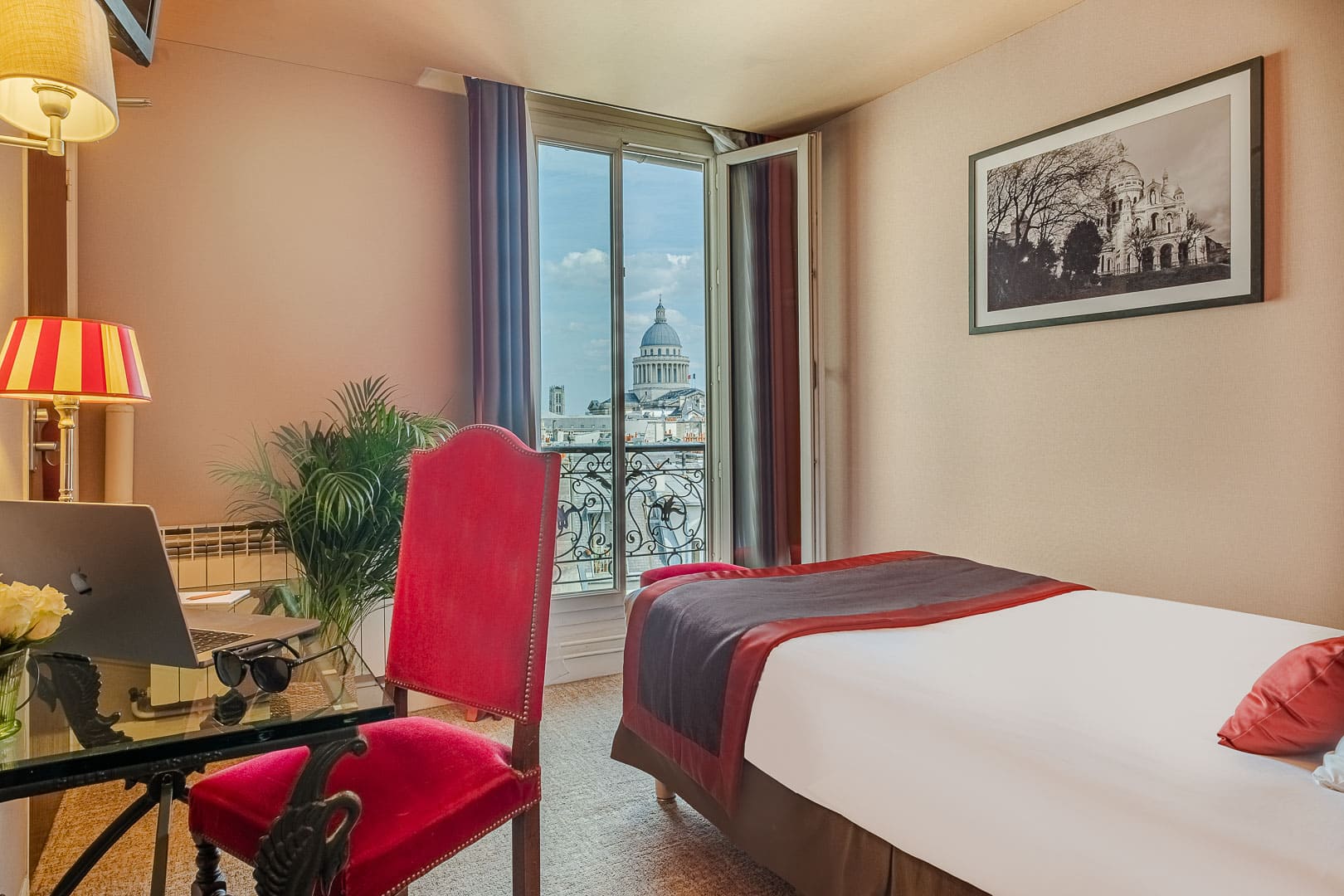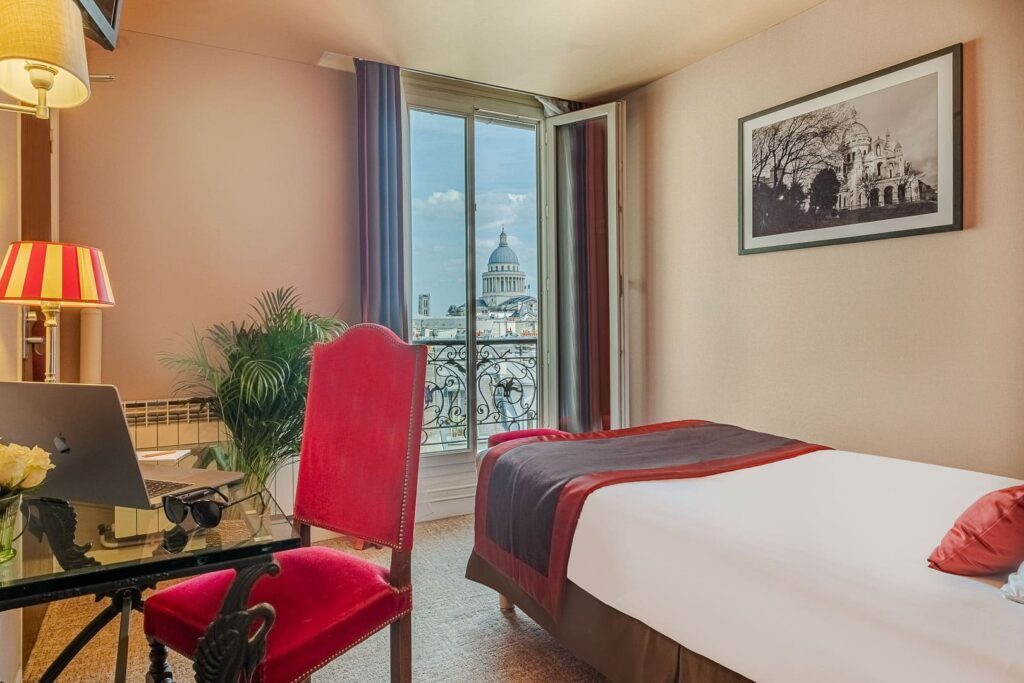 When you choose to stay with us, you can expect quality rooms with comfortable bedding for peaceful hotel nights. A good night's sleep is essential to ensure you're at your best during your business trip. That's why we strive to provide you with an optimal comfort experience.
We also understand the importance of efficiently managing your travel budget. At Hôtel Trianon Rive Gauche, we go the extra mile to offer exceptional value for your hotel nights, ensuring that your business trip to Paris is as cost-effective as possible.
Affordable Price Range: We take pride in offering an affordable price range for business travelers. We understand that every company operates within a budget, which is why we provide competitive rates, allowing you to enjoy an excellent stay at our hotel without exceeding your budget.
Centralized Payment: Simplify your business travel management with our centralized payment option. You can consolidate payments for your hotel reservations and other business expenses, making accounting and expense report management a breeze.
Expense Report Management: Our team is here to assist you in creating precise and comprehensive expense reports. Whether you require detailed invoices for your business expenditures or a report of all transactions during your stay, we are ready to provide the necessary documents. You'll greatly appreciate the ease of processing professional expense reimbursements.
Meal Baskets: For added convenience, we offer meal baskets during your stay. Whether you have specific dietary preferences or restrictions, we can prepare meals tailored to your needs.
Meeting Rooms and Bathrooms: Vital Amenities for a Business Travel Hotel
At Hotel Trianon Rive Gauche, we recognize the paramount importance of well-equipped meeting spaces for our corporate guests. Whether you're planning meetings, seminars, or corporate conventions, we have meticulously designed our meeting rooms to provide a functional and fully-equipped environment that perfectly suits your business needs.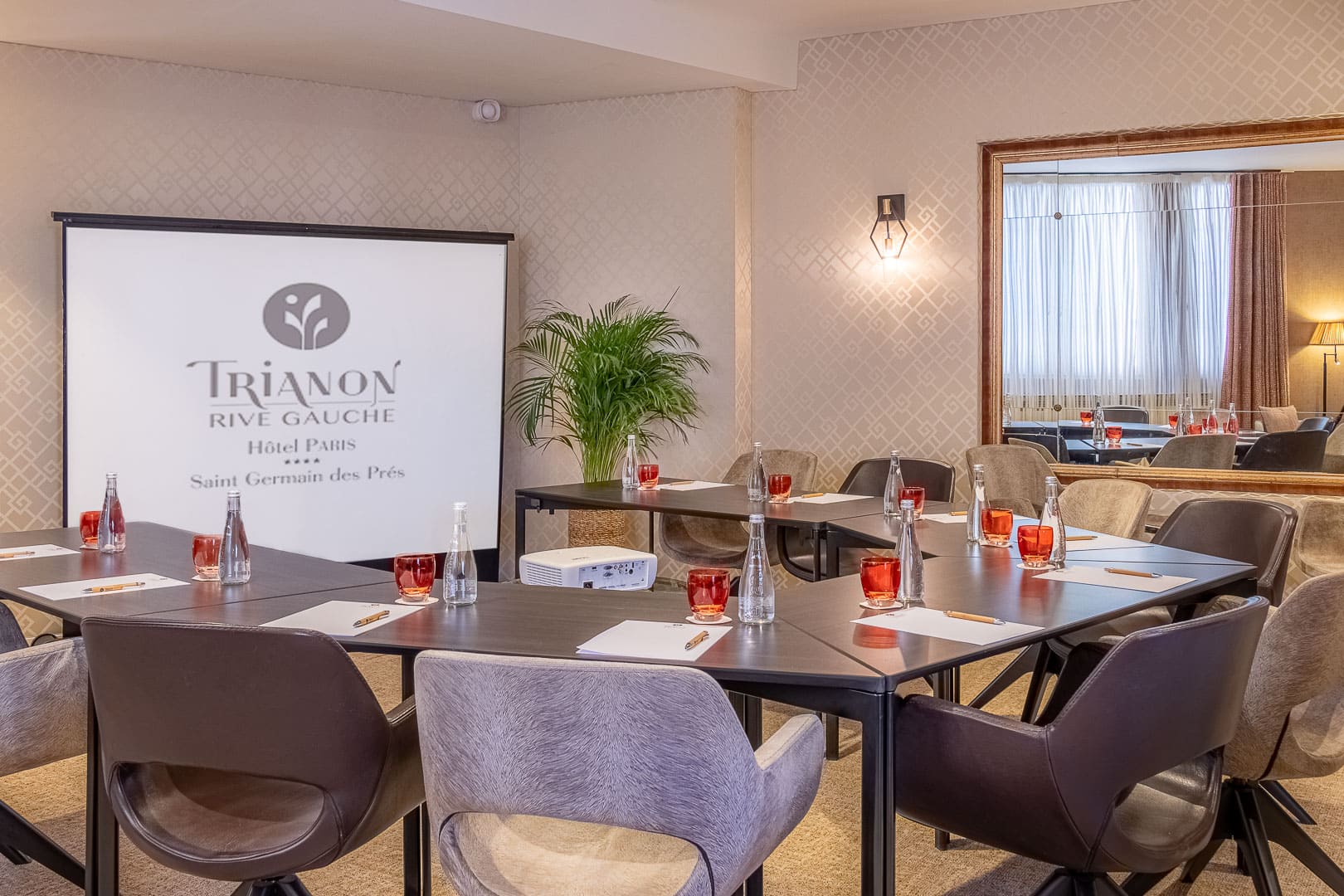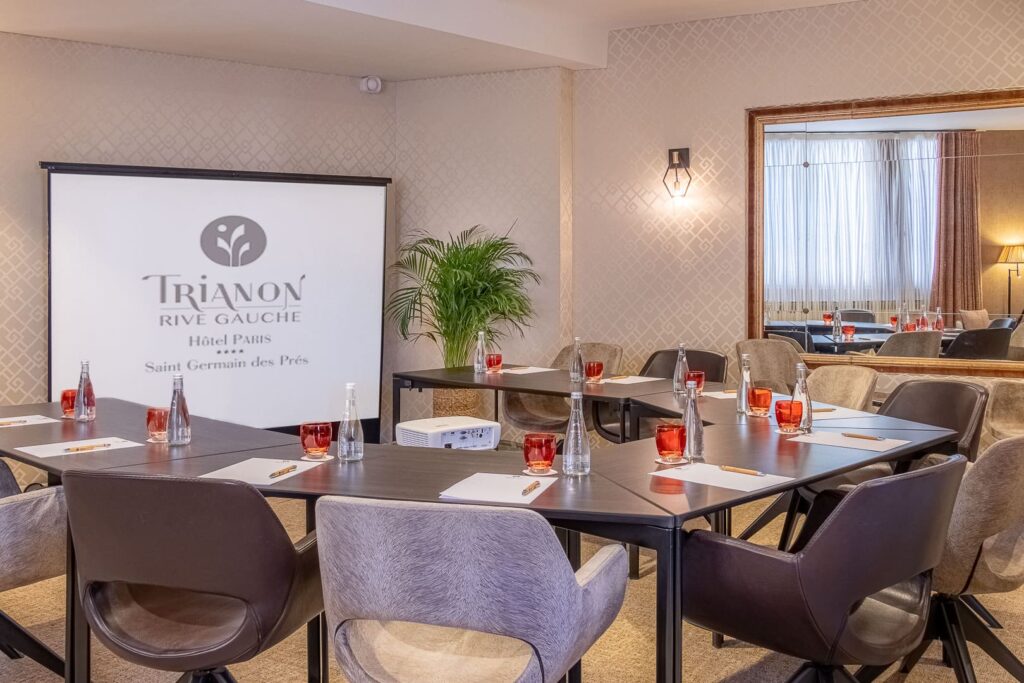 Our meeting rooms are equipped with the necessary facilities to ensure the success of your corporate events. Whether you need audiovisual equipment, fast Wi-Fi connection, or catering services for your participants, our team is here to support you at every step. We understand the importance of every detail in the success of your events, which is why we provide a quality service to meet your specific needs.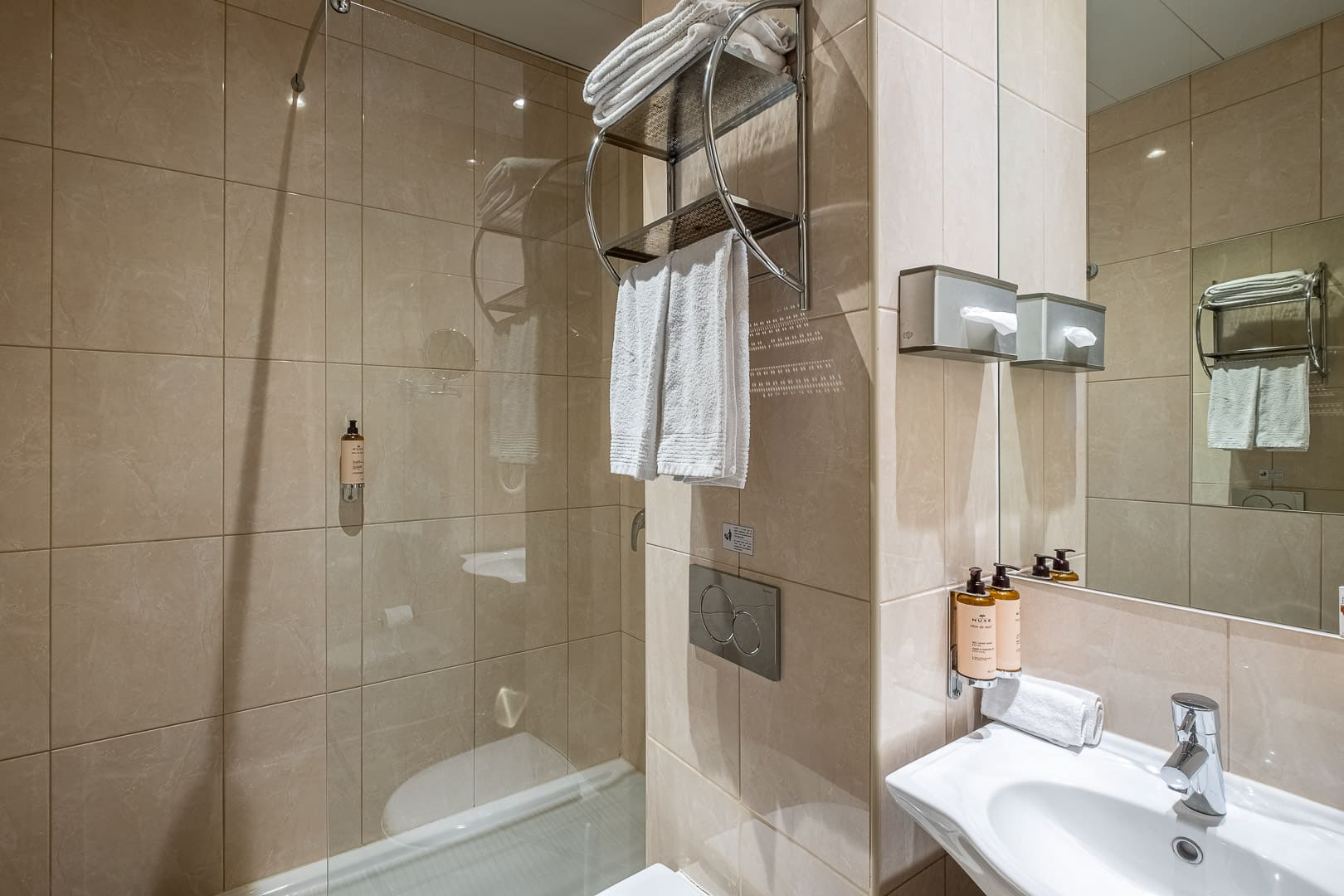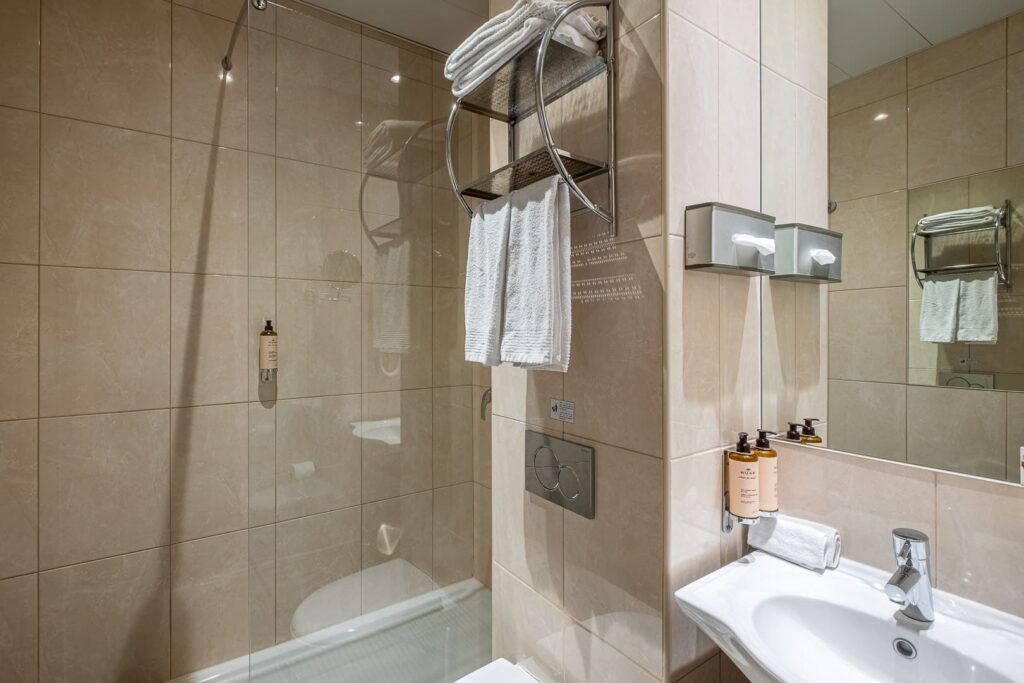 After a long and intense workday, our modern bathrooms are the ideal place for you to relax and rejuvenate. Whether you prefer a refreshing shower or a relaxing bath, our bathrooms are designed for a moment of relaxation.
Strategic location for optimal time efficiency in a Business Travel
In the heart of Paris, on the left bank of Paris, in the heart of the legendary Latin Quarter and Saint Germain des Pres, in one of Paris's prettiest arrondissements, our hotel's strategic location provides you with easy access to the city's main attractions, whether you're here for leisure or managing your business trip efficiently. Furthermore, our proximity to Parisian train stations allows you to make the most of your valuable time. When you choose the Hôtel Trianon Rive Gauche, you can rest assured that you won't waste a moment of your professional stay.
Our strategic location means you can quickly reach the Cathedral of Notre-Dame de Paris, the Louvre Museum, the Luxembourg Gardens, the Tuileries Gardens, the Centre Pompidou, the Opéra Garnier, and the Sacré-Cœur. Whether you have business meetings in various districts of Paris or you want to explore the city after your meetings, our hotel is ideally situated to meet your needs.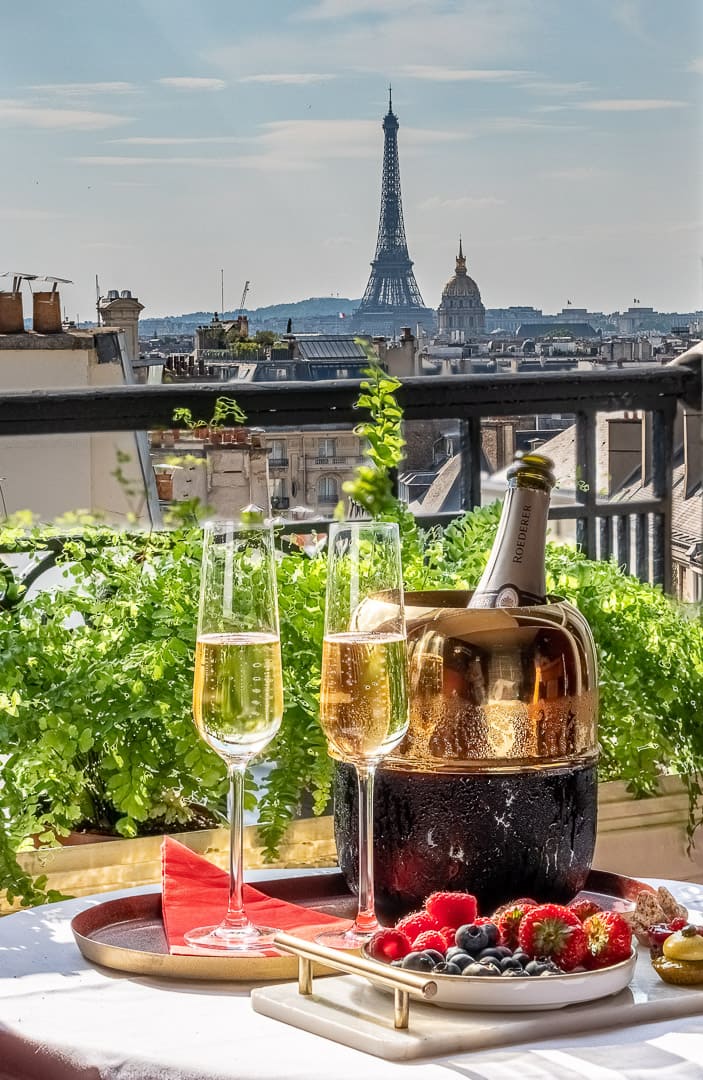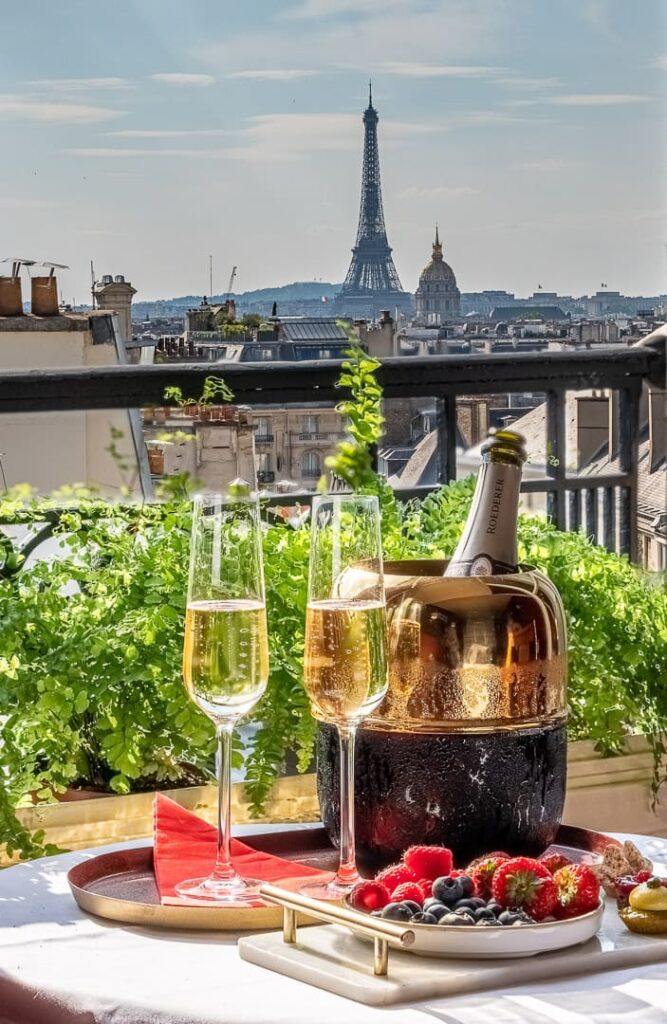 Reservation Management and Service Quality
Our reservation management is designed to simplify your experience, providing you with the best possible experience during your business trip. Our dedicated staff is available 24/7 to cater to all your requests.
When you choose Hotel Trianon Rive Gauche for your business trip, you opt for an establishment that understands the needs of business professionals, both in terms of comfort and financial management. We take pride in being part of the best hotel chains for business travelers, offering excellent value for money and simplified management of professional expenses. Make your business stay a success on all levels by selecting Hotel Trianon Rive Gauche as your accommodation in Paris.