Hotel Left Bank : as its name suggests, Hotel Trianon Rive Gauche is located on the left bank of Paris, in the heart of the legendary Latin Quarter and Saint Germain des Pres, in one of Paris's prettiest arrondissements. Our 4-star boutique hotel enjoys an ideal location in a charming district full of history, art, culture and gastronomy. What's more, the 5th and 6th arrondissements are ideally located in Paris center, giving you direct access to the Luxembourg Gardens and Notre-Dame Cathedral, which are just a few minutes' walk from our elegant hotel.
Hotel Left Bank Paris : the ideal location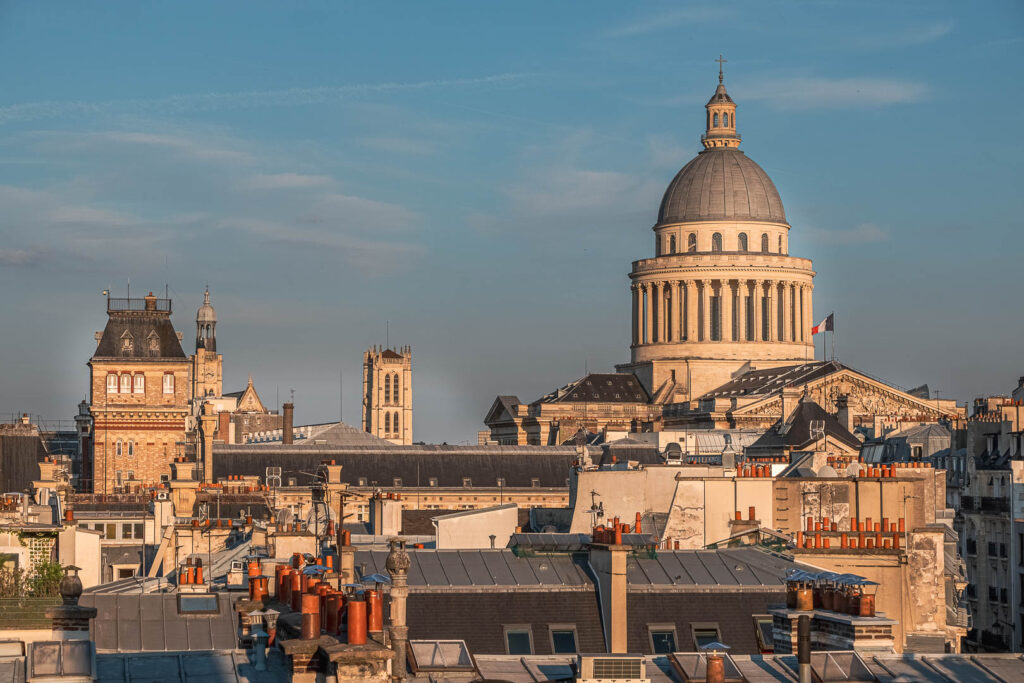 Staying in a hotel on the Left Bank of Paris like the Hotel Trianon Rive Gauche is ideal for a trip with Parisian charm. The 5th and 6th arrondissements are packed with must-see places such as the Jardin des Plantes, the Sorbonne, the Panthéon, the Latin Quarter, Notre-Dame de Paris, Boulevard Raspail, art galleries and the famous Café de Flore. In your opinion, which is the most beautiful arrondissement in Paris?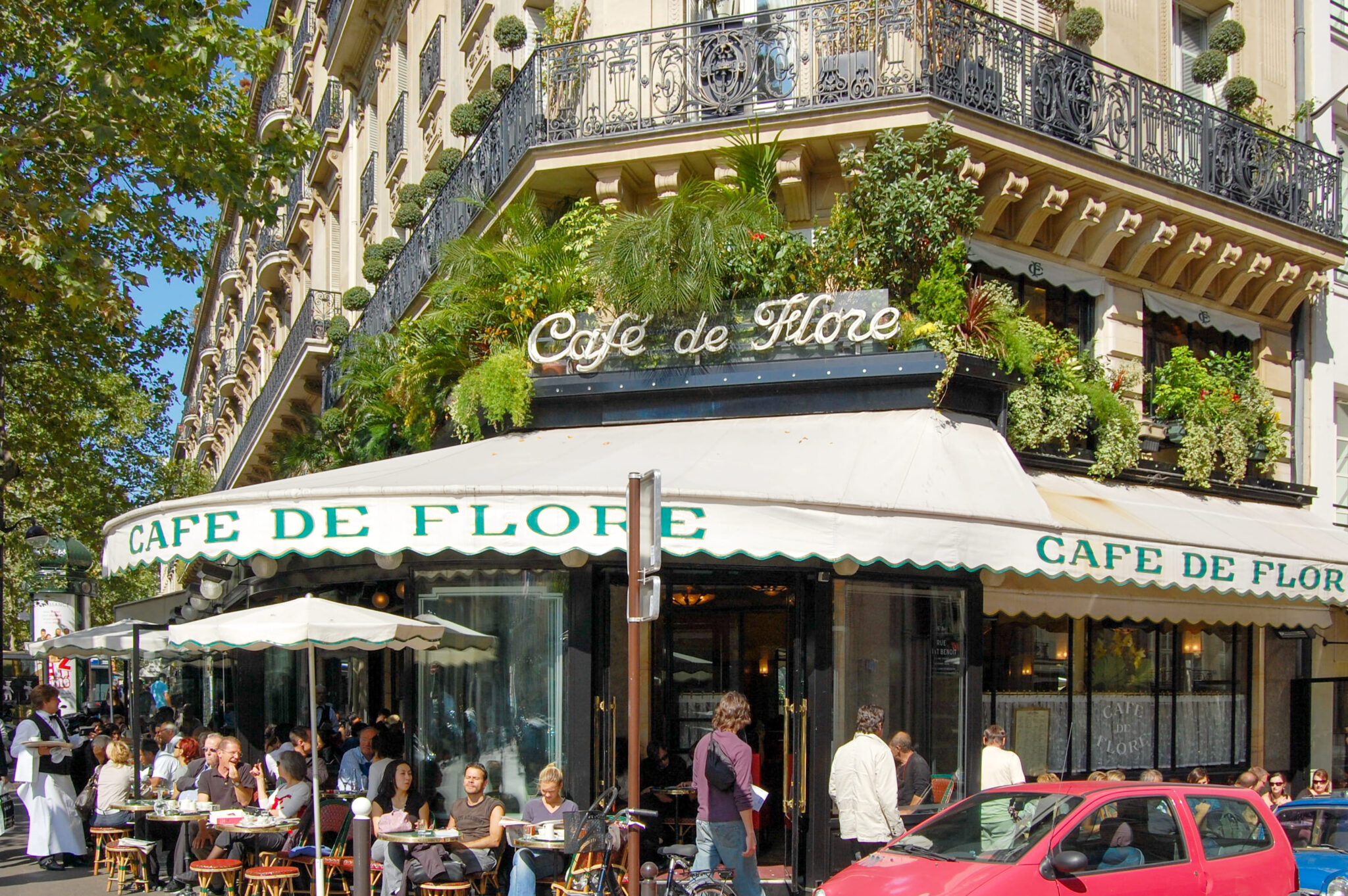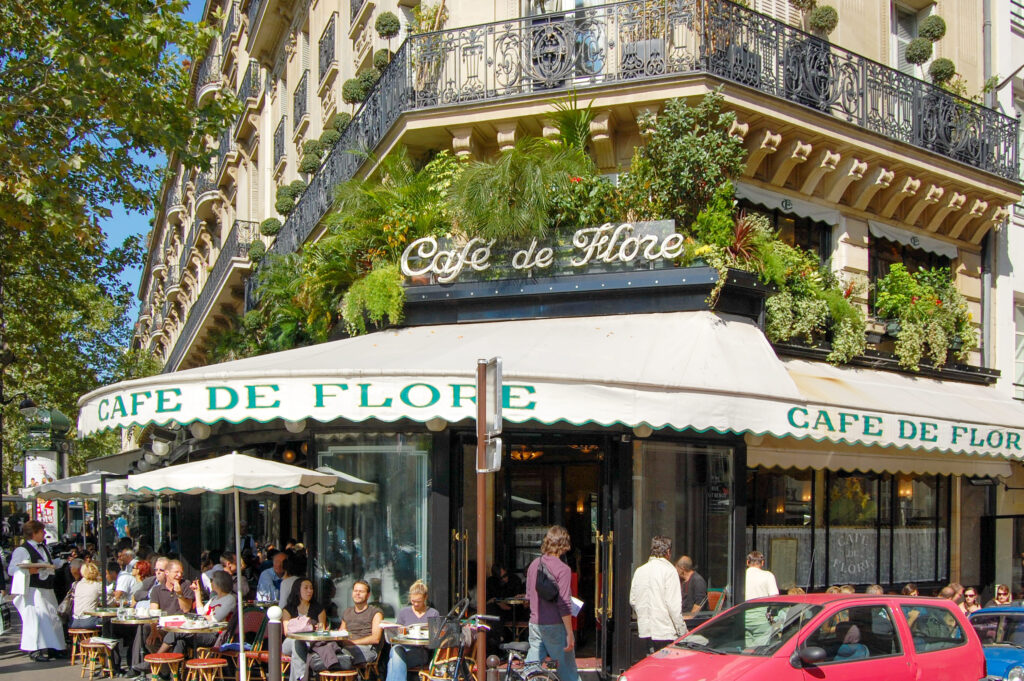 Thanks to the location of Hotel Trianon Rive Gauche you can get around Paris quickly and easily. Several metro stations are just a few minutes' walk from our hotel. Odéon metro station is a 5-minute walk from our hotel and Cluny-la-Sorbonne station is 7 minutes away. Paris CDG Airport can be reached directly from our hotel by RER or taxi in 50 minutes. There is also an underground car park 300 metres from the hotel: Parking Indigo Paris Soufflot-Panthéon. This is a public car park open to reservation. You'll be able to get around easily and access the whole of Paris in just a few minutes by car.
4-star service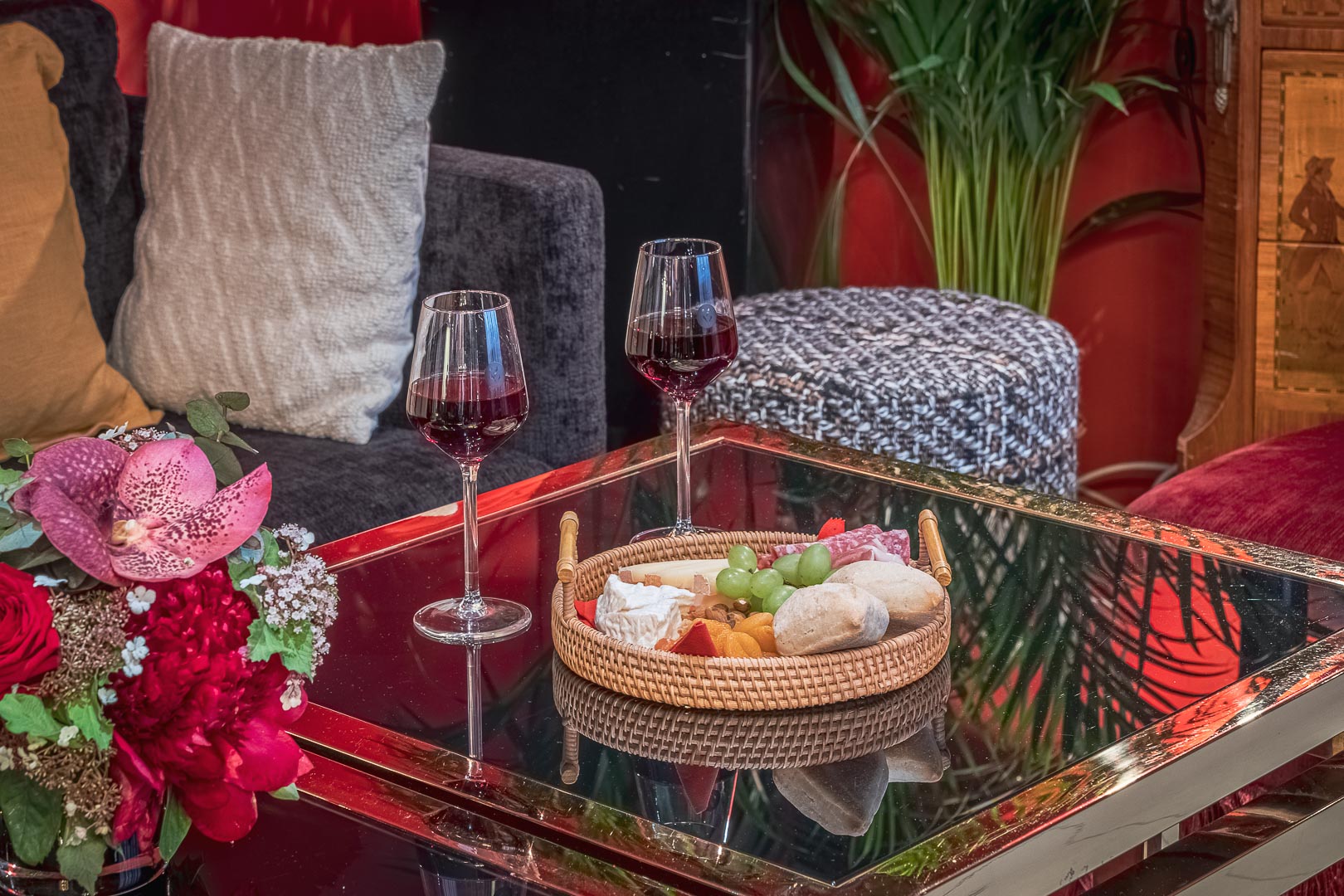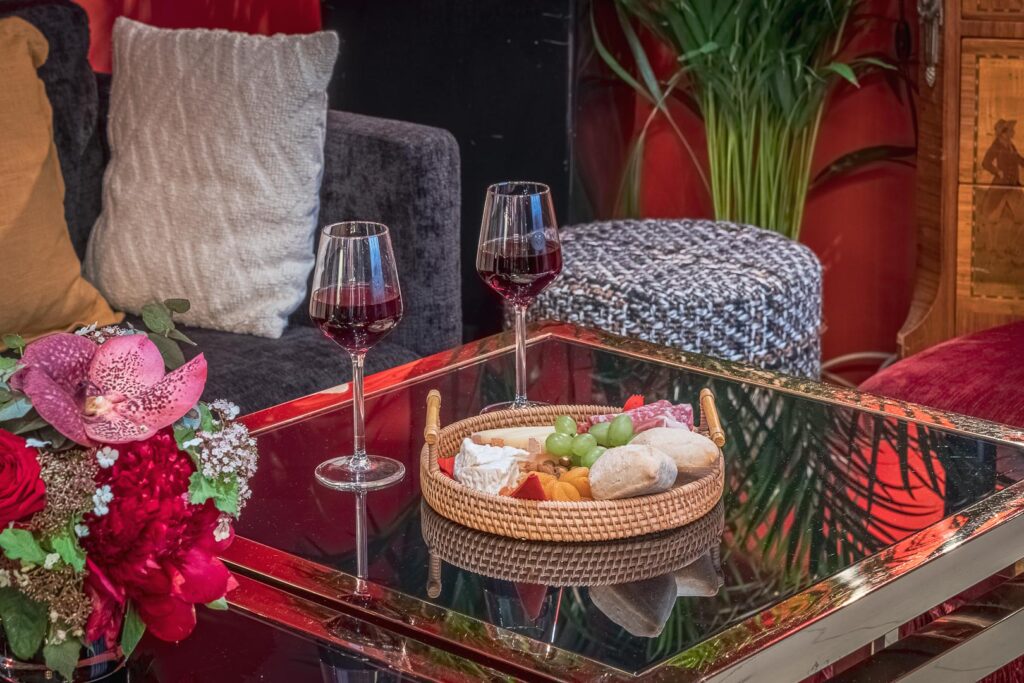 Hotel Trianon Rive Gauche is a family-run boutique hotel, the ideal address for a stay with Parisian charm. Our priority is to make your stay exceptional: we offer a warm welcome thanks to our multilingual staff. Our concierge service is ready to help you organise your visits and restaurant or museum bookings, and will do its best to find the Parisian address of your dreams for dinner. Our excellent welcome is complemented by an in-room courtesy tray, daily maid service and 24-hour room service.
Need an extra cleaning service such as laundry? We'll take care of everything at no extra charge. Our friendly staff are on hand at all arrival times: the arrival service is also available 24 hours a day.
Modern and comfortable rooms with chic Parisian look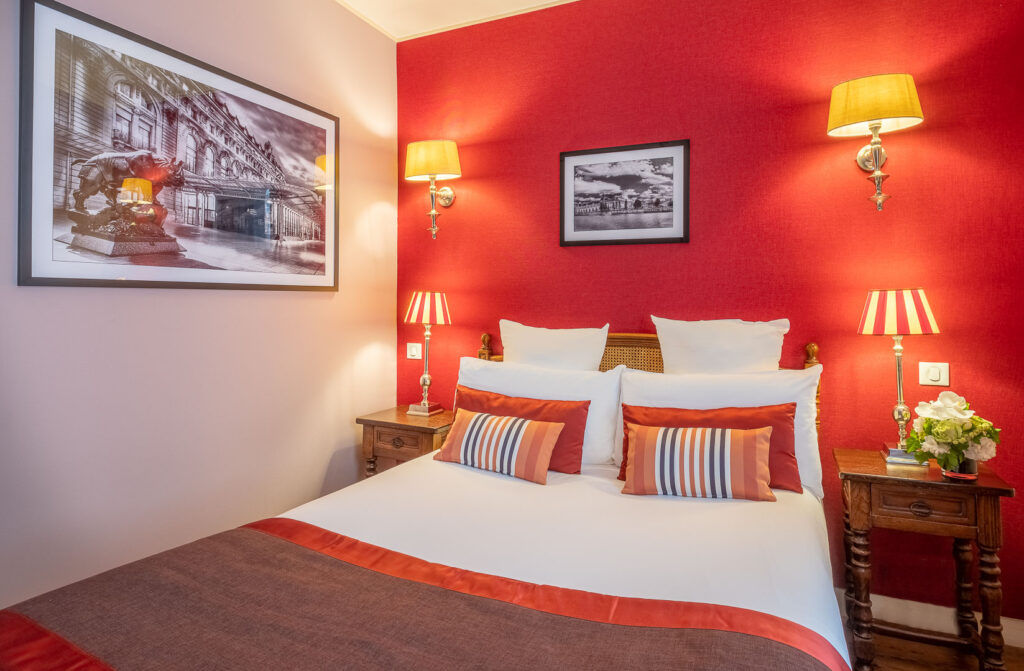 Our rooms: rooms with a view of the street, our inner courtyard or the Eiffel Tower, share your desires with us! Internet connection, complimentary minibar, flat-screen TV, private bathroom, soundproofed rooms, free toiletries… we've thought of everything to make your stay as comfortable as possible. We also have family rooms like our communicating rooms and their private bathrooms for an unforgettable family stay in Paris.
As soon as you wake up, come and enjoy our delicious breakfast in our comfortable Trianon lounge, or in the privacy of your room. Breakfast is served as a hot and cold buffet in the Trianon lounge, or as a continental breakfast in your room, every day from 7am to 11am. Express breakfast, takeaway only, is served from 5:00 to 12:00.
Continental breakfast includes : Hot and cold drinks (tea, coffee or chocolate, 100% pure orange juice), baguette, croissant, butter and jam, yoghurt and fresh fruit.
The buffet breakfast includes a full selection of hot and cold drinks (from ground espresso to cappuccino, long coffee, hot chocolate, Dammann tea leaves, etc.). As well as orange juice squeezed on the premises, several types of bread (baguettes, cereal bread, toast) and 100% pure butter pastries (croissants, pains au chocolat, raisin bread), honey, plain, fruit or low-fat yoghurts, fromage frais, fruit, warm pancakes with delicate vanilla flavouring, fresh fruit salad, raw vegetables, scrambled eggs, grilled bacon, cereals, dried fruit, a selection of AOC cheeses and charcuterie, etc.
Book your stay at a Left Bank hotel!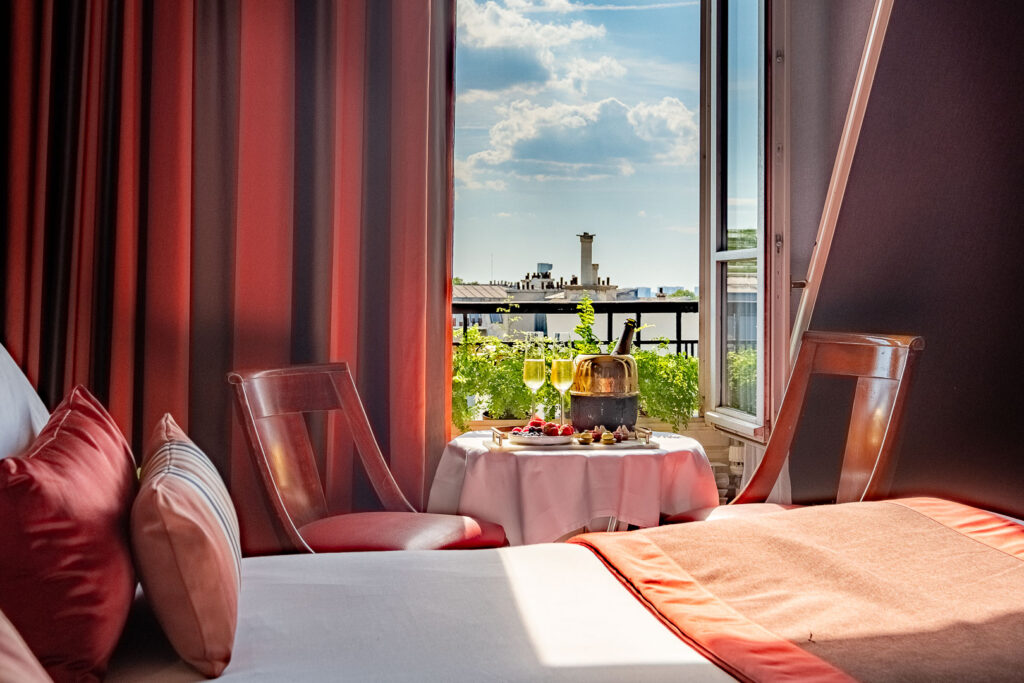 Fancy discovering the Left Bank of Paris? Hotel Trianon Rive Gauche is ideally located in Paris center in the 6th arrondissement, with direct access to numerous museums, restaurants and tourist attractions.
Our beautiful 4-star hotel offers many advantages that will make your stay in Paris unique:
✔️Hotel with ideal location
✔️Rooms with breathtaking views of Paris
✔️Delicious breakfast
✔️A team devoted to your well-being
✔️A stay committed to sustainable tourism
Looking for an unusual gift? The possibilities are endless, as is the value of our gift cards. Give the gift of a night in a luxury hotel in Paris and an unforgettable gift a gift card!
Pour ne rien rater, suivez-nous sur Instagram et Facebook.