A 4-star hotel is representative of its excellent service and reputation. Due to the large number of standards to be validated and to be met, before achieving this. The Hotel Trianon Rive Gauche is a beautiful 4-star hotel located in the heart of Paris. Comfort, elegance and quality at your service.
You know our boutique hotel, but do you know what hotel standards are used for? What quality services do we offer? And finally, what are our commitments and values?
---
In this article, you will discover the secrets behind the 4-star Hotel Trianon Rive Gauche Paris.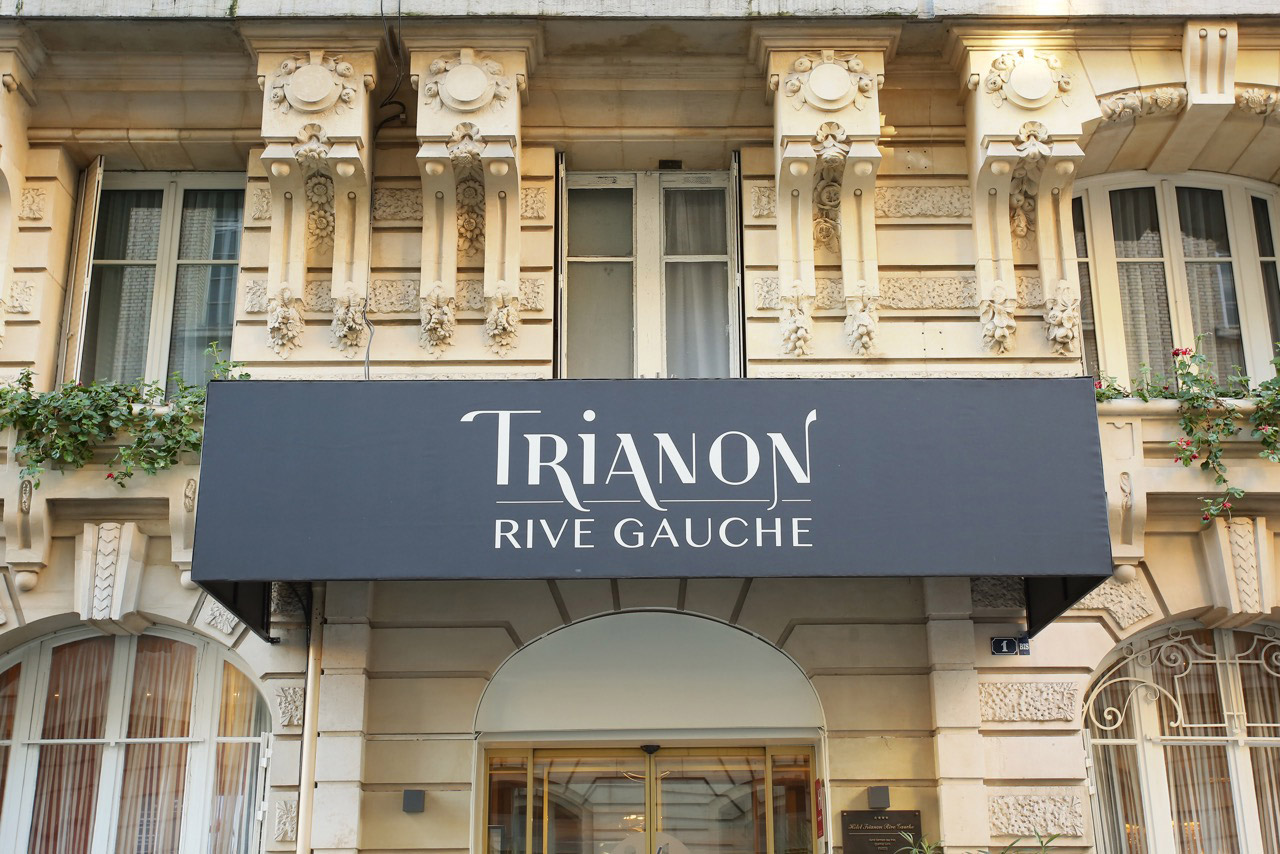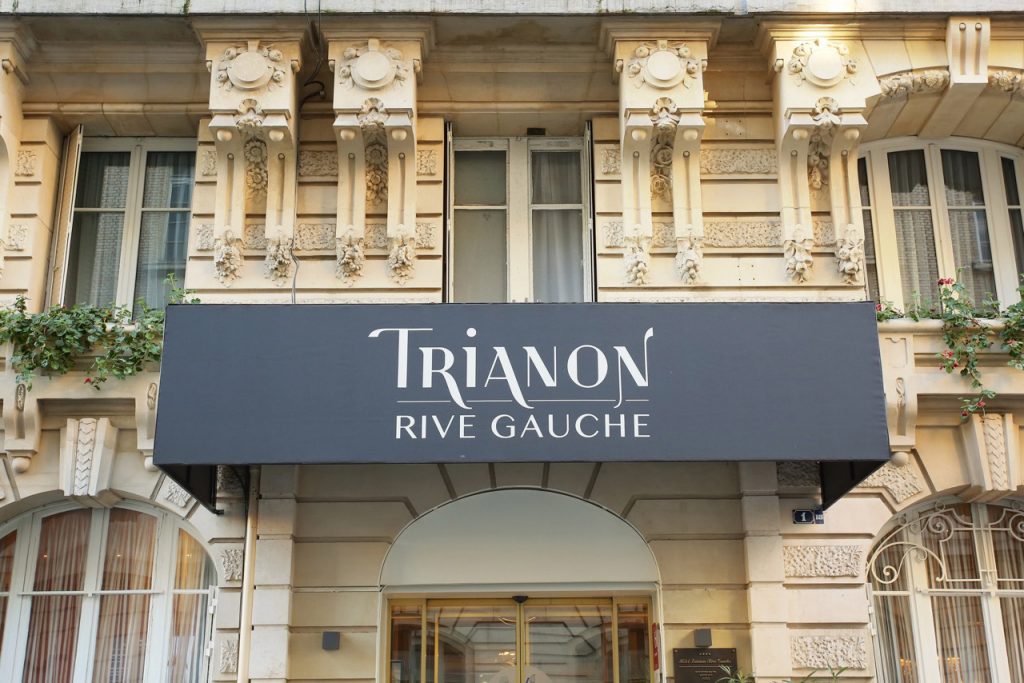 What is a 4-star hotel?
First of all, a 4-star hotel is a so-called "high-end" hotel. Hospitality and service are equally important, as customers seek a certain standard. To qualify, the establishment must meet various criterions set by the Tourism Code. Thus, more than 300 criterions are taken into account. The ranking is reassessed every 5 years.
This is why the Trianon Rive Gauche team gives its maximum, in order to guarantee the best, in all situations.
A 4-star hotel acquires this rating on the basis of 3 essential criterions:
The quality and comfort of the equipment,
A fine customer service
Finally, environmental values to be respected
If the hotel completes this list, it will be validated by Atout France, the French tourism development agency.
The essential standards of a 4 star-hotel
Among the most important criterions of a 4-star hotel, we can mention:
A highly available and responsive staff. A multilingual team with fluency in foreign languages, in addition to English, is essential. In fact, the guests of the Hotel Trianon Rive Gauche is predominantly European and international. Given our location in the tourist heart of Paris, we welcome clients from all over the world.

Impeccable and thoughtful service. The saying of "the customer is king" confirms that in these 4 star hotels, every request will be taken into account.

Comfort and cleanliness. You should feel at ease, even better than at home, with a caring team. Therefore, the hotel, facilities and rooms should be spacious, clean and in good condition.

A large choice and of quality equipment. The more there are, the better it will be for the hotel, in order to adapt to all types of guests. Thus, at the Trianon Rive Gauche, the great number of services and equipment available allows us to welcome family, leisure and business travelers.
Your spacious and warm 4-star hotel
The Hotel Trianon Rive Gauche Paris is rated 4 stars. By fulfilling a number of essential standards, the hotel today enjoys an excellent reputation. In a delicate atmosphere leading to calm, you will find in our welcome booklets, everything the hotel has at your disposal!
In the first place, the first category to be observed is the equipment, both in the hotel's common areas and the rooms. Note that our hotel and all rooms are non-smoking. Air conditioning is essential for a 4-star hotel, especially during hot summer periods. Thus, throughout the hotel and the rooms, there is a functional air conditioning system.
Our charming hotel is made up of 2 buildings going up to the 8th floor by elevator, or by the stairs for the bravest. The hotel has common areas including: a reception hall, a lounge, a restaurant-bar and a business center. A drink and snacks vending machine is also set up, with sodas, cakes or crisps, close at hand.
Gather in the lounge to sip a drink! Intimate and renovated, enjoy a treat with your loved ones or colleagues. Have a relaxing moment for a conversation, a book or a delicious meal. Cozy and warm, you can sit in its comfortable sofas or armchairs.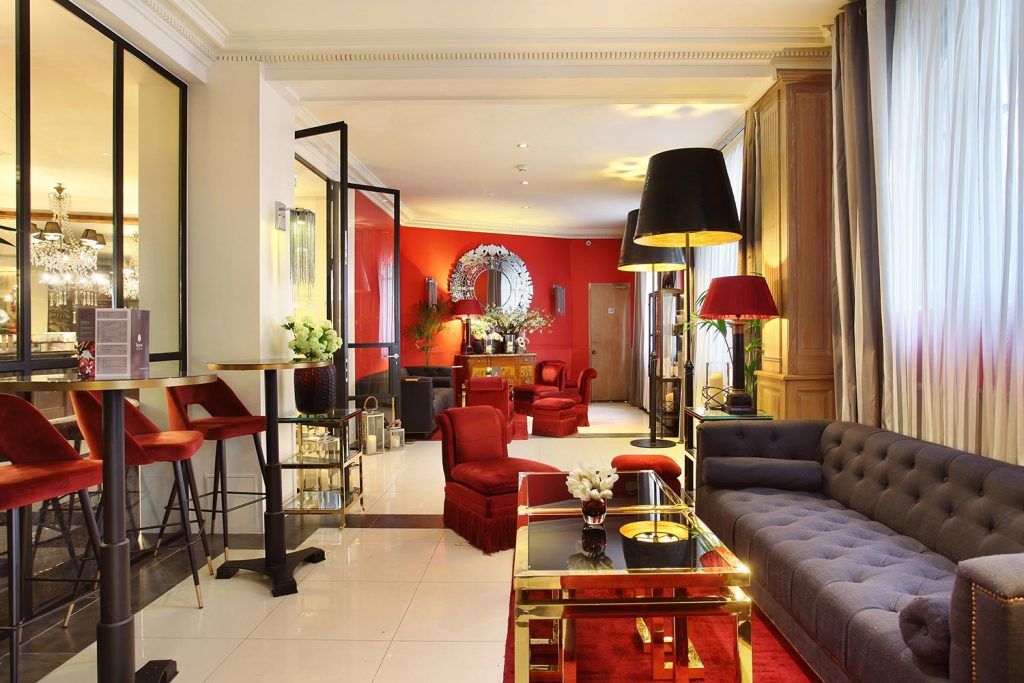 Our comfortable rooms
The Trianon Rive Gauche offers fully equipped rooms to suit any type of stays (both weekends and longer breaks).
Fancy a romantic getaway? Stay in our superior rooms with panoramic and breathtaking views of Paris (Montmartre, the Eiffel Tower and Notre-Dame). Put on the hotel bathrobe, then enjoy the skincare products from the Nuxe and Clarins brand, worthy of a luxury hotel. Then help yourself from the minibar, and enjoy our selection of drinks or chocolate.
The double opaque curtains, as well as the double-glazed windows will guarantee you a deep sleep and discreet privacy. Finally, put up your "Do not disturb" sign, and enjoy the cozy and quality bedding, worthy of a 4-star hotel.
As for families, our large connecting or triple rooms will suit you. For your toddler, we have it all. A cot, a high chair or a bottle warmer can be requested at the reception.
Each room has a flat-screen TV, with access to a number of international channels (TVE, CNN, Russia Today…). So you can follow the news of your country while enjoying the sumptuous view from the balcony. Depending on your needs or desires, you can also have additional pillows, bed linen or bathrobe.
During a business trip, the deluxe rooms fully equipped, will best suit you. Indeed, plug your devices into the many electrical outlets in the office, store your personal belongings in the safe, and enjoy a high-speed Fiber-optic connection. Everything is done, so that you can work in the best conditions.
Far from home, does not mean far from great comfort and calm. On request, you will have at your disposal a shoe kit, a sewing kit but also a writing kit. In addition, any 4-star hotel must have an iron and ironing board, to be impeccable on an outing or on an appointment. It must therefore be available in more than half of the rooms.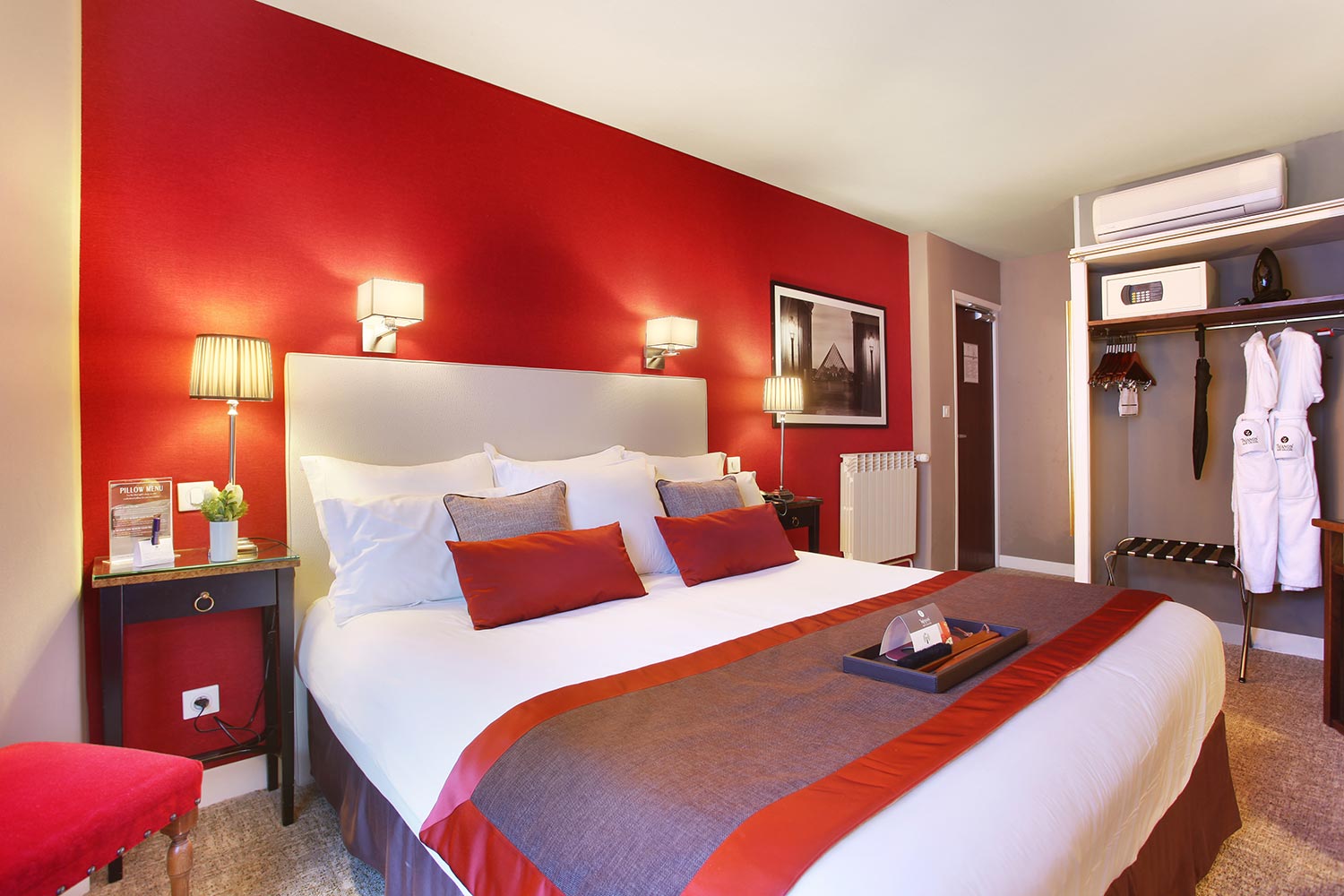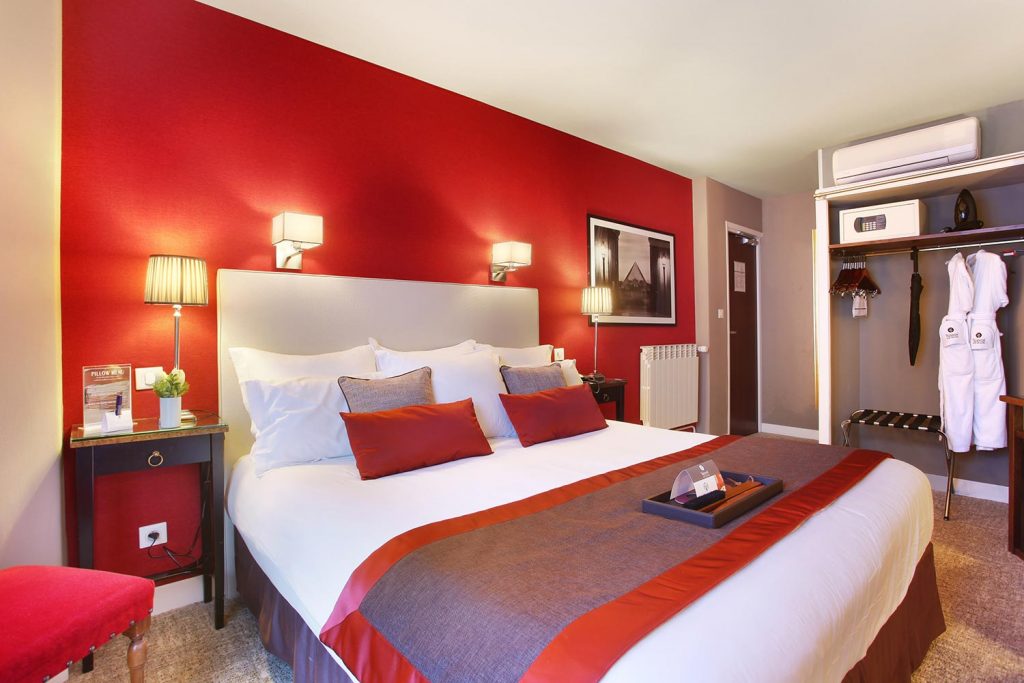 A 4-star service in the heart of the Latin Quarter
Staying with us, will be unforgettable. Our team offers a multitude of services going from catering menus, to workspaces to fun activities.
Our catering service is made of several set menus. This is one of the major criterion of any good 4 star hotel.
Waking up, you can choose between a continental breakfast, a buffet breakfast or a breakfast served in your room. We offer plenty of products including: hot drinks, fresh fruit, pastries and even French cheese. We want to satisfy as many gourmet desires as possible, including in your room, with room service.
Our connected workspaces
If you want to share photos, work with colleagues, or find the next place to visit in Paris, you need a good connection. The 4-star Trianon Rive Gauche Paris Hotel thus, has free Fiber optic internet access throughout the hotel, rooms included. In addition, the business center will allow you to print and use our trendy computers.
Coming with your company or your colleagues, gather in our spacious private seminar room. Accommodating up to 19 people, fully equipped and tastefully decorated, you will feel in a bubble. You won't miss anything: video projector, screen, paperboard, gourmet breaks, nearby parking, changeable rooms …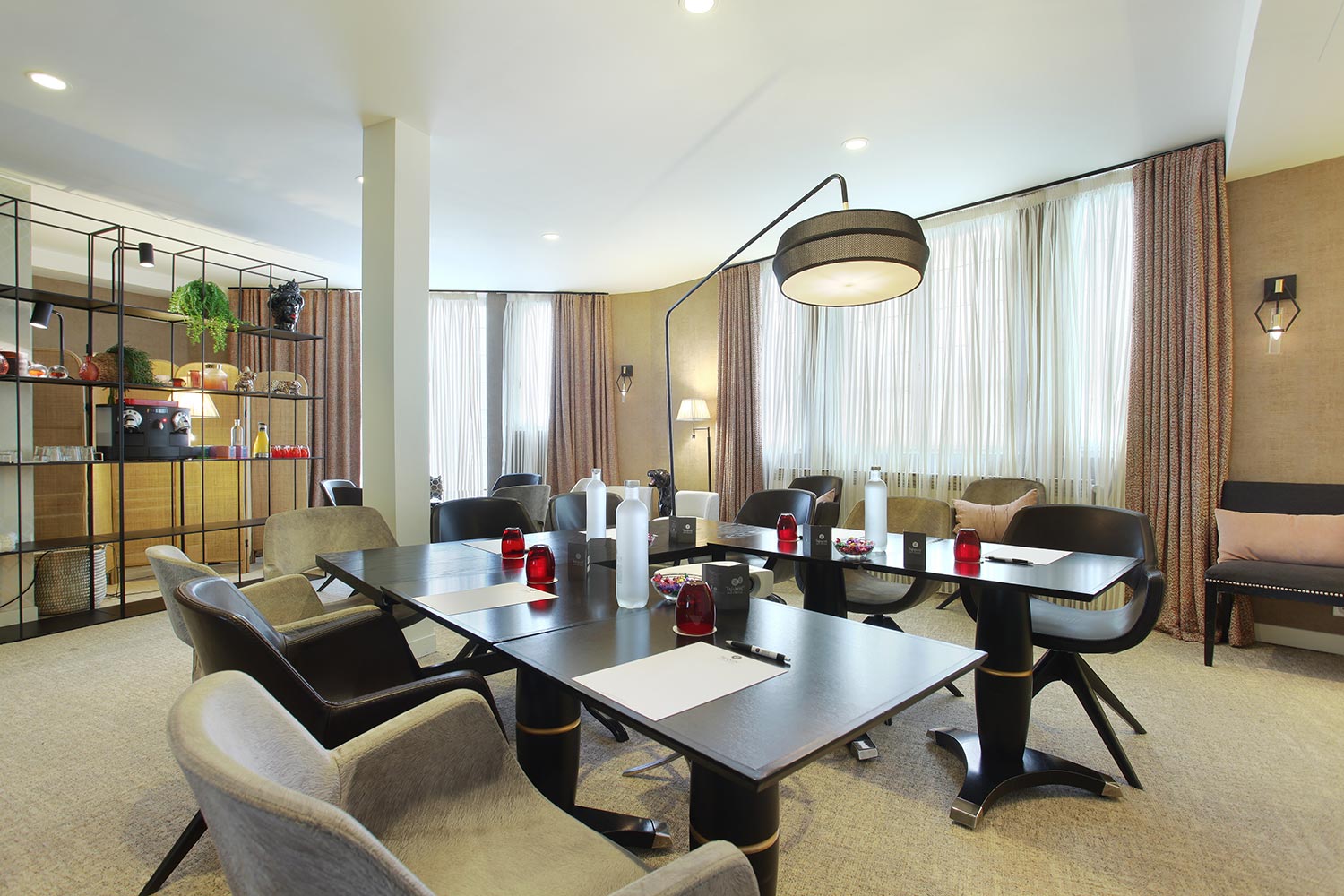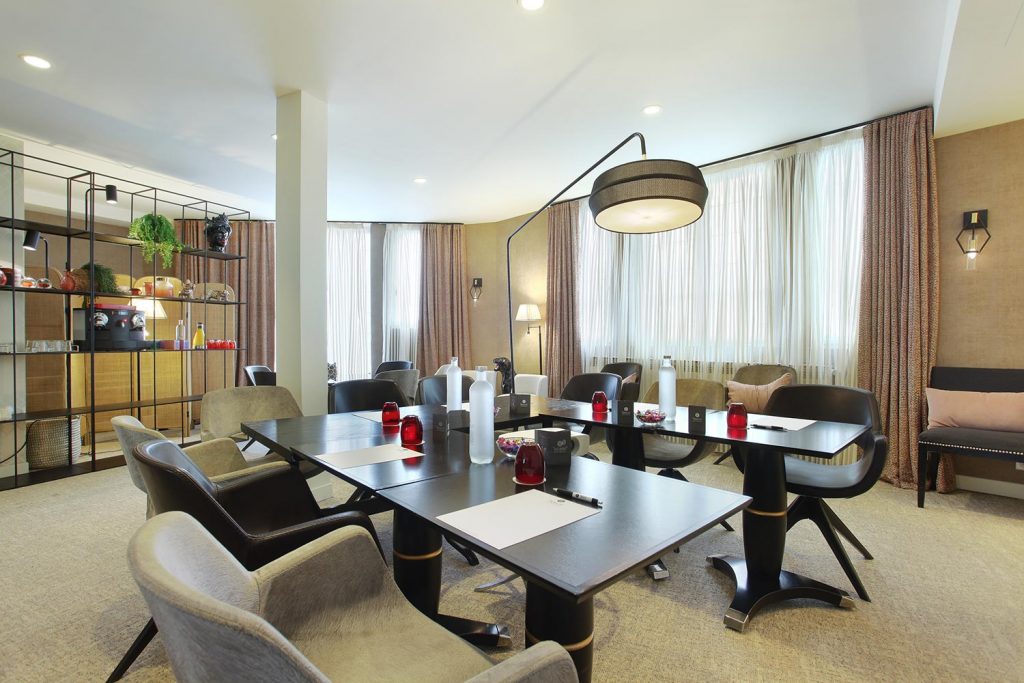 We are also thinking of you: families, friends or couples, who come to relax in our 4-star hotel. Fancy a friendly and relaxing moment? Board games are available on demand, enjoy a game of Monopoly, Poker or Domino.
Looking for a sport outing around the Trianon Rive Gauche? We got you covered, as we are ideally located in the center of Paris. Take advantage of the Velib station in front of our hotel, and discover the city biking. The Jardin du Luxembourg and the Pantheon just a 7-minute walk away will allow you to start the day on the right foot.
A few steps away from Saint Germain des Pres area, you can enjoy a real cultural and artistic tour. Discover the 6th arrondissement of Paris, near our 4-star hotel.
Your eco-friendly 4-star hotel
Finally, the last category, and arguably one of the most important, is a hotel respecting the environment. At the Hotel Trianon Rive Gauche, we are fully committed to this process. Our teams have all been made aware during training sessions on the economical running of energy, water and waste.
We also want our customers to stay informed of our actions in terms of sustainable development. This is why we regularly update articles and information on our website. You can find them in the "Ecology" section, in our welcome booklet during your stay, and on our social networks.
Any 4-star hotel must meet at least one or more conditions.
At the Hotel Trianon Rive Gauche, in order to reduce our energy consumption, all of our rooms have been fitted with low-consumption light bulbs. In addition, we set up presence detectors in the common areas. We also participate in waste management by limiting food waste and through sorting.
In order to limit our carbon footprint, our housekeeping team uses eco friendly cleaning products. As for our catering menus, we put forward at least 2 regional products or products from organic farming. This is the case with our organic honey, or our cheese certified AOP.
This is why the implementation of these numerous eco-responsible criterions enabled us to obtain 2 eco-labels. It highlights our commitment and our values. The European Ecolabel and the international Green Key certification are the promise of a sustainable tourism among us.
Ultimately, booking at the Trianon Rive Gauche, 4-star hotel in Paris, is the assurance of a quality service, and of environmental values respected for an unforgettable stay!