The prestigious fencing event will be held at the Grand Palais in Paris. This exceptional sports event promises to be an unforgettable summer! To make the most of it, choose a hotel in the centre of Paris. The 4-star Hôtel Trianon Rive Gauche is ideally located: just 3km from the Grand Palais, you'll be right at the heart of the festivities!
Fencing events in the Grand Palais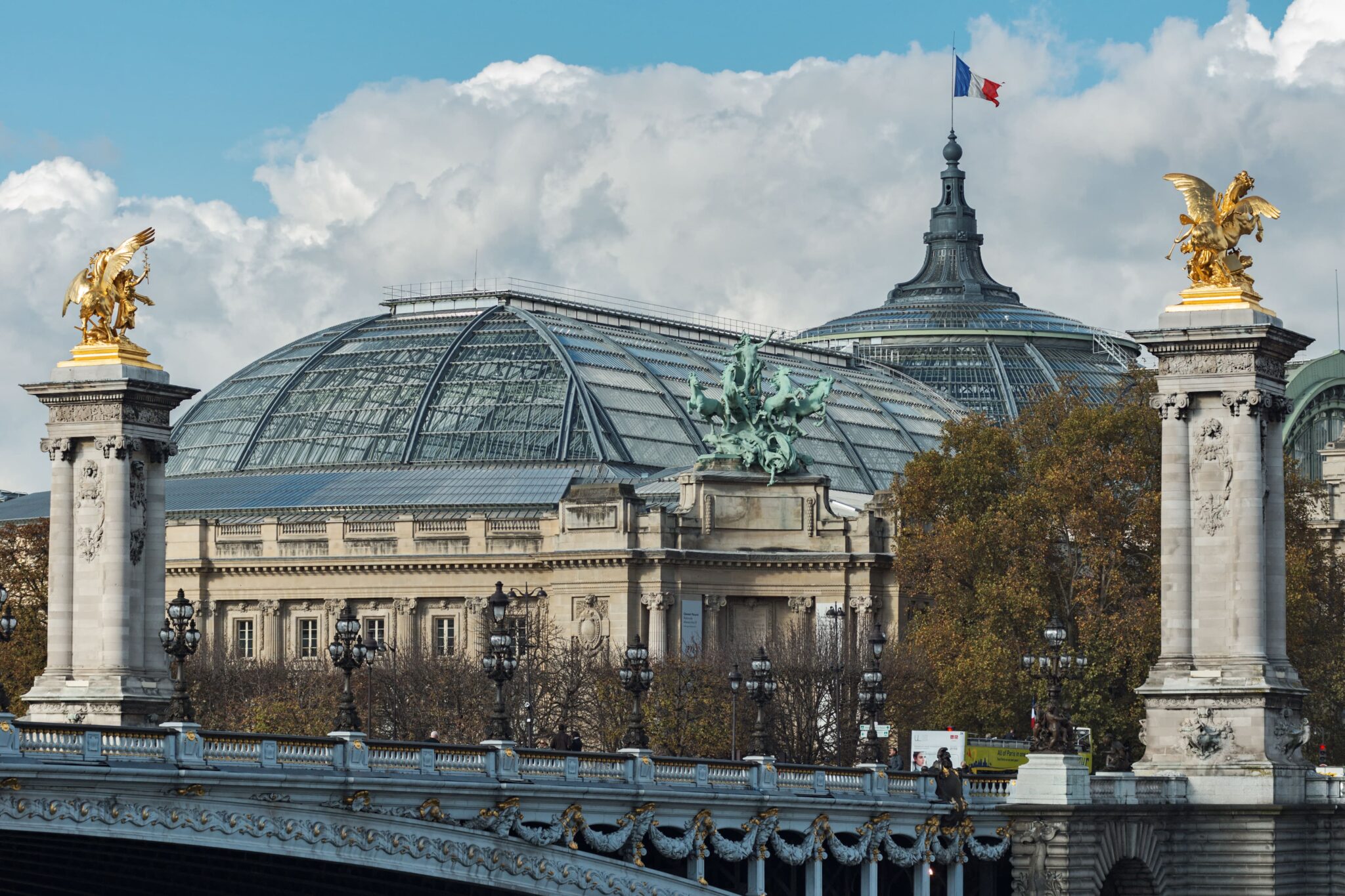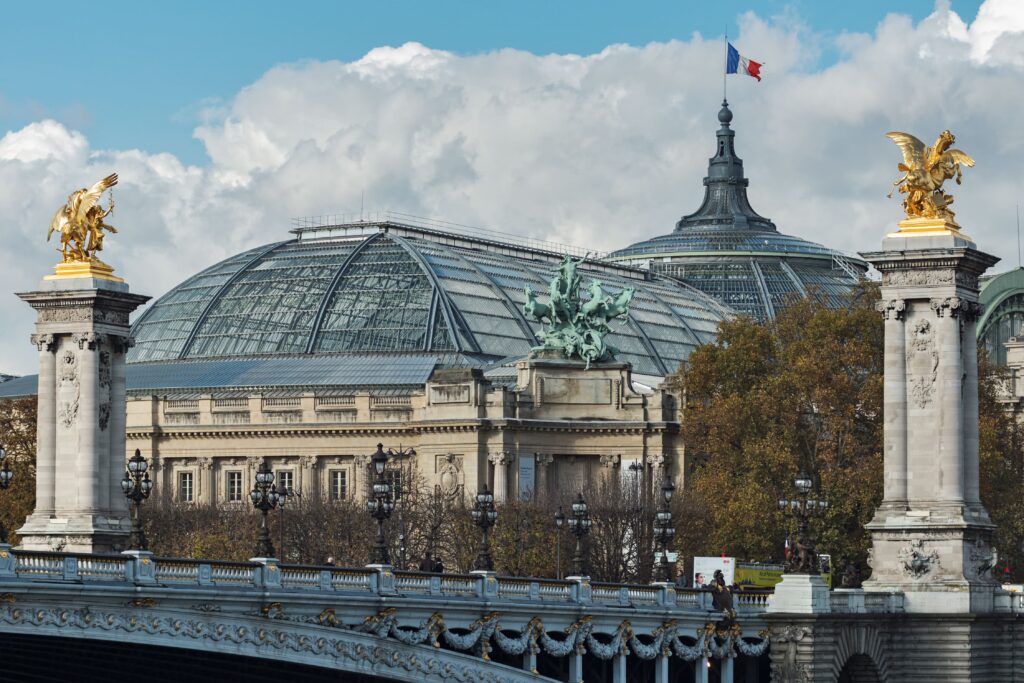 Nobility, honour, respect and tradition are the values of fencing. French is the official language of this combat sport, so refereeing at international competitions is conducted in French. A fencing competition in French in the majestic Grand Palais? Individual épée, individual sabre, team sabre, individual foil and team foil are sure to be the most exciting events!
This fencing competition will feature individual and team events in three weapons: foil, épée and sabre. Did you know? With a total of 123 medals, France is the second country with the most fencing medals after Italy, which has 130.
The Grand Palais
The Grand Palais was built for the 1900 Universal Exhibition. A true Parisian perl, the building hosts numerous events, both sporting and artistic.
A blend of classicism and modernity, its exceptional architecture features the largest Nave in Europe, with a surface area of 13,500 m2, crowned by a 17,500 m2 glass roof. Located just 3km from our hotel, it's a must-see!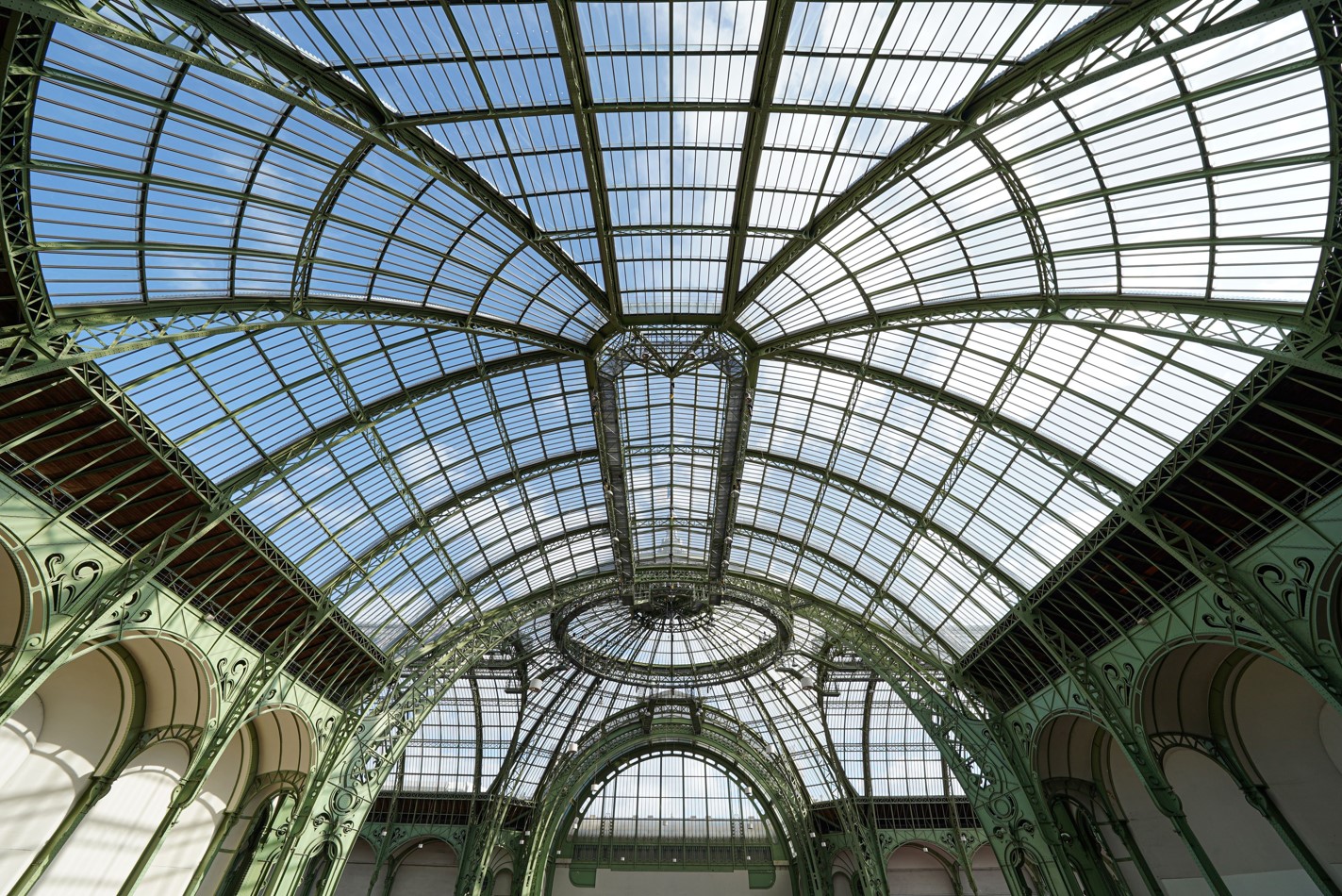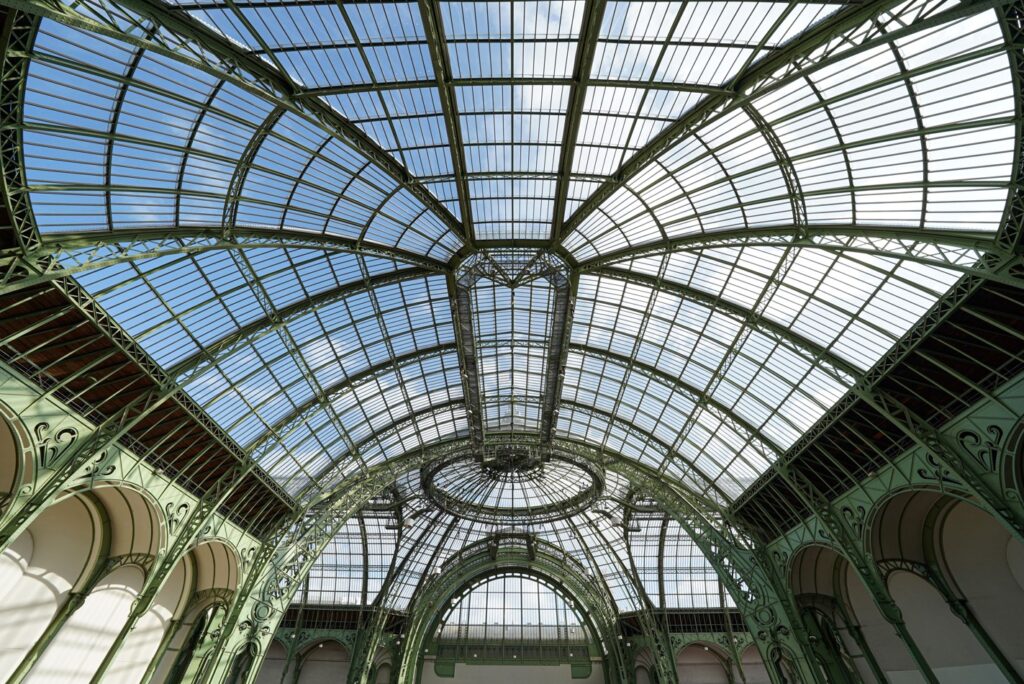 Your hotel in the centre of Paris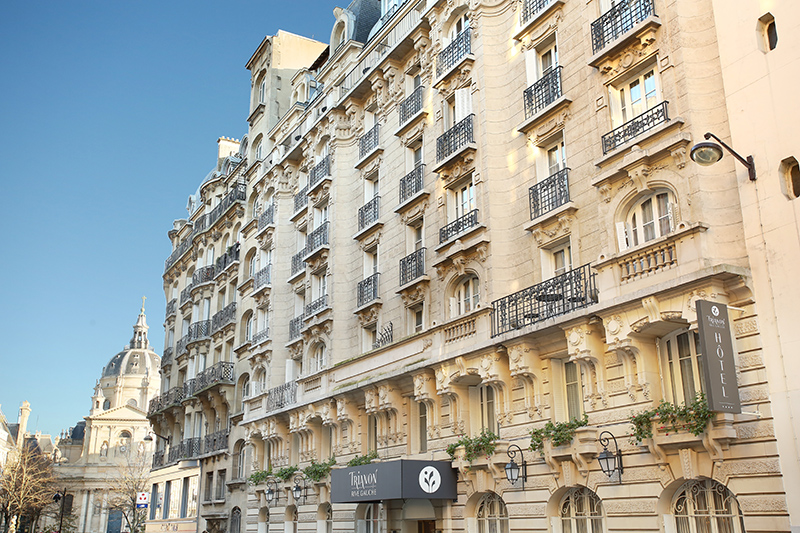 Located in the centre of Paris, our 4-star hotel is ideally situated for your summer sports competition! To make the most of every minute of the competition, we advise you to choose a hotel close to the events. Direct access by bus 63 or by car will get you there in 20 minutes from Hôtel Trianon Rive Gauche. By metro, it takes just 20 minutes to get there with lines 4 and 1.
For our more sporty guests, you can hire a bike from the Vélib station opposite our hotel and reach the Grand Palais in just 15 minutes. You can also walk to the Grand Palais in 40 minutes: you'll enjoy a lovely stroll along the Seine and through the Tuileries Gardens.
What's more, our hotel's charming neighbourhood will make your stay as pleasant as possible. Restaurants, Jardin du Luxembourg, museums and shops… Saint Germain des Prés is the ideal place to spend some quality time between events.
Hotel Trianon Rive Gauche for a 4-star stay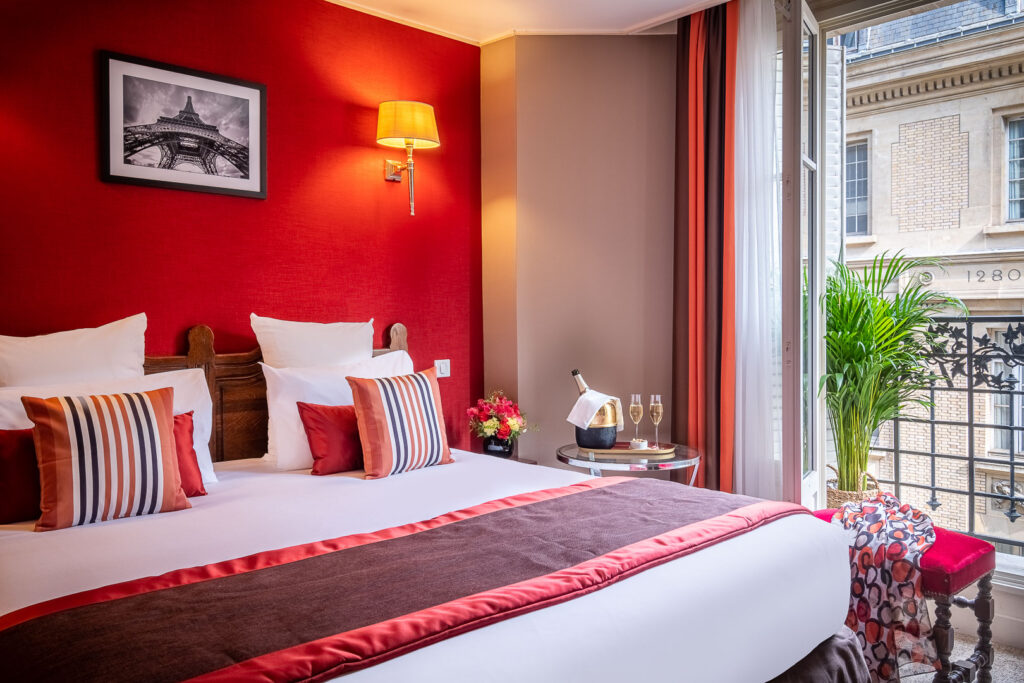 Our 4-star hotel guarantees you a comfortable stay: ideal location, modern facilities and extra services… your well-being is our priority! To ensure a pleasant summer for our guests, all our rooms are equipped with air conditioning, wifi, safe, bathrobe and slippers. Secure luggage storage is available 24 hours a day and our reception team is on hand to welcome you 24 hours a day, 7 days a week.
Our delicious hotel breakfast buffet is served in our lounge, and our continental breakfast in your room, every day from 7am to 11am. It is also possible to book an express breakfast, takeaway only, from 5am to 12pm.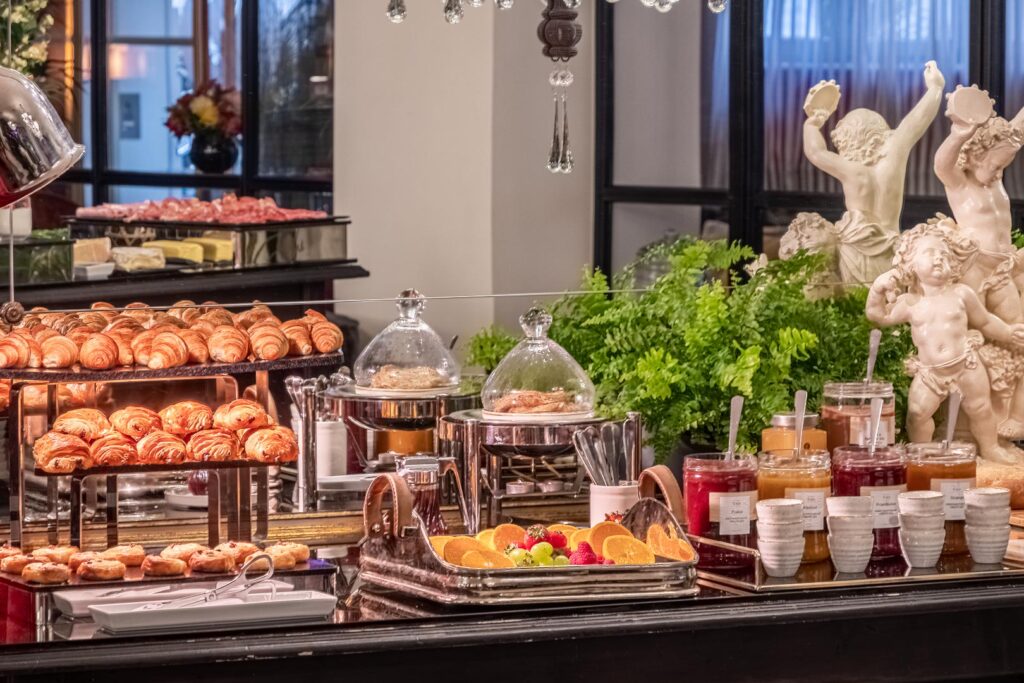 Large choice of hot and cold drinks (freshly brewed espresso, cappuccino, latte, American coffee, Maison Dammann teas as long as freshly squeezed orange juice, several kinds of bread (baguette, cereal bread, white bread and toaster), sweet pastries made with 100% Pure Butter, honey, yoghurts (plain, diet, fruit), fruits, French pancakes, fresh fruit salad, dried fruits, crudités, scrambled eggs and grilled bacon, cereals, cheese and charcuterie boards, and so on.
Do you have your tickets for the fencing or taekwondo competitions already? Book your room now to make sure you have a front row seat for the event!
Envie de faire plaisir à un ami, votre famille ou votre partenaire ? Les possibilités sont illimitées tout comme le montant de nos bons cadeaux. Offrez une nuit insolite et un bon cadeau inoubliable par ici !
Want to treat a friend, family member or partner? The possibilities are endless, as is the value of our gift vouchers. Give the gift of an unusual night and an unforgettable gift voucher here!
To make sure you don't miss out, follow us on Instagram and Facebook!