Paris la belle is known worldwide for its monuments, its art of living, its gastronomy, its charming streets … but also for its great haute couture houses, its Parisians with a classy and refined allure, or even its most beautiful avenue in the world, the Champs Elysées. Thus, at the Hotel Trianon Rive Gauche, we selected for you our 4 essential addresses, and located not far from our hotel. From the biggest high-end brands, to more affordable international brands, all budgets are possible. Your venue to Paris therefore becomes synonymous with rest, discovery and pleasure. For shopping lovers, discover our route for a memorable week end in Paris.
The Hotel Trianon Rive Gauche offers you a cutting-edge selection of the best of the capital, far from the crowded shopping streets and "déjà-vu". Also, find at the end of the article, 5 top reasons why staying in our hotel is the right choice! A brief overview of an unforgettable stay or shopping week end in Paris, with the Hotel Trianon Rive Gauche.
Shopping week end: La Samaritaine is back in Paris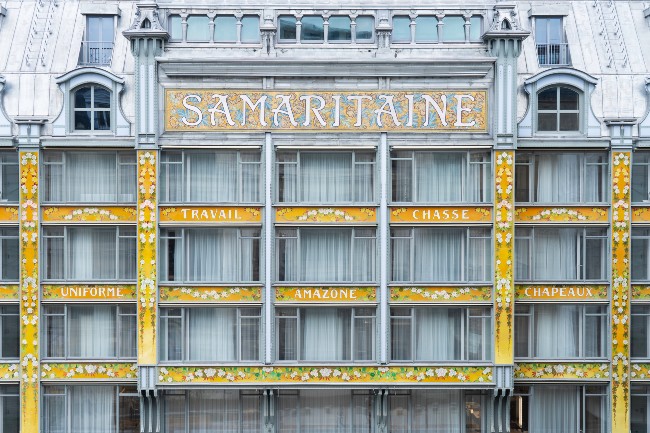 Recently, the City of Light has experienced a long-awaited reopening, that of the Samaritaine. This historic gem is none other than La Samaritaine Paris Pont Neuf, a legendary department store founded in 1870. In recent years, La Samaritaine has also undergone major renovations. Its reopening last June was therefore an event in the capital. Placed very close to the Pont Neuf, its location is ideal between the view of the Seine and the rue de Rivoli. The art deco type facade was designed by Henri Sauvage, and brings a breath of freshness to the building. A fine selection of shops can be found there, as well as prestigious restaurants such as "Voyage" or "Maison Prunier"
151 years after its first opening, La Samaritaine is reinventing itself in honor of its founders: Ernest and Marie-Louise Cognacq-Jay – with audacity and creativity. Imagined by and for all lovers of Paris, the Samaritaine becomes the unmissable destination to live an authentic French experience.
Access : 9 rue de la Monnaie, 75001, Paris
Metro : Pont Neuf, line 7
All shops & informations here.
Shopping week end: The authentic Saint Germain des Prés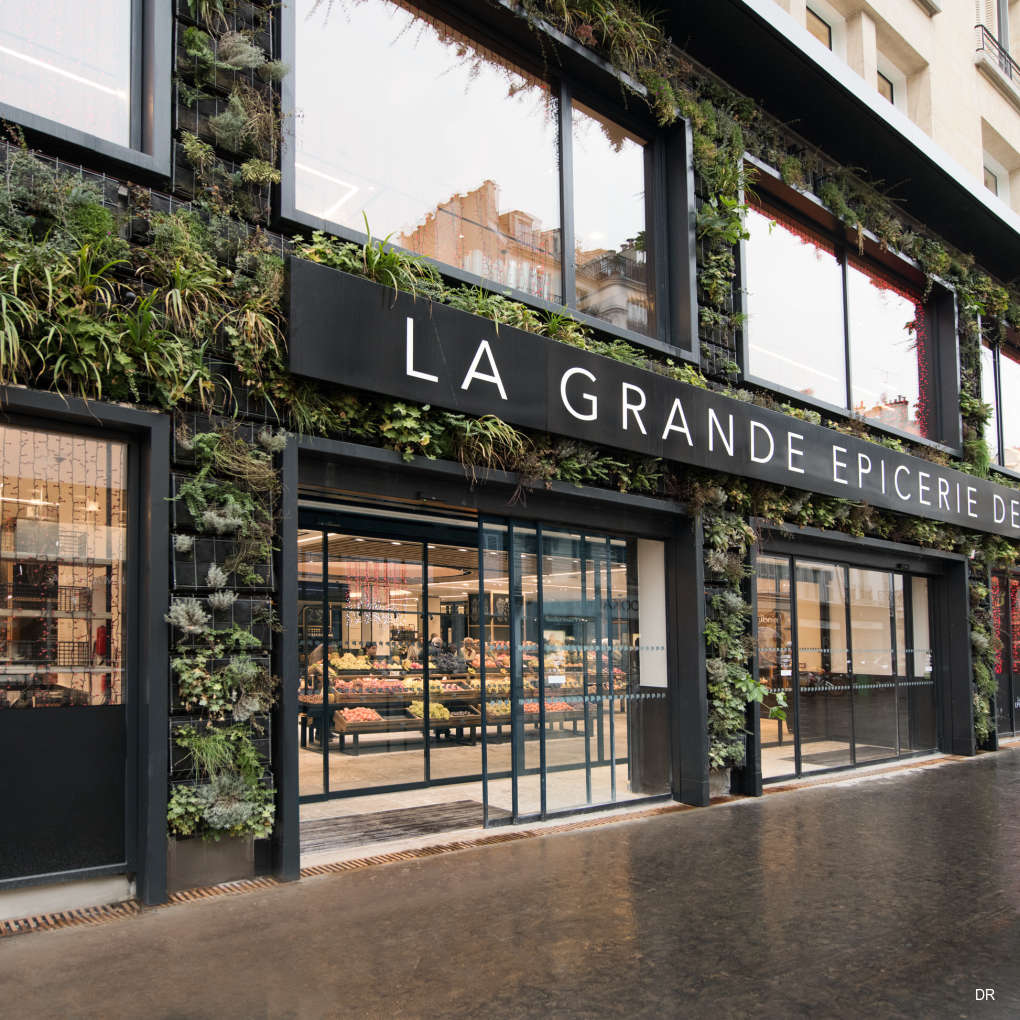 At the bottom of the street, Boulevard Saint-Germain and the surrounding streets, the windows of the great couturiers compete with one another: Giorgio Armani, Sonia Rykiel, Christian Dior, but also Ralph Lauren, APC, Carven, Vicomte A. and finally, for the bags, Jérôme Dreyfuss. The remarkable designer Karl Lagerfeld also has a boutique there at 194 boulevard Saint Germain.
On the Left Bank, a mix of designer boutiques coexist with the great haute couture houses and international brands. For lighter expenses, the rue de Rennes offers stores known all over the world, such as H&M or Zara. Finally, an obligatory point of passage at the Bon Marché, rue de Sèvres, a mythical and historic Parisian place.
Access : Boulevard Saint Germain, 75006, Paris
Metro : Saint Germain des Prés, line 4
Shopping week end : Hausmann-Opéra, the shopping heart of Paris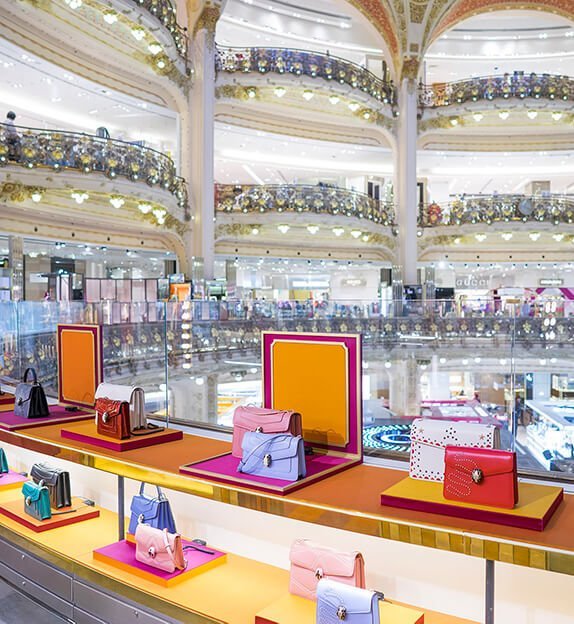 Just a few steps from the Opéra Garnier, the boulevard Hausmann, an emblematic point for any shopping lover. It was one of the very first urban shopping center, and represent the true commercial heart of Paris. The two temples of Parisian shopping, Galeries Lafayette and Printemps Hausmann, are located there. The first brings together the biggest names in Haute Couture and high-end ready-to-wear. But you will also find a wide selection of decoration and objects for the home, jewelry stores, perfumeries or even delicatessens.
Printemps Hausmann, meanwhile, is also full of beautiful luxury brands, both for its wardrobe and its interior. You will find Alexander McQueen, Prada or even Red Valentino. For streetwear enthusiasts, Citadium will be your promised land. You will find all the original pieces of the biggest brands of clothing, sneakers or accessories.
Very close to the two essential Parisian centers, you will also find shops such as Uniqlo, the flagship Japanese brand, or Maje and Eric Bompard, for cashmere clothing.
Access : Boulevard Haussmann, 75009, Paris
Metro : Chaussée d'Antin – Lafayette or Opera, line 7/ 9
Shopping week end: The iconic Golden triangle of the Champs Elysées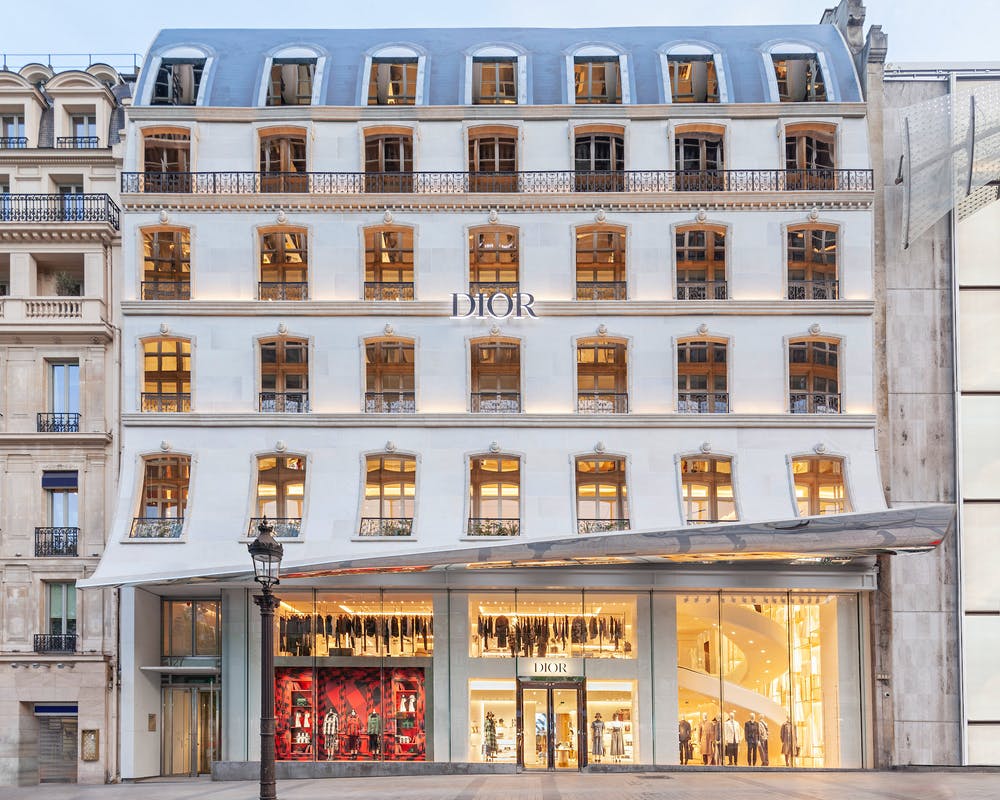 Ah… The Champs Elysées and its mythical avenue, its arch as well as its luxury boutiques make it a must-see for all lovers of the great fashion houses. All the biggest names in luxury (Chanel, Dior, Ralph Lauren and Louis Vuitton), cohabit along the most beautiful avenue in the world. Light budgets will also find their account with brands of all kinds, such as Levi's, MAC, Paul & Joe or Tommy Hilfiger. In addition, many restaurants, ice cream shops and cafes are also located there.
Access : Avenue des Champs Elysées, 75008, Paris
Metro : Champs Elysées Clémenceau, line 1/ 13 or Kléber, line 6
Shopping week end : Le Marais, vintage shops and trendy concept stores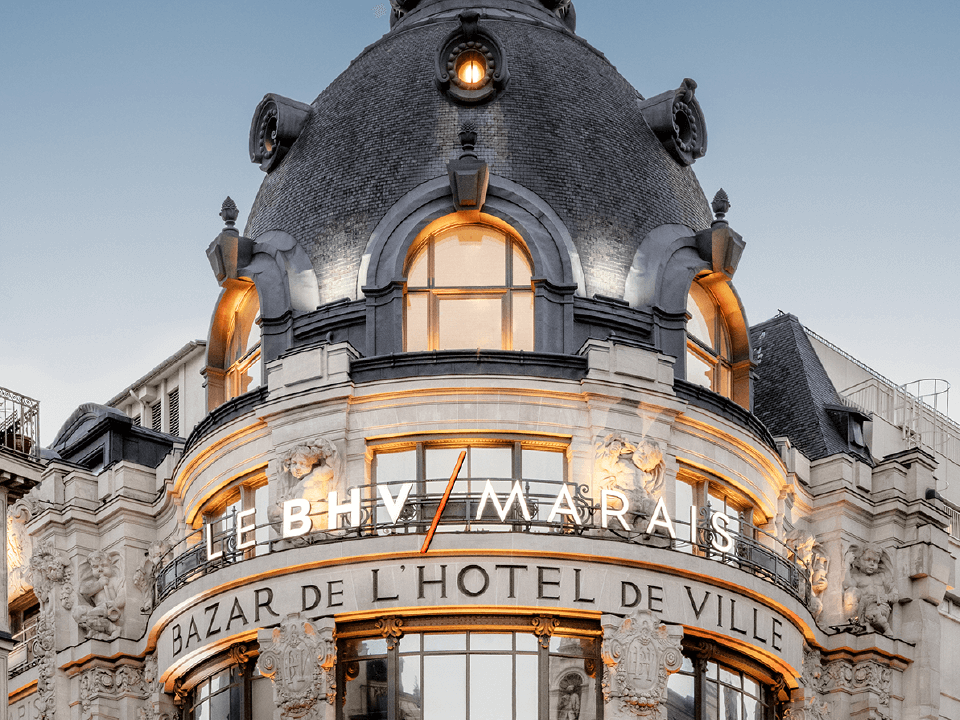 To finish our selection, we had to show you the Marais district, located in the 4th arrondissement of Paris. Walking around the neighborhood is very pleasant. Indeed, several streets including rue des Rosiers, are fully dedicated to pedestrians, while rue des Francs-Bourgeois and rue du Temple are closed to cars on Sundays. Le Marais is particularly known for its many vintage thrift stores, where you can find real pearls at a ridiculous price. While there are also beautiful avant-garde boutiques and designers, such as Jacquemus or Comme des Garçons. Decoration, well-being, accessories, make-up, outfits etc. Everything is there to get you a head-to-toe makeover!
Towards the Hotel de Ville, find the essential BHV Marais, the Parisian department store and temple of DIY enthusiasts. Indeed, several stores of decoration, do-it-yourself, and other tools for the house await you there! Parallel to the rue de Rivoli, the rue des Archives is home to several vintage spots well known to bargain hunters. One of the most famous thrift stores, Kilo shop, immediately shows its difference. In this essential shop, almost everything is sold by kilo. Jeans, army pants, shirts, furs, scarves, bags, Japanese kimonos… Enough to get you lost in the 500m² surface area. Choose your items, pack and it's weighed!
Access : Rue de Rivoli, 75001, Paris
Metro : Saint Paul or Hôtel de Ville, line 1
A shopping week end at the Hotel Trianon Rive Gauche Paris
Leave your luggage and make yourself comfortable. You arrived at the right destination! To make your stay as smooth as possible, the Hotel Trianon Rive Gauche is the ideal place to rest after a good shopping marathon. Here's why choosing our hotel is the best plan:

The Hotel Trianon Rive Gauche is in the heart of Paris
In the iconic 6th arrondissement of Paris, in the mythical district of Saint Germain des Prés and the Latin Quarter. Both, loaded with stories and great characters. Here you are on the Left Bank of Paris, near the Jardin du Luxembourg, the Panthéon, the Place de la Sorbonne or even the Café de Flore.
Easily accessible, you will reach your destination with confidence. No matter your means of transport, all roads lead to the Hotel Trianon Rive Gauche! By plane, train, bus or metro, our location is perfectly located, allowing you to reach us easily. If you come by car, a parking lot near the Pantheon is even accessible.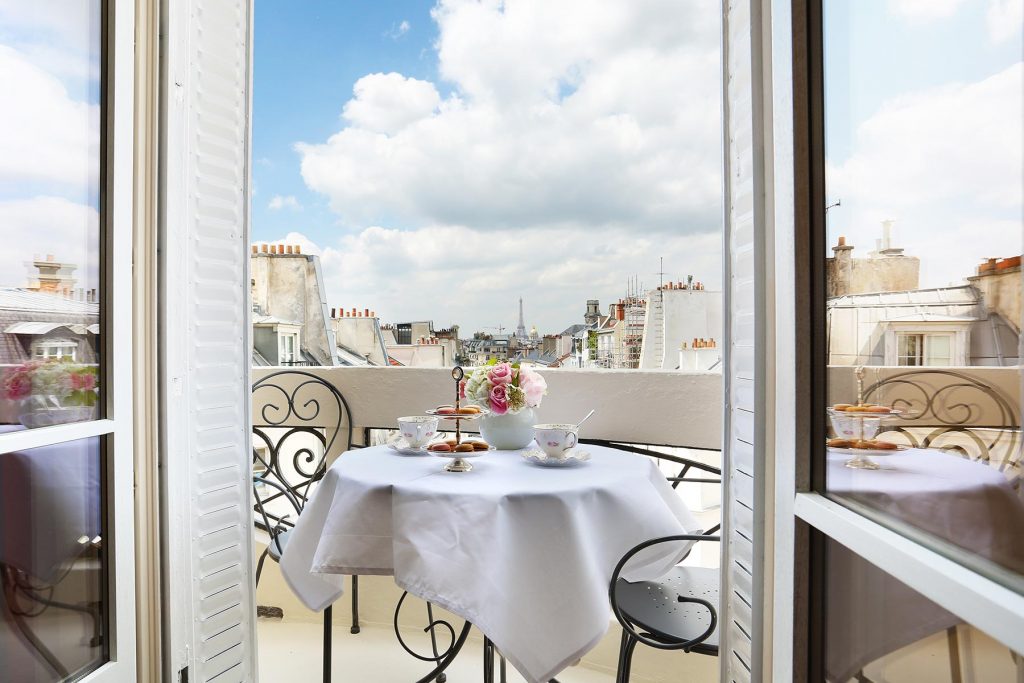 The Trianon Rive Gauche is a stone's throw from the best addresses
By leaving your suitcase in our hotel, you will be the lucky one to walk around or visit Paris by foot. Stop worrying about transport and price questions. Indeed, our hotel is perfectly located and allows you to enjoy the capital in just a few minutes.
Whether you have a little hunger, a desire to go on a shopping spree or even a thirst for culture, you are perfectly located. All the most beautiful monuments, the most popular restaurants, but also the trendiest boutiques are just a stone's throw away. Our location also attracts 95% of our customers, and is the primary criterion in the feedback from our customers. For your shopping week end, you are at the right place!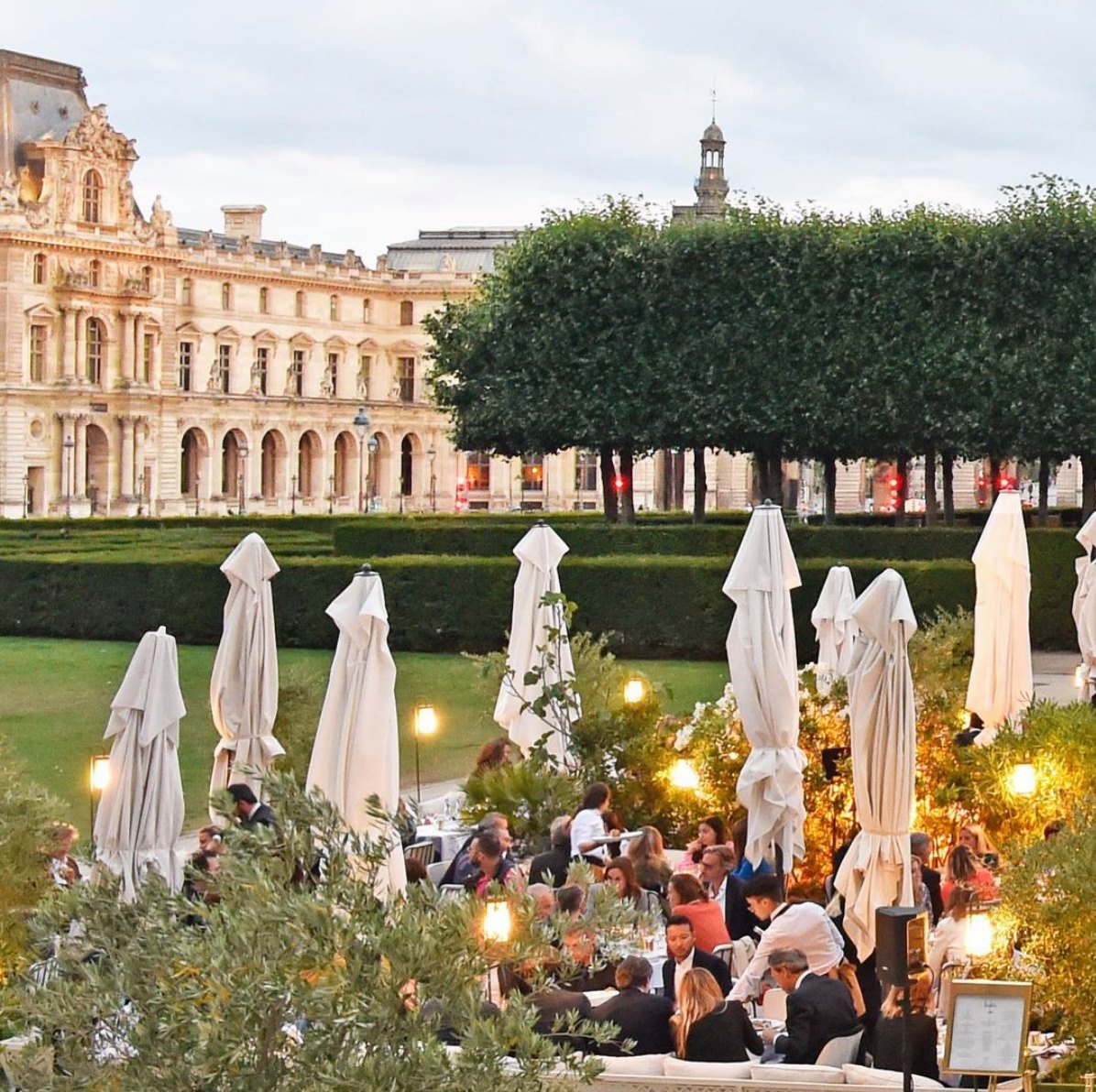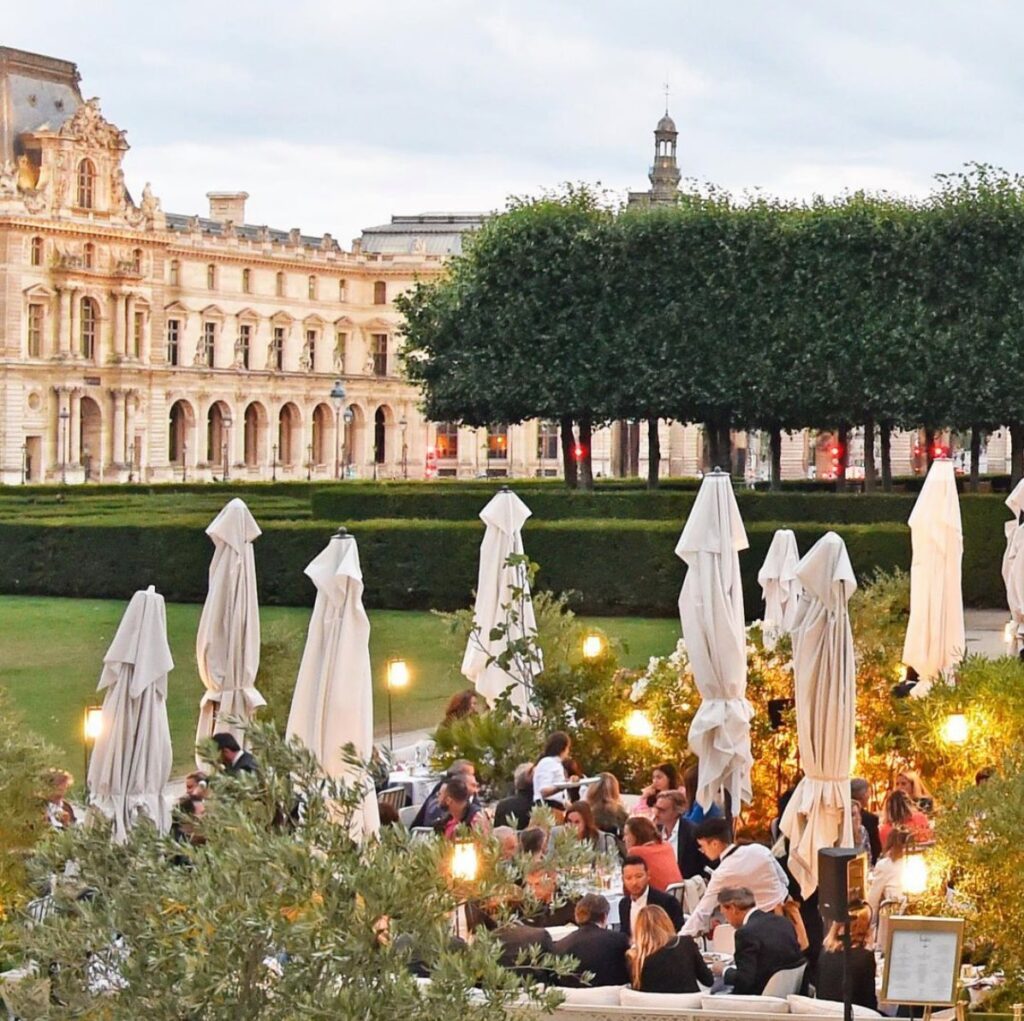 The Hotel Trianon Rive Gauche offers personalized service
The saying goes that the customer is king. At the Hotel Trianon Rive Gauche, each client is above all unique. It is certain, there are not two like you! This is why our staff is committed to guaranteeing your well-being, by providing attentive service. Whether you come with family, lovers, friends or alone, our team will take care of each of you personally. In addition, if you want to surprise one of your loved ones, our gift vouchers will be perfect, with an exceptional validity period of up to 2 years!
Our fabulous reception team is attentive and will be able to advise you on its tips and secrets of Paris. Do not hesitate to ask them, you will surely discover the top addresses of Parisians, far from the hustle and bustle of tourist places.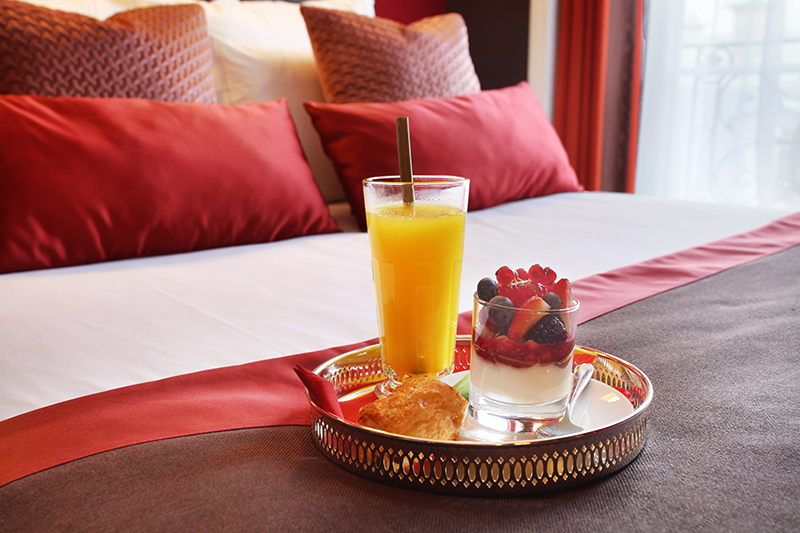 Le Trianon Rive Gauche is respectful of the environment
The Trianon Rive Gauche is fully committed to an environmental preservation process. We also want our customers to stay informed of our actions in terms of sustainable development. This is why we regularly update articles and information on our website. You can find them in particular in the "Ecology" section, in our welcome booklet during your stay, and on our social medias.
For example, we have reduced water consumption and reduced waste through general selective sorting. As for our catering offer, we highlight at least 2 regional products or from organic farming. This is why the implementation of these numerous eco-responsible criteria has enabled us to obtain 2 eco-labels. The European eco-label and the international Clef Verte certification are the pledge of sustainable tourism among us.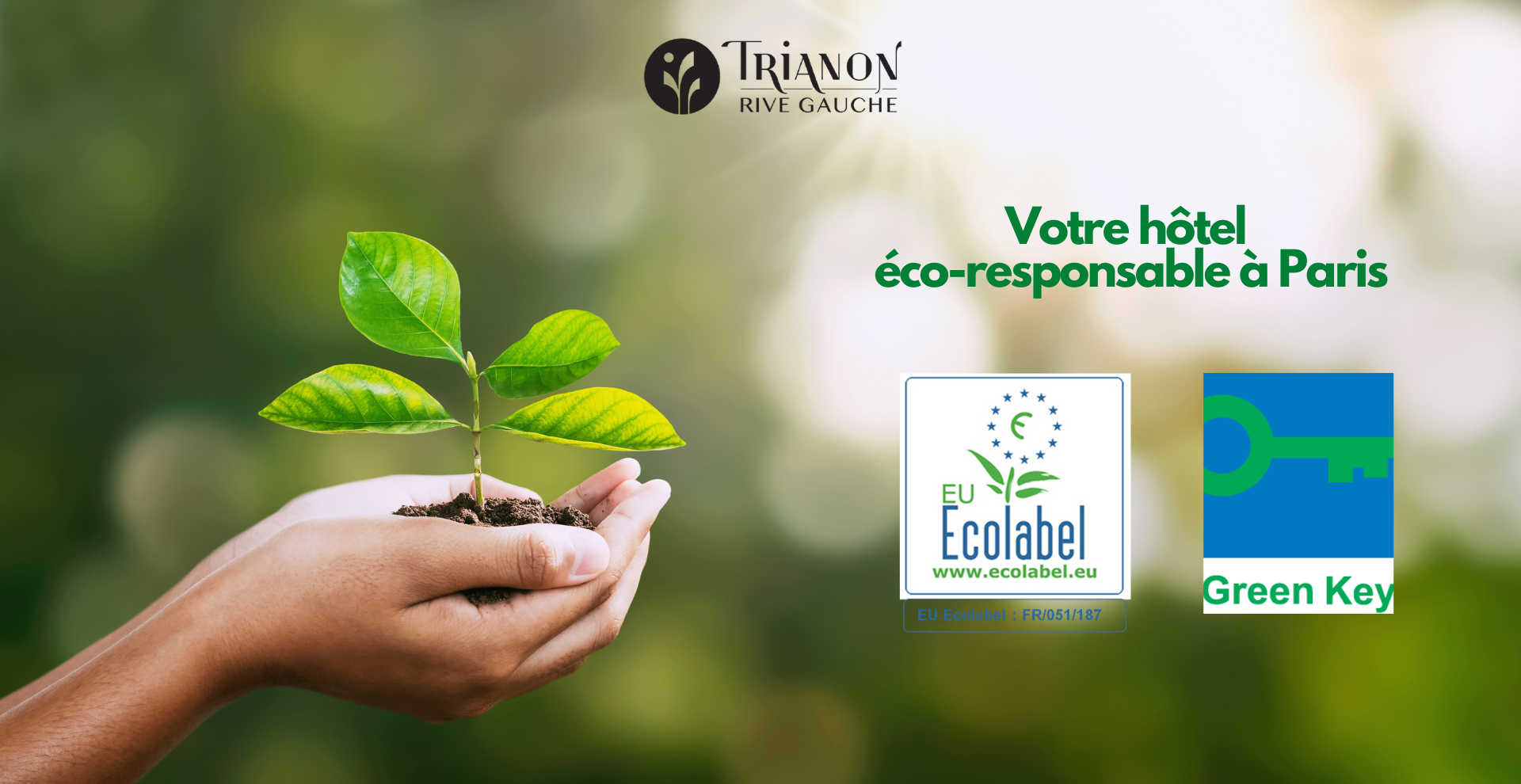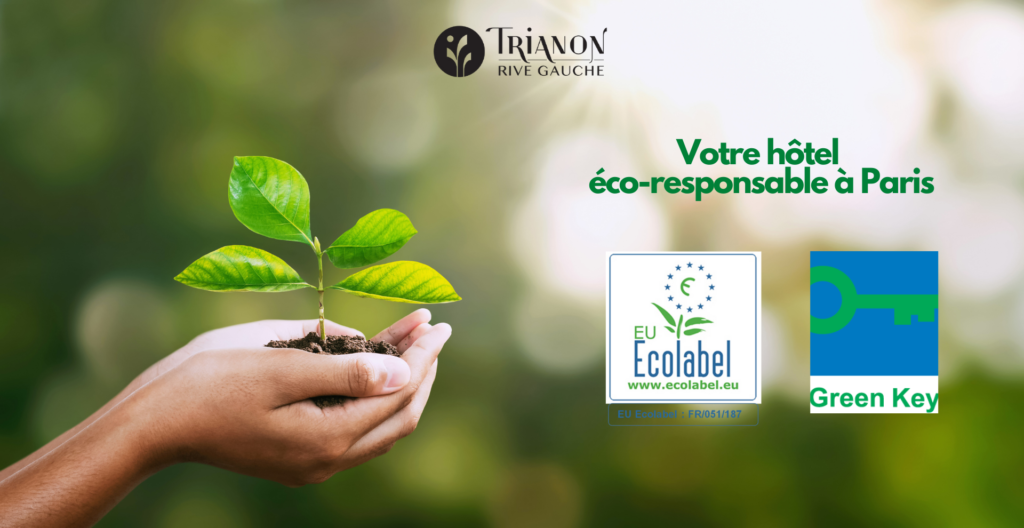 Hotel Trianon Rive Gauche is Covid-free (clean & safe)
Finally, we take advantage of this new article to announce with great pride some great news. The Hotel Trianon Rive Gauche very recently obtained its SafeGuard certification, a guarantee of a clean & safe, anti-Covid stay among us. Indeed, our actions and measures are recurrent (hydroalcoholic gel present throughout the hotel, masked and gloved catering staff, regular disinfection of rooms and hotel spaces, etc.)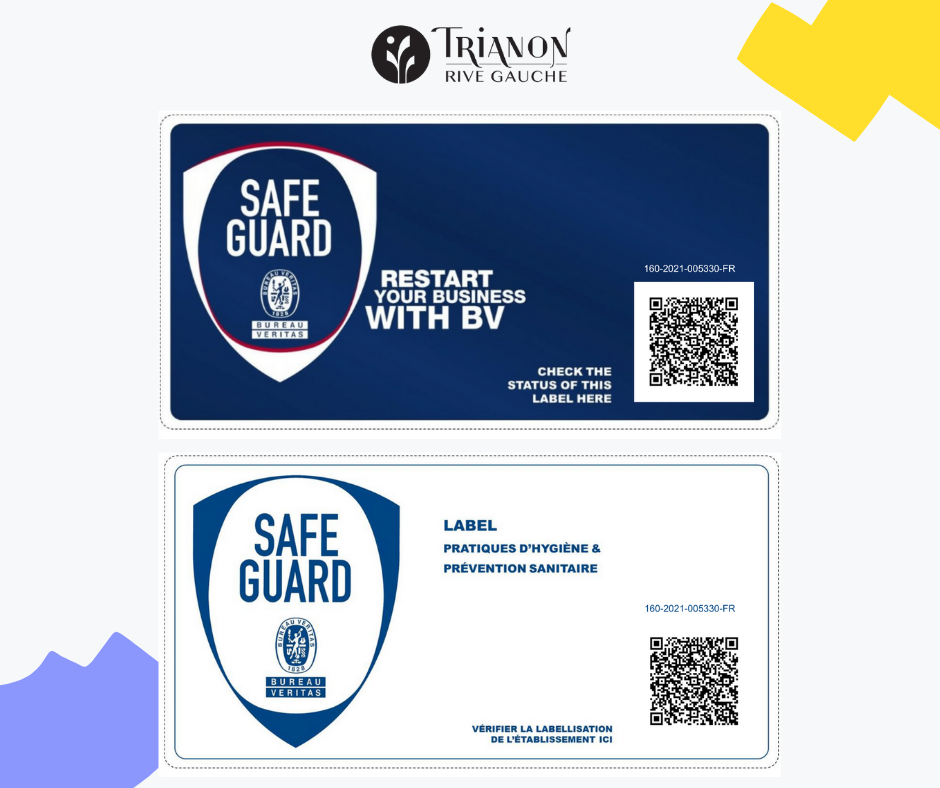 Ready to experience a memorable stay with us? Don't wait any longer and book one of our 110 rooms, some of which have a breathtaking view of Paris. Your shopping and discovery week end in the capital promise to be unforgettable!
Follow us on our social medias to be the first one to get Paris' & our hotel news!