Galette des rois 2023: Once Christmas and New Year's Eve are over, the New Year can begin… with tasty French pastries please! For Epiphany, celebrated on January 6th, French people gather around a crispy Galette des rois. The traditional Galette des rois is a puff pastry cake filled with frangipane, a delicious almond cream. Inside every galette, a fève (porcelain or plastic figure) is hidden and the lucky person who discovers the fève in their slice is declared the king or the queen of the day. While some remain faithful to the traditional frangipane Galette des rois, others are tempted by more creative galettes.
Hotel Trianon Rive Gauche presents its selection of the best Parisian galettes of 2023.
Collection Épiphanie 2023 by Pierre Hermé
This year, Maison Pierre Hermé Paris collaborates with the Monnaie de Paris to offer us the most creative galette. Only a 10 minutes walk from our hotel, it is difficult to resist the three galettes of this new Epiphany 2023 collection. Pistachio and praline galette for the very sweet tooth, lemon and grapefruit galette for the most adventurous and traditional galette for frangipane lovers… everyone will find the galette of their dreams! What's more, a pretty little fève in the shape of a macaron is hidden into each of them!
Pistachio Galette by Maison Ladurée
Maison Ladurée's pastry chef, Julien Alvarez, prepared a very unique galette with oriental inspirations to keep us warm during this Winter. The shape of this galette reminds us the traditional gâteau basque and it is filled with a molten pistachio cake with a orange blossom water touch. You will be able to taste this delicious galette only a few minute walk from our hotel.
Galette Pain Suisse de Cédric Grolet
To celebrate Epiphany, the innovative French pastry chef Cédric Grolet has combined the famous galette des rois with a delicious chocolate pastry : the Pain Suisse. This gourmet galette is ideal for an afternoon tea time and takes us back to childhood. Made of toasted croissant dough, frangipane cream with chocolate chips and roasted almonds, you can enjoy it in his chic boulangerie on Avenue de l'Opéra.
Brioche des rois by La Grande Épicerie de Paris
15 minutes from our hotel is La Grande Épicerie de Paris: an iconic Parisian food hall! This year, its pastry chef Thibault Leroy and his team have come up with diferent galettes and… brioches! In the South of France, Epiphany is not celebrated with a galette des rois but with a brioche des rois! The golden brioche des rois by La Grande Épicerie de Paris is filled and decorated with sugar pearls and delicious candied fruits. If you want to taste some South of France specialities, you should definitly try this one!
Hotel Trianon Rive Gauche for a gourmet stay in Paris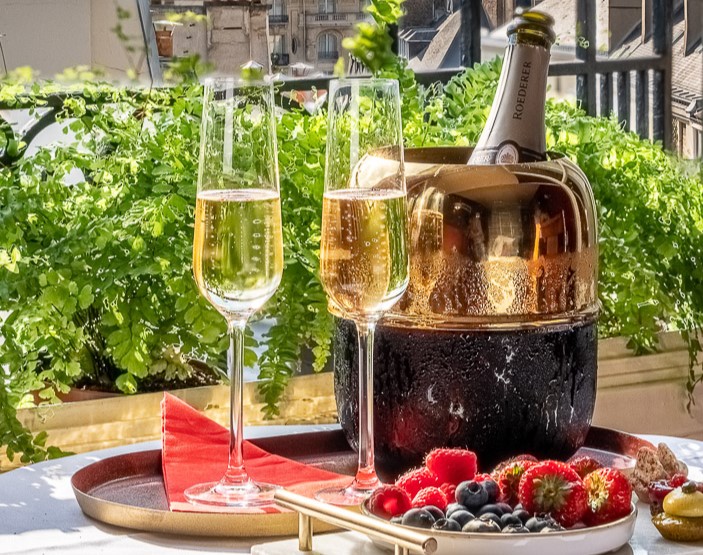 Want to enjoy a gourmet stay in Paris? The Hotel Trianon Rive Gauche is ideally located in the heart of Paris in the 6th arrondissement, the district with the most beautiful restaurants and cafés in Paris!
Our beautiful 4-star hotel offers many advantages that will make your stay in Paris unique:
✔️Hotel in the heart of Paris
✔️Rooms with breathtaking views of Paris
✔️Delicious buffet breakfast
✔️A team that cares for you
✔️A stay committed to sustainable tourism!
Want to give an unusual gift? The possibilities are endless, as are the amounts of our gift cards. Offer a luxurious hotel night in Paris and an unforgettable gift here!
To make sure you don't miss anything, follow us on Instagram and Facebook.