The countdown begins!
Your hotel olympic games Paris. Save the date! From Friday July 26 to Sunday August 11, 2024, Paris is preparing to welcome thousands of athletes and spectators from all over the world. In the midst of the fervor of the Olympic Games, finding a hotel in Paris for the 2024 Olympic Games can hardly be done at the last minute. We offer you a magical stay: book your hotel olympic games Paris for 2024.
Tickets for the Opening Ceremony will be unveiled later this year. Stay informed of the latest news on the preparation of the 2024 Paris Olympics in our regularly updated article.
The latest news – Hotel Olympic Games Paris
Updated on July 2022
Click on the titles to unroll the news that interests you!
🏃 Le Marathon Pour Tous 2024
From its candidacy phase for the 2024 Olympics, Paris promised a revolution in the general public experience. As the Marathon Pour Tous 2024 approaches, amateur athletes, enthusiasts and high-level athletes will mix for a unique race. Thus, all will take the Olympic route, under the same conditions and on the same day as their idols. The 10km course will honor the heritage and history of France and Paris. In addition, the Marathon will be accessible to all and egalitarian: 50% men and 50% women runners are expected!
⏱️ Throwback to the Olympic Day of June 26
Olympic Day took place near the Stade de France on Sunday 26 June. Sport was in the spotlight, and a taste of the Olympic Games was felt. Thirty sports federations, a hundred athletes, including fifteen Olympic medalists, were present for a giant sports festival.
The President of Paris 2024 returned to the objective of the Olympic Games: "To make people dream, to be spectacular and popular". Highlight this magnificent country that is France, and our city of light, Paris. The goal is to go where no one expects it. Thus, competitions at the foot of the Eiffel Tower, the Invalides, and even at the Château de Versailles will be planned. Of course, the grand ceremony on the Seine promises to be memorable and unforgettable.
New disciplines have also been honoured. This is the case of breakdance, which will become an Olympic sport for the first time at Paris 2024. Also, skateboarding, climbing and surfing will make their appearance during the 2024 Olympics.
🎫 Paris 2024 official ticket office
More than 13 million tickets will be available for sale for the 2024 Olympic and Paralympic Games! Paris wishes to make this major event accessible to all:
1 million tickets will be available at an entry price of €24.
Paralympic Games: the entrance fee is 15€. A total of 500,000 tickets are available at this price.
Tickets accessible on an official 100% digital platform, from the end of 2022.
In order to avoid the resale of counterfeit tickets, Paris 2024 will offer a single digital platform.
👟 L'Olympiade Culturelle in Paris
From June 23 and until mid-September, the Cultural Olympiad will punctuate the Parisian summer, combining art, sport and the Olympics. Open to all, free, future events are in line with the values of Paris 2024. This new summer event is not to be missed!
🏋️ The city of Paris supports its athletes!
Paris is supporting around fifty high-level athletes in their preparation for the 2024 Olympic and Paralympic Games. Meet these women and men who dream of exploits at the Games! For a year, the city of Paris followed its exceptional athletes.
🏟️ Major investments in Seine-Saint-Denis
The 93, at the gates of Paris, will concentrate a large part of the infrastructures sprung up for Paris 2024. Nearly a quarter of the competitions (i.e. 74) will take place in Seine Saint Denis, and 75% of the investments will go to this department. Indeed, the latter is becoming more and more attractive with the arrival of the Grand Paris Express. The 2024 Olympics will be a tremendous vector of urbanization and development for this young region. We will discover in particular by next year in 2024:
An Olympic swimming pool
A media village, welcoming more than 20,000 journalists
The Olympic Village, welcoming 14,000 athletes from around the world
A grandiose opening ceremony on the Seine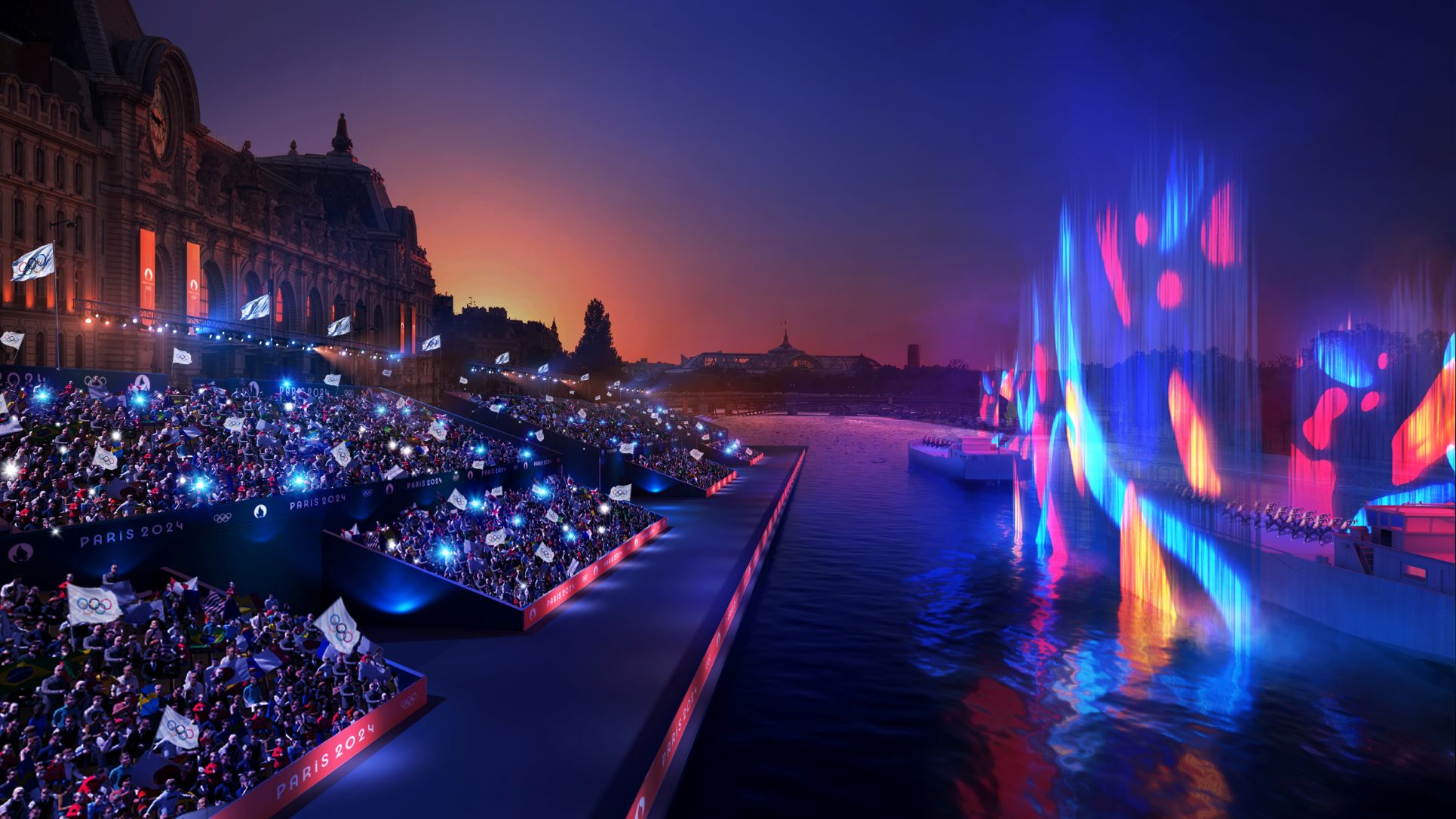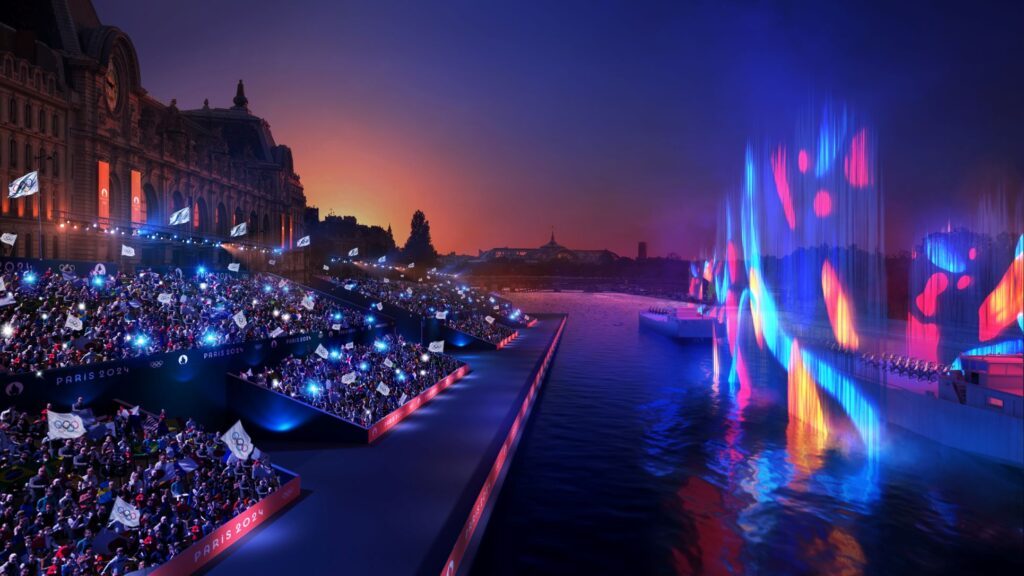 For the first time in the Summer Olympics, an opening ceremony will be held outside the stadiums. In Paris, the 2024 Olympics will open on the Seine, bringing sport into the very heart of the city. Paris will then become the living backdrop for a grandiose spectacle, highlighting its historical monuments, its bridges and also its major places of interest. Did you know? Our hotel Olympic games Paris is only a 10mn walk from the opening ceremony.
What to expect of the opening ceremony?
To begin with, the parade will take place on boats, filmed by cameras, in order to be closer to the athletes. Paris 2024 wants to break the codes, and thus offer an unprecedented opening. This is why throughout the ceremony, the parade will mingle with the artistic performances. Through a 6km route starting from the Pont d'Austerlitz, the wanderings will end in front of the Trocadéro, for a magical finale.
Note that this open ceremony is accessible to as many people as possible, and will be free for the first time. Spectators will thus be able to enjoy an overview with free access from the high quays. While on the low quays, it will be accessible with paying tickets. There will be no less than 80 giant screens, which will allow everyone to enjoy the Olympic fervor.
The ceremony in key figures
Opening ceremony on 2024, July the 26th
600,000 spectators expected on site
1 billion viewers
160 boats will sail on the Seine
A 6km course
10,500 athletes from 206 nations will be represented
The sites and facilities of the 2024 Paris Olympics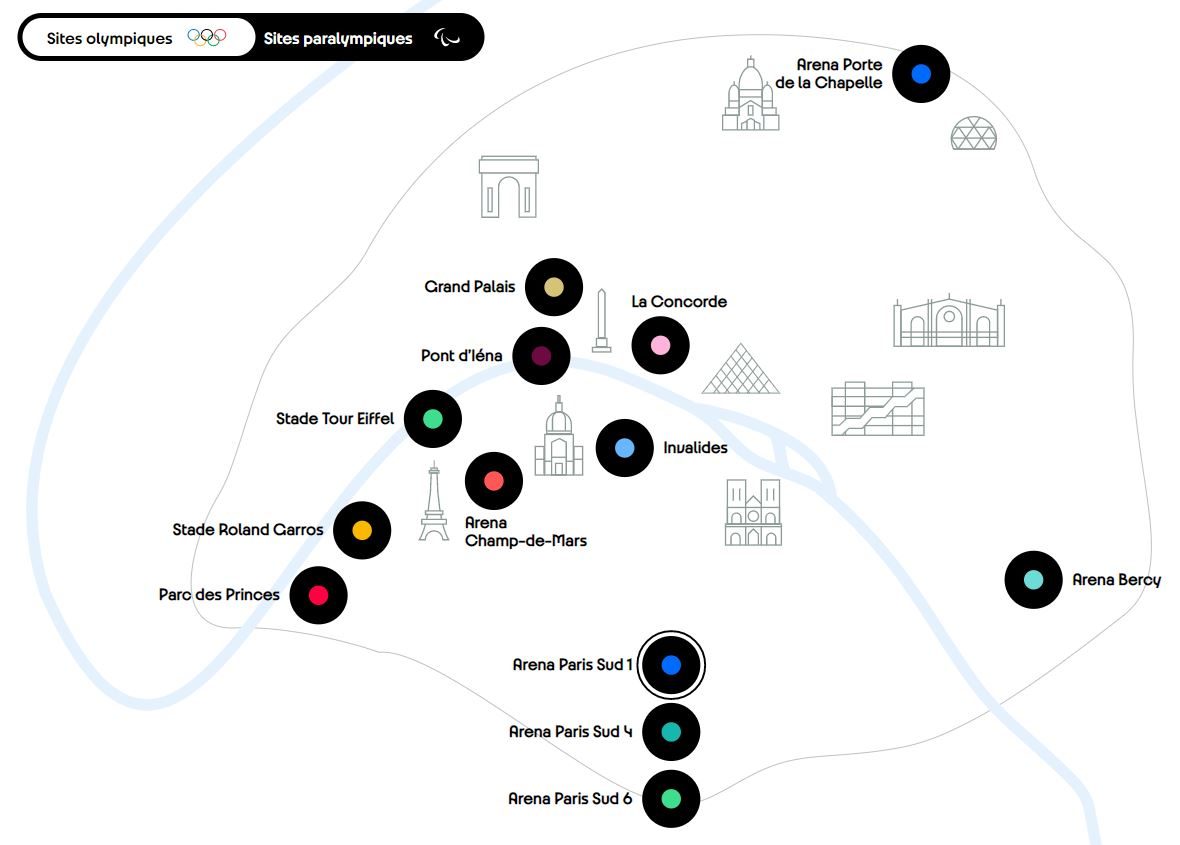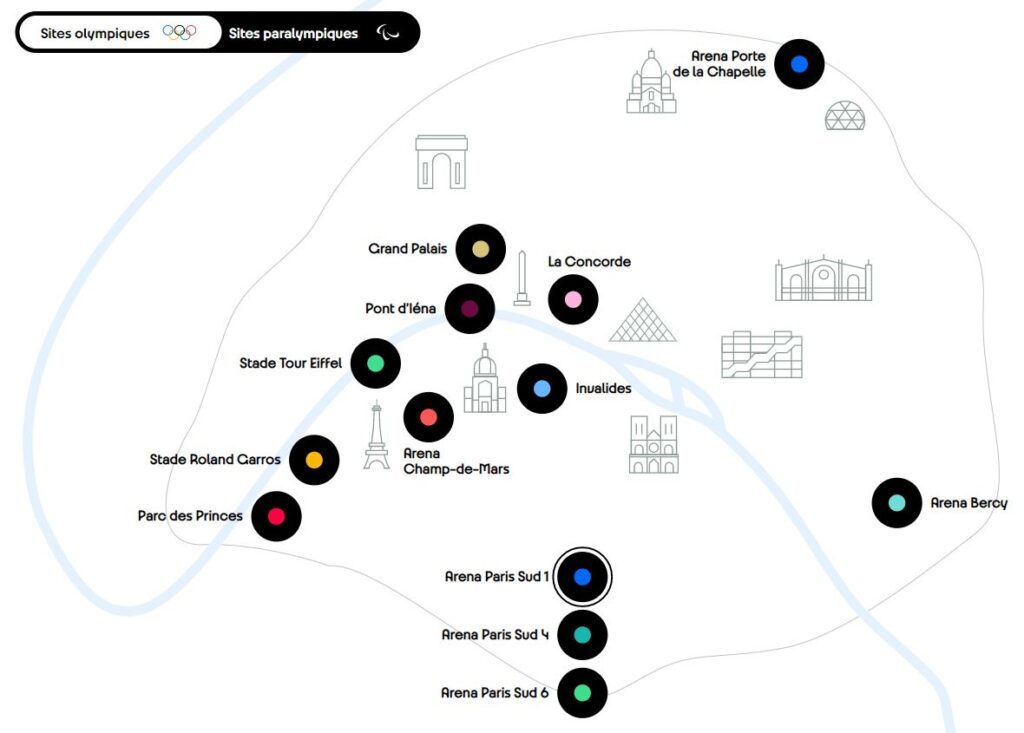 Paris will host the 2024 Olympics from July 26 to August 15, and the Paralympic Games from August 28 to September 8. Around existing infrastructures such as the mythical Stade de France, Roland Garros, the Parc des Princes or the Invalides.
For your information, our hotel olympic games Paris is direct through the Stade de France. Direct access with RER B, with no way modification to do!
Thus, Paris will deploy the great means to offer an extraordinary event. This is why exceptional temporary sites will be created:
Pont d'Iéna (triathlon, cycling, athletics, swimming)
Arena Porte de la Chapelle (badminton, rhythmic gimnastics)
Grand Palais (fencing, taekwondo)
Esplanade des Invalides (archery)
Champ de Mars (judo, wrestling, paralympic rugby)
La Concorde (basket ball, BMX, breaking, skateboard)
The athletes Village in Saint-Denis
Your hotel Olympic Games Paris 2024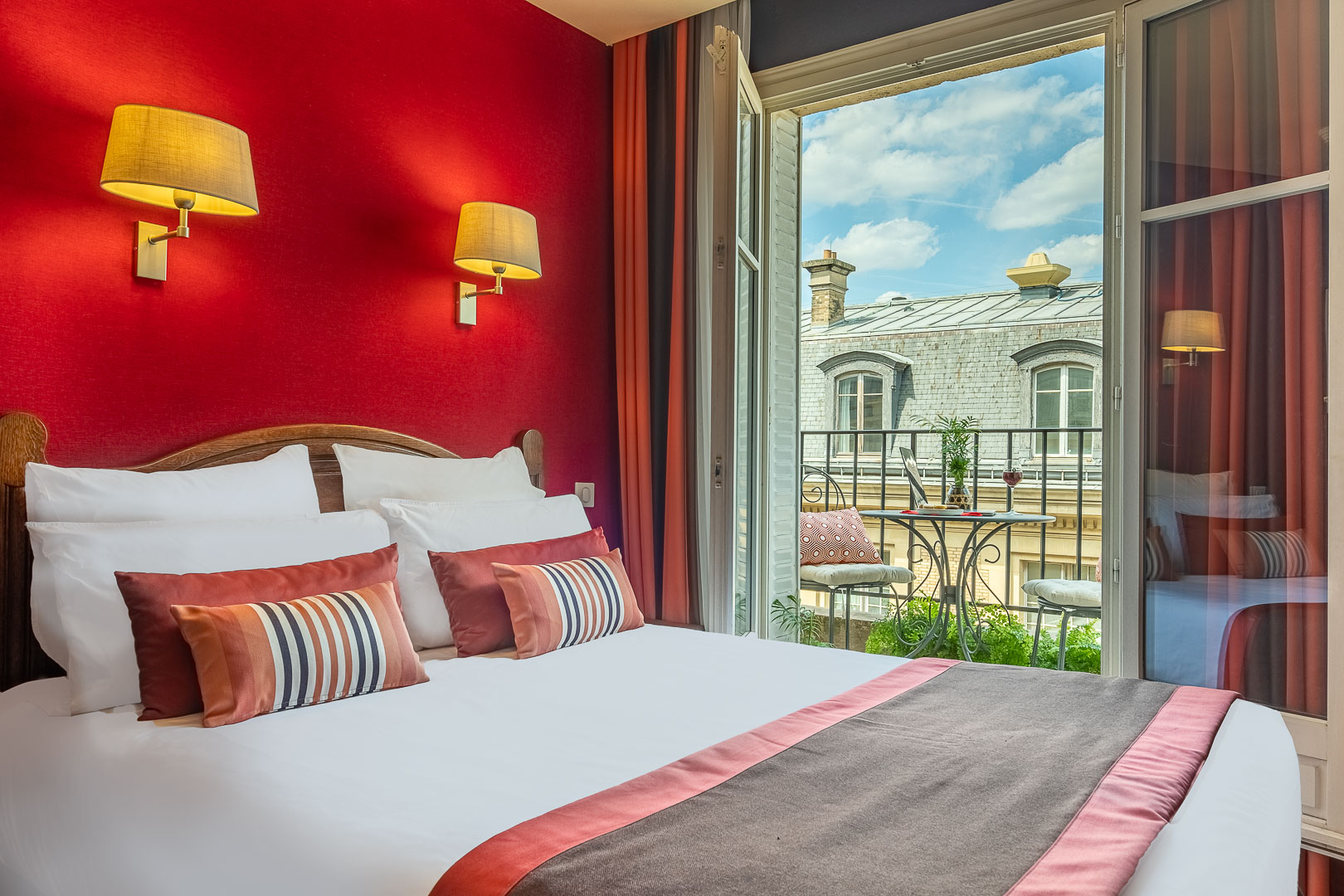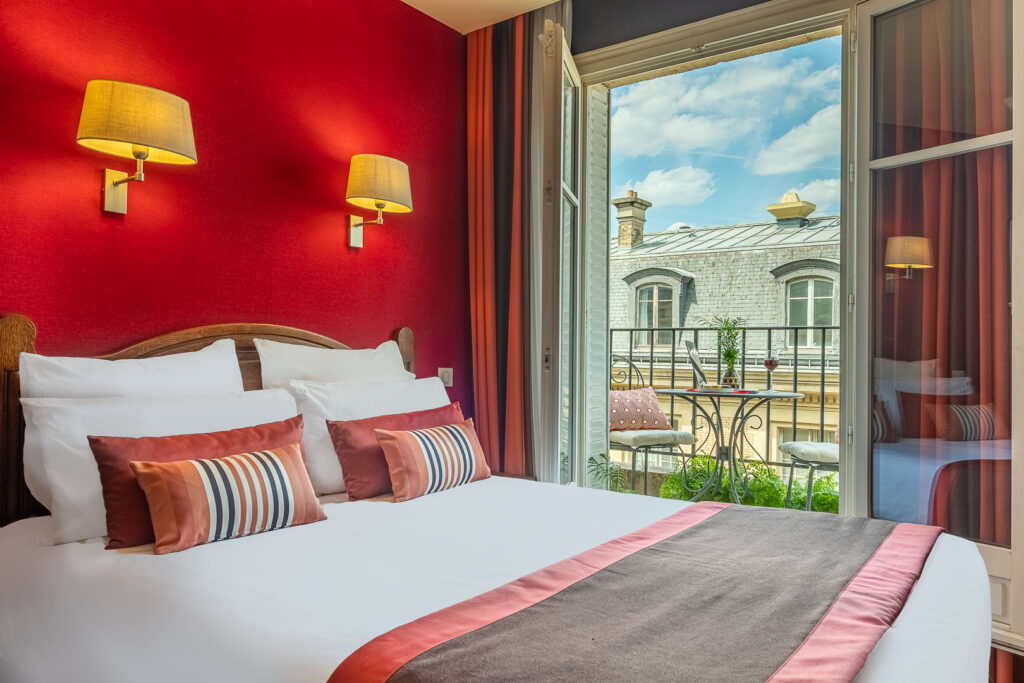 🚆 A fast and direct access by transport: Hotel Olympic Games Paris
The Hotel Trianon Rive Gauche has the great advantage of being in the heart of Paris, literally. We are located in the 6th arrondissement close to the banks of the Seine for the opening ceremony. You can also enjoy the Latin Quarter and Saint Germain des Prés just 10 minutes away on foot.
Here are the main routes from our hotel to the main sites of the 2024 Olympics:
CDG airport -> RER B Luxembourg : 45mn
Quais de Seine : 15mn by foot
Trocadéro -> Metro line 6 : 25mn
Pont d'Iéna -> Metro line 6 (Passy) : 30mn
Roland Garros -> Metro line 10 : 30mn
Stade de France (RER B) : 35mn
Arena Porte de la Chapelle -> Metro line 12 : 40mn
🏡 Make yourself at home: Hotel olympic games paris
The Trianon Rive Gauche offers fully equipped rooms to suit any type of stay (weekends and long stays).
Fancy a romantic getaway? We will direct you to our superior rooms with panoramic and breathtaking views of Paris (Montmartre, the Eiffel Tower and Notre-Dame). Put on the bathrobe, in our hotel olympic games paris, then take advantage of the care products from the Nuxe and Clarins ranges worthy of a luxury hotel. Then help yourself to the minibar, and enjoy our selection of drinks or chocolate.
The double opaque curtains, as well as the double-glazed windows will guarantee you a deep sleep and discreet privacy. Finally, install your "Do not disturb" sign, and enjoy the cozy and quality bedding. Our hotel olympic games paris thinks about your well-being.
As for families, our large connecting or triple rooms will suit you. For your toddler, we have everything. A cot, a high chair or a bottle warmer can be requested at reception.
Each room has a flat-screen TV, with access to a number of international channels (TVE, CNN, Russia Today, etc.). Thus, you will be able to follow the news of your country while being disoriented by the sumptuous view offered by the balcony. Depending on your needs or wishes, you can also have extra pillows, bed linen or bathrobes. Your hotel olympic games paris is ready to guide you through your stay!
During a business trip, the deluxe rooms with full amenities will satisfy you. Indeed, plug your devices into the many outlets in the office, store your personal effects in the safe, and enjoy a high-speed wifi connection. Everything is done so that you can work in optimal conditions.
Far from home does not mean far from great comfort and calm. On request, you will have at your disposal a kit for shoes, a sewing kit but also a writing kit. In addition, hotel olympic games Paris has an ironing board, to be impeccable during an outing or an appointment. It must therefore be available in more than half of the rooms.
🛎️ Our 4-star services: Hotel Olympic Games Paris
Staying with us promises to be unforgettable, at the Hotel Olympic Games Paris. Our team offers you a multitude of services ranging from catering packages, workspaces and entertaining activities. Everyone finds their account, and their happiness.
Our catering service consists of several formulas, in our hotel olympic games Paris.
When you get out of bed, you will have the choice between a continental breakfast, a buffet breakfast or a breakfast served in the room. We offer up to 14 ranges including hot drinks, fresh fruit, charcuterie, pastries and cheese. We want to satisfy as many gourmet desires as possible, including in your room, with room service.
We are also thinking of families, friends or even couples who have come to recharge their batteries in our hotel olympic games Paris. Do you want a friendly and relaxing moment? Board games are available on demand, enjoy a game of Monopoly, Poker or Domino.
Fancy a sports excursion around the Trianon Rive Gauche? That's good, we are ideally located in the center of Paris. Take advantage of the Vélib station in front of our hotel olympic games Paris, and discover the city by bike. The Jardin du Luxembourg and the Panthéon, just a 4-minute walk away, will allow you to start the day on the right foot.
A stone's throw from Saint Germain des Prés, you can enjoy a real cultural and artistic tour. Discover the 6th arrondissement of Paris, near our hotel olympic games Paris.
🌱 Our commitment as an ecological hotel
At the Hotel Trianon Rive Gauche, hotel olympic games Paris, we are fully committed to this approach. Our teams have all been made aware, during training, of the economical management of energy, water and waste.
We also want our customers to stay informed about our sustainability actions. This is why we regularly update articles and information on our website. You can find them in the "Ecology" section, in our welcome booklet during your stay, and on our social networks.
At the Hôtel Trianon Rive Gauche, in order to reduce our energy consumption, all of our rooms have been fitted with low-consumption light bulbs. In addition, we have installed presence detectors in the circulations. We also participate in waste management by limiting food waste and through selective sorting.
In order to limit our carbon footprint, our housekeeping team uses environmentally friendly cleaning products. As for our catering offer, we highlight at least 2 regional or organic products. This is the case of our spreads and honey from organic farming, or our AOP certified county.
This is why the implementation of these many eco-responsible criteria has enabled us to obtain 2 eco-labels. This highlights our commitment and our values. The European Ecolabel and the international Clef Verte certification are the guarantee of sustainable tourism among us.
Ultimately, booking at the Trianon Rive Gauche, hotel Olympic games Paris, is the guarantee of a quality service, and environmental values respected for an unforgettable stay!
✨ An unforgettable and eco-friendly stay
Come to Paris to experience the 2024 Olympic Games, and why not? Stop dreaming and start planning your visit! For a magical stay, book our Superior rooms with a view or with a balcony. The view of Paris (the Eiffel Tower, the Sorbonne or Notre Dame) is breathtaking! With family or friends, book our Executive rooms (up to 3 people) or our communicating rooms (up to 4 people).
In addition, our hotel olympic games Paris is proud to be committed to sustainable tourism through its eco-friendly actions. The Hotel Trianon Rive Gauche is thus certified by the European Ecolabel and the Green Key label. Click for more information.
Our reception team will be happy to organize your stay. A hotel olympic games Paris.
Write us at: hoteltrianonrivegauche@gmail.com
For all group reservations (4 rooms and more): contact@hoteltrianonrivegauche.com