An eco responsible stay in Paris? It's possible ! Our beautiful city of light has not finished surprising locals and passing tourists. Paris' environmental commitment continues to grow, particularly as the Olympic Games 2024 Paris is preparing.
The Hotel Trianon Rive Gauche, an eco responsible hotel, offers you an article in two parts. The team explains everything to you! You will first discover how our ecological hotel is committed to responsible and sustainable tourism. This week, you will discover the green actions carried out in Paris (soft means of mobility, greening of the city, etc.). Finally, you will discover the commitment of our eco responsible hotel through its ecological approach, in particular by obtaining the European Ecolabel and the Green Key. But also how you can act on the environmental impact during your eco responsible stay in Paris.
Eco responsible stay Paris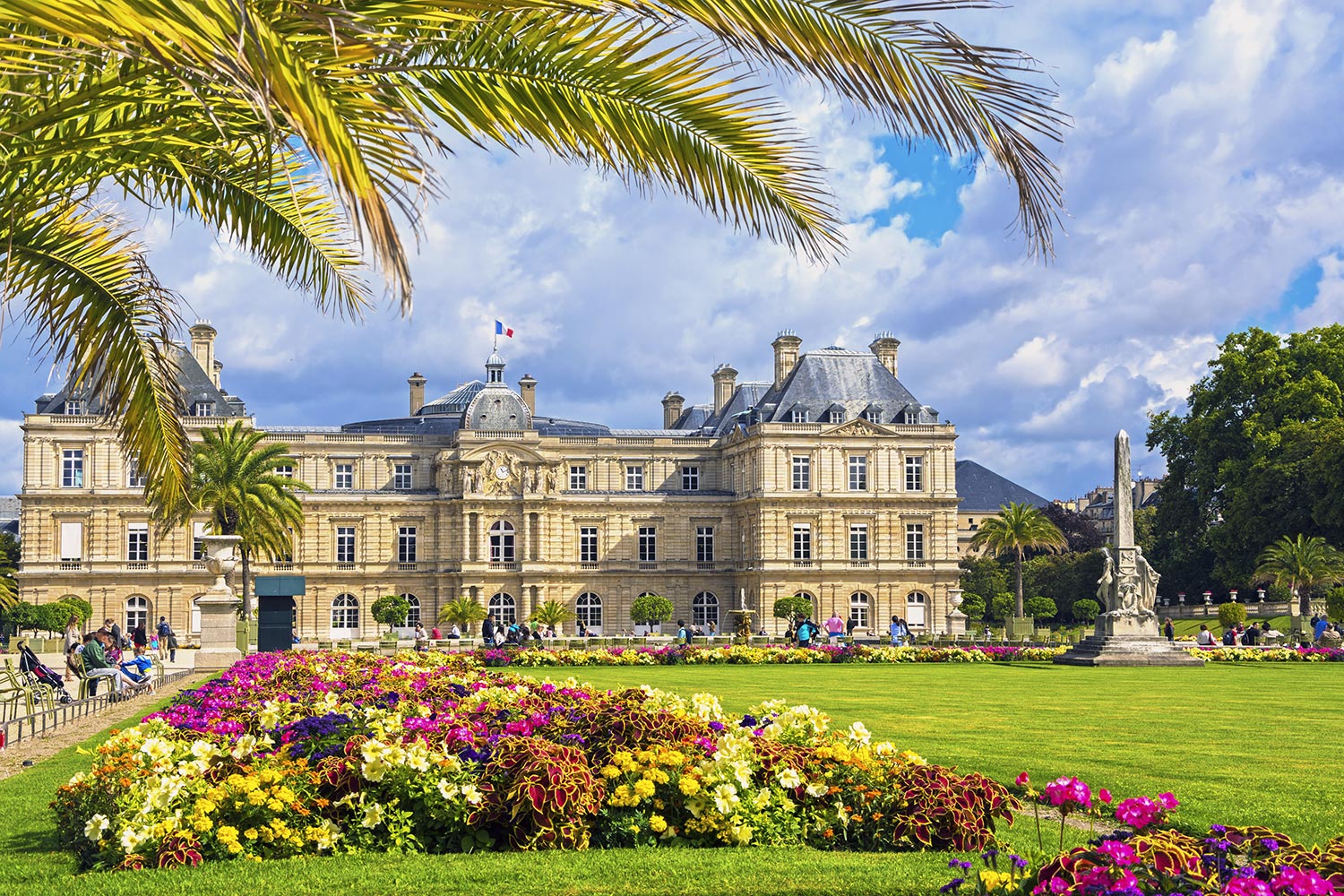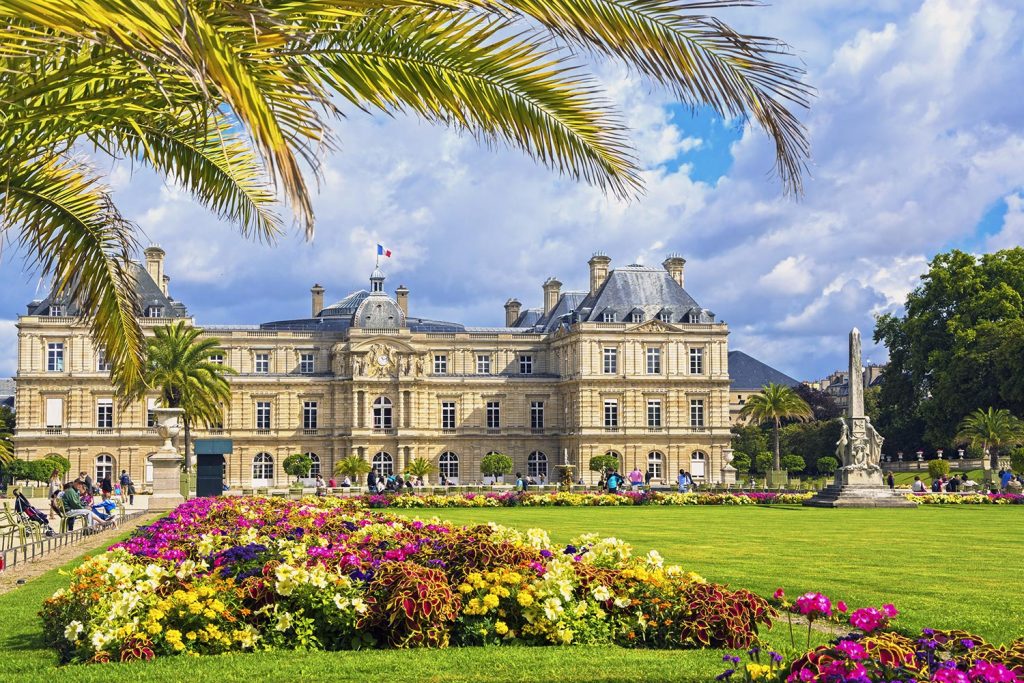 Sustainable tourism in a few words…
According to the World Tourism Organization, sustainable tourism is responsible tourism that takes full account of its current and future economic, social and environmental impacts, meeting the needs of visitors, professionals, the environment and communities.
An eco responsible stay therefore reduces your carbon footprint. By different means: choice of soft mobility, green activities, local and organic consumption, ethical shopping, behavior that cares about the environment… All this applies to the Hotel Trianon Rive Gauche, by all the staff and in our Sustainable development Convention.
Paris green city, sustainable city
The green/electric transport network in Paris
RER, Metro, Bus and Tramway cross Paris and allow anyone to move around comfortably, while reducing their carbon footprint.
RATP buses consist of 100% electric buses, such as line 115 or line 126. By 2022 to 2023, no less than 450 100% electric buses will be available on the Ile-de-France network. With these new vehicles, the RATP hopes to become a global benchmark for low-carbon transport in Paris
A new generation of soft mobility
The best known in the capital remains the essential Vélib, with its colorful green (mechanical) and blue (electric) bicycles. Accessible via the Vélib mobile application, choose between the different packages (hourly, 24h or 3-day pass).
Did you know ? A Vélib station is available just in front of the hotel!
Station n°6029 Vaugirard – Monsieur le Prince
Everything is done for you to enjoy our ecological hotel and Paris, during your eco responsible stay.
You will sometimes find in Paris sidewalks filled with Lime, it is the pioneer in the capital. And for good reason, fast, ecological and effortless, the uses are numerous. The advantage is that you can drop off your scooter anywhere.
Cityscoot allows you to rent an electric scoot in town. The first 100 minutes are credited in advance.
With the Moov'in Paris app, it is possible to rent a Renault Zoé car, or a small Twizy car, a compact vehicle for 1 or 2 people.
Towards a greening of the city
Major green urban projects are coming to Paris, very promising! Thus, the Eiffel Tower and its surroundings will be revegetated by 2024, as the Paris Olympics approach. Citizens and a special jury voted for the "OnE I" project by the agency Gustafson Porter + Bowman.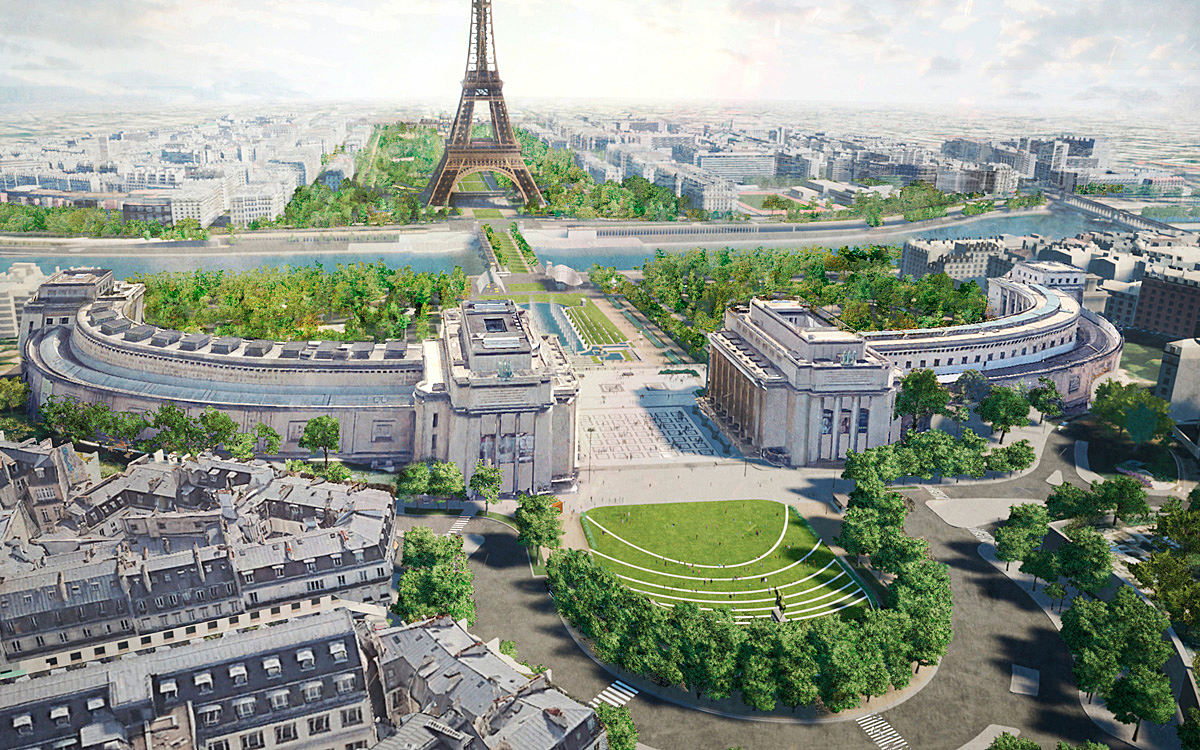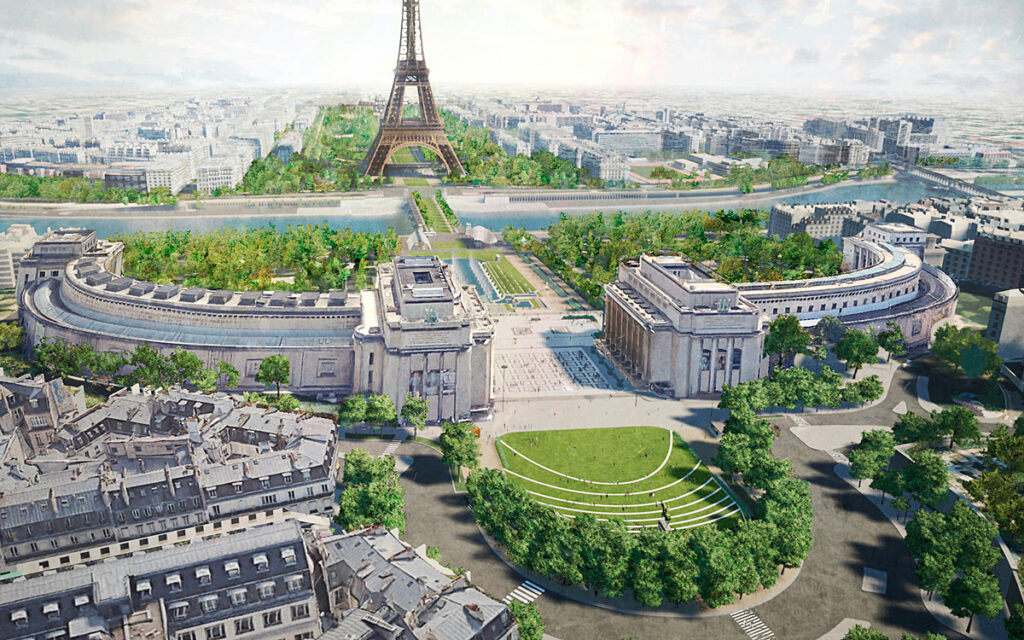 A bold project aiming to further pedestrianize the space, promote soft mobility and of course, develop nature in the heart of the city. It is therefore the Place du Trocadéro which would be pedestrianized, leaving a green esplanade and an exceptional view.
In the end, it will be more than 16,000m² of additional green spaces, 35,000m² of roads returned to pedestrians and transport such as bicycles and scooters. More than 200 trees will also be planted, in order to perfect this veritable green lung.
Your eco responsible stay in Paris
Our eco responsible actions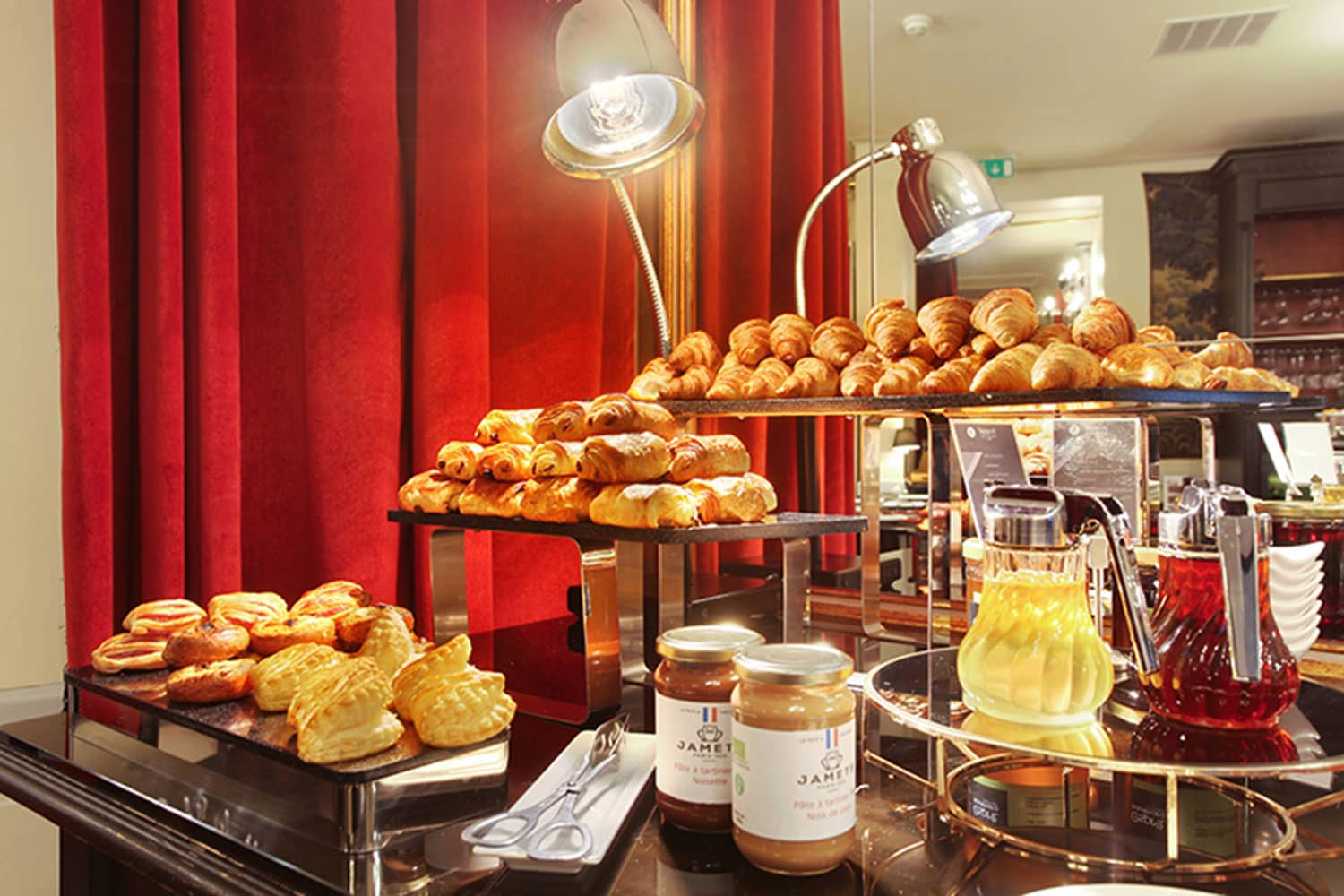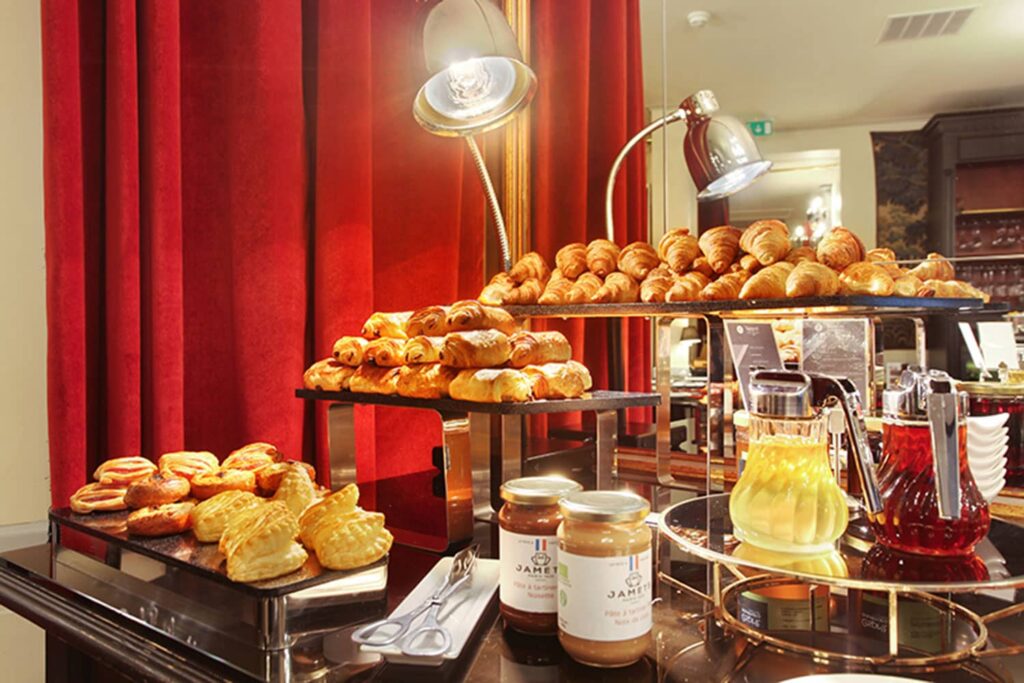 The Hotel Trianon Rive Gauche is fully committed to respecting the environment. Through our many actions, we offer an eco responsible stay, in the very heart of the city. Our two labels: European Ecolabel and the Green Key bear witness to our involvement in sustainable development. Your ecological hotel guarantees you a warm welcome, for an eco responsible stay.
In room, low consumption light bulbs are installed. Glass water bottles are also arranged to reduce plastic and allow direct refilling of water.
At breakfast, everything is in large packaging in glass jars (butter, jam or even honey). This also helps to fight against food waste, and to refill as you wish. Goal zero waste!
In addition, our customers love our natural squeezed orange juice. What to get a good morning vitamin cure.
Internally, we reduce all of our waste. We also participate in sorting waste, and cleaning products are the least harmful and chemical possible. In addition, the entire team is trained each year in these eco-gestures. Coming to the Hotel Trianon Rive Gauche is the guarantee of an eco responsible stay in Paris!
You can also help change things!
During your stay, you can also participate in eco responsible actions:
Choose soft means of transport on site (bicycle, electric scooter, walking, etc.)
Prefer direct booking on our site (without commission)
Limit your energy consumption
Plus, how about reducing your carbon footprint with just one click? When making your reservation, tick the option "Plant trees to neutralize the CO2 emissions of your stay". For only €1 per room per day, you will participate in planting a tree in France. Thus, this contribution allows you to preserve and regenerate the environment during your eco responsible stay.
This project is in partnership with Reforest'Action, whose mission is to preserve, restore and create forests in France and abroad. The trees planted are monitored over time by forestry experts and agronomic technicians to ensure their growth in the best possible conditions.
Paris by bike!
The Tourist Office offers cycling routes along the water, and in the city. From our ecological hotel, find all the main points of interest: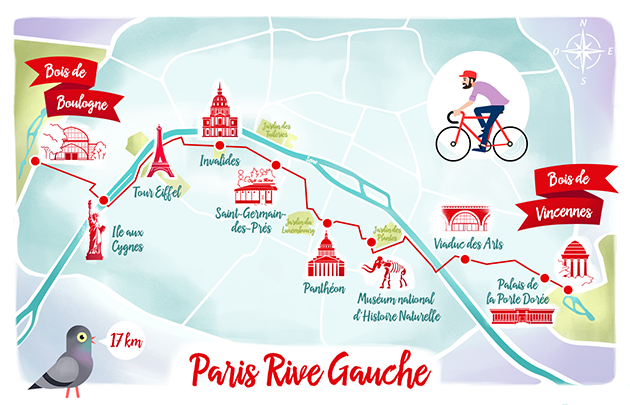 The guarantee of sustainable tourism
Our ecological certifications : Green Key and European Ecolabel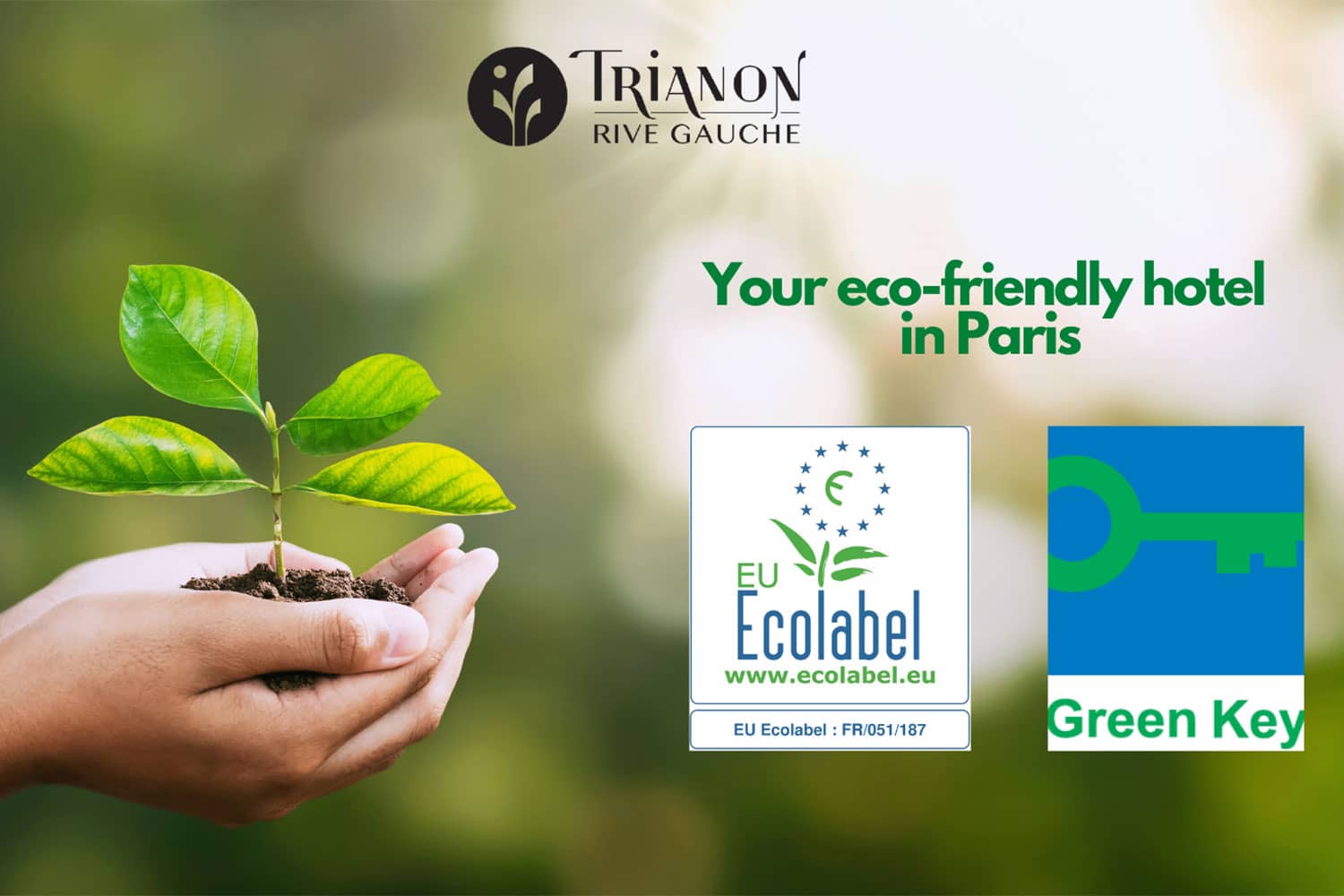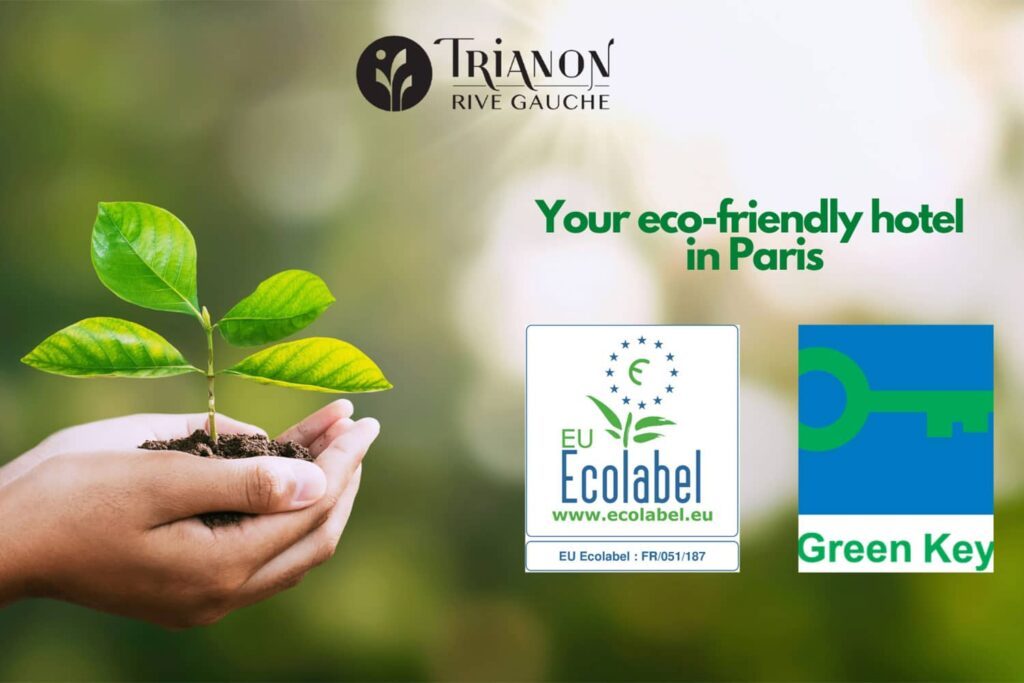 At the Hotel Trianon Rive Gauche, we are fully committed to preserving the environment. Our actions and measures concern the hotel and its rooms as much as the common areas or even the internal service. Indeed, our staff is regularly trained and participates in our various actions.
The Hotel Trianon Rive Gauche is proud to be certified by the European Ecolabel and the Green Key. These two certifications guarantee our environmental actions and our commitment to green tourism. Thus, our eco responsible hotel is committed to sustainable and ecological tourism. We display our environmental values on our website, blog posts and social media. You can find all our latest green news in our blog.
Our commitment to the Paris Tourist Office
Did you know ? The Hotel Trianon Rive Gauche is also member of the Paris Tourist Office's Charter for sustainable accommodation in Paris.
This Charter demonstrates once again the desire of our teams to engage in responsible tourism. Respectful of the environment, respectful of tourism, respectful of our customers.
Because an eco responsible stay also means leaving with great memories… Don't miss the second part of our article, where you will find the best addresses and beautiful places in Paris. A special selection from our team with ethical restaurants, nature activities, or smart eco-purchases in Paris…
The future is green, let's all go green!
Stay tuned, follow us on Instagram and Facebook 
Want to please a friend, your family or your lover? The possibilities are unlimited, as are the amounts of our gift cards. Gift a special night to a special someone HERE!