Welcome to the Hotel Trianon Rive Gauche Paris, which gladly welcomes you in the comfort, quiet and serenity that everyone needs during this challenging period.
The heart of the City of Lights continues to beat at its own pace. And the 6th arrondissement of Paris is still just as beautiful.
The windows of our 4-star hotel, the Trianon Rive Gauche on the left bank, still open onto the Saint Germain des Pres district: some of the capital's most beautiful monuments are enhanced for your pleasure.
One by one, tourist places, museums, River Seine banks and Catacombs open their doors with respect for everyone and security for all.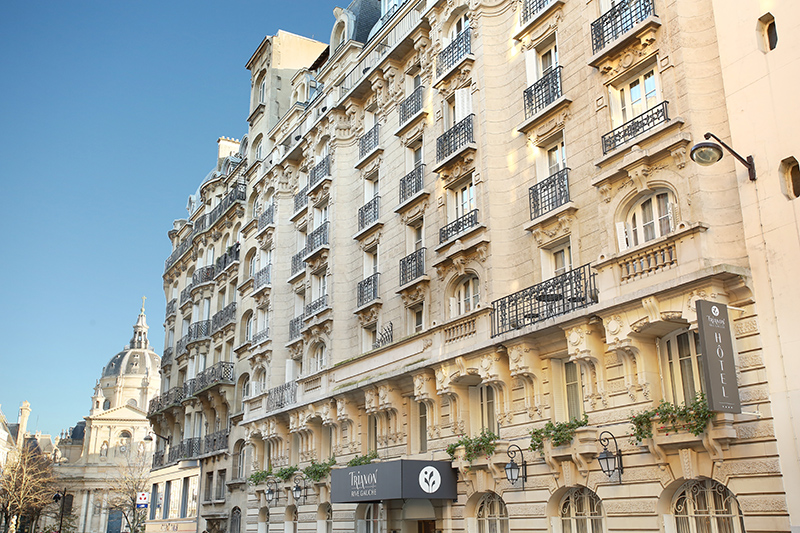 The pleasure of enjoying Paris peacefully
Once again you can enjoy Paris' charming gardens. Up to now, only Bois de Vincennes and Bois de Boulogne were open. By now, reopening of the parks has been confirmed for our greatest happiness.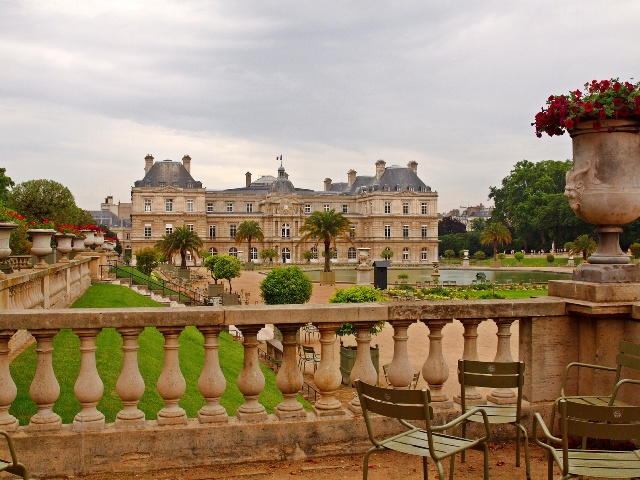 We are a stone's throw from the Luxembourg Garden, one of the most beautiful parks in Paris. You can enjoy the magnificent flower beds and famous chairs at the edge of the pond, smiling at the children who play with the miniature boats for hire, but also play tennis on one of the courts open for booking, or discover the hidden beehives at the edge of the garden, next to rare species of fruit or vegetables.
If you are sporty, popular running paths await you. Soon you'll be able to take advantage of the museums that are reopening, such as the Louvre and Orsay Museums for example, near our hotel in Paris.
July shines under the sun. Make the most of a weekend in Paris and (re)discover Parisian architecture visiting: Ile de la Cite, Ile Saint-Louis (don't forget to stop for inimitable Maison Berthillon ice creams!), the lovely hidden streets of Latin Quarter, Eiffel Tower or Trocadero esplanades, and go up the legendary Champs-Elysees Avenue.
Public transport is accessible, wearing a mandatory mask. Let's hope the Capital will open its splendors wide for the most nicest months of the year, to enjoy Cafe terraces and restaurants. Facing our hotel, you will be enchanted by the pedestrian Sorbonne square with typical Parisian cobblestones, the world famous university, and can have a drink or dine in the shade of the magnificent 17th century chapel.
A little further away, the mythical Saint Germain des Pres square is still there for you, from literary cafes to luxury boutiques, it is the best time to enjoy it quietly. The Cafe des Deux Magots awaits you, as well as Cafe de Flore, with a little bit of shopping in the Louis Vuitton shop located in between!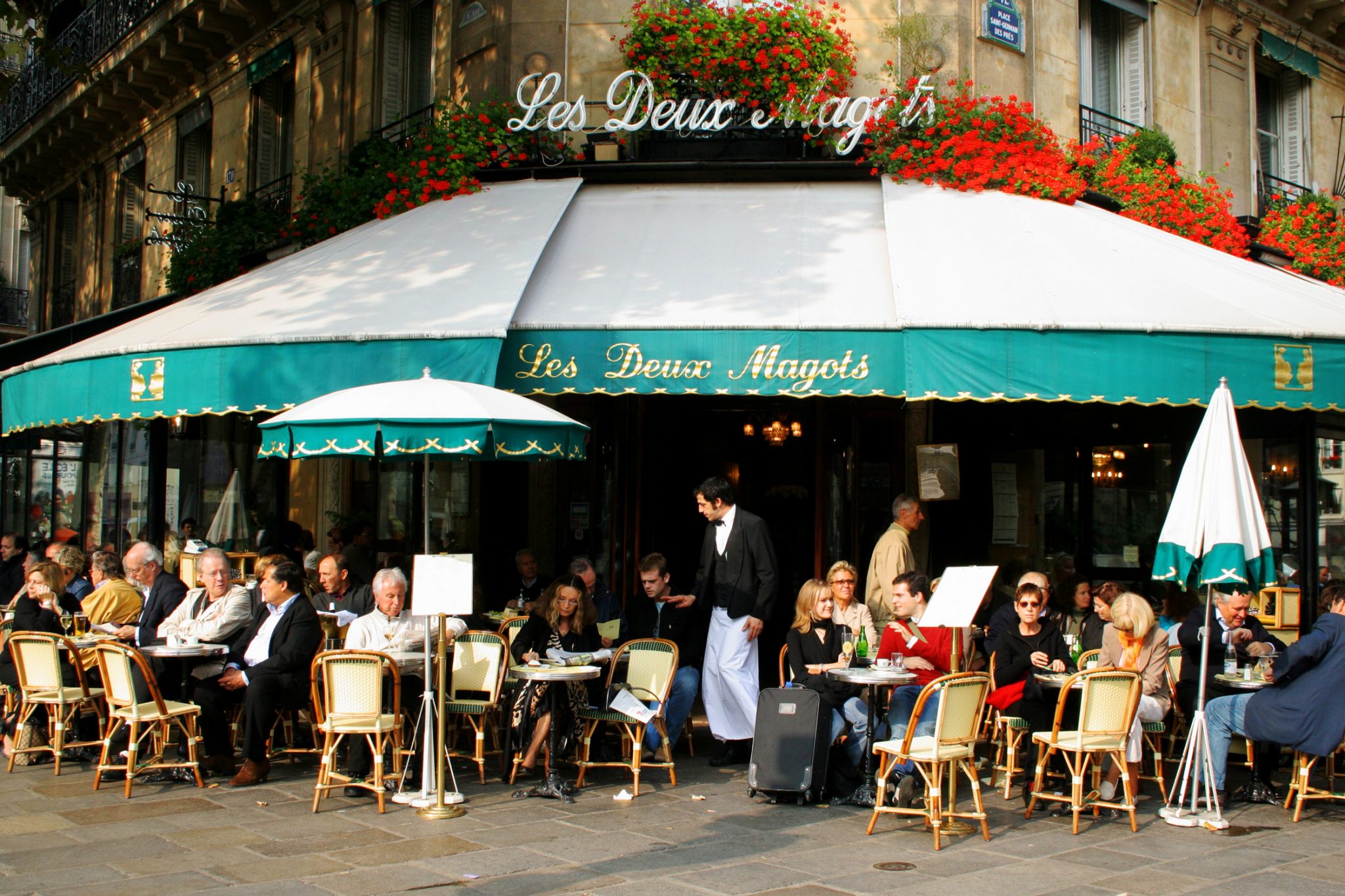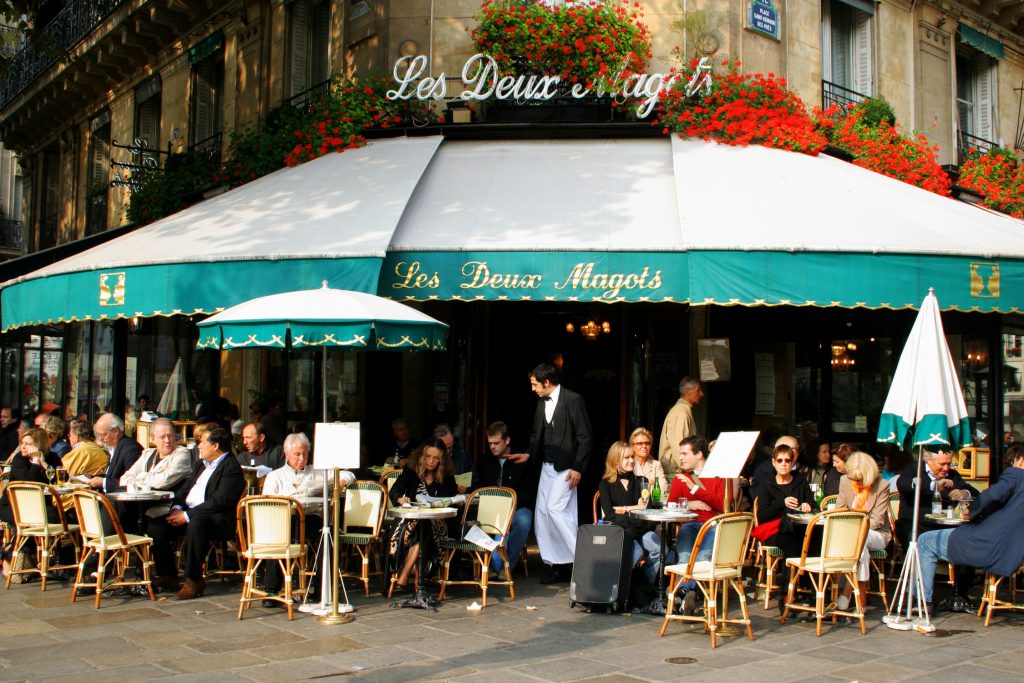 In a few minutes, choose to go to the very photogenic Passerelle des Arts footbridge or opt for a nice visit of Paris along the River Seine thanks to the riverboats and the nearby company "Les Vedettes du Pont-Neuf".
If you have a little more time, we recommend the picturesque Mouffetard district, its many artisanal and typical shops, steep alleys, and the secret Arenes de Lutece, a rare Gallo-Roman arena magnificently preserved.
Best hotels ensure a safe stay
After two months apart, we gladly reopened on May 18th, 2020 to host you.
The Trianon Rive Gauche hotel is proudly a part of the French hospitality trade, and keen to apply flawless cleaning standards. To go even further than the already exhaustive daily plan, we decided to undergo a thorough inspection in order to offer you even more security. Each task has been analyzed.
From check-in to the departure of our guests, all interactions in our hotel have been reviewed from all angles. Each area of ​​the hotel, from the lobby to the rooms, including the breakfast room and the meeting room, is being taken care of by our teams, including the latest recommendations regarding cleaning solutions.
It is our professional obligation, and it assures you of our complete respect. These procedures were conducted by our team managers, trained with a demanding degree of professionalism, then implemented by our dedicated employees, providing you with the best service.
Health measures adopted by our teams
Rest assured that our teams have only one goal: your safety, without compromising the quality of welcome, comfort and service that characterizes us! Our staff is equipped with masks, gloves and hand sanitizer. Our teams have been trained in applying recommendations made by health authorities, and the hotel's cleaning and disinfection standards reviewed. They are made aware of the importance of cleaning hands as often as possible and after each interaction.
Payment equipment, luggage racks for example are cleaned after each use. Special measures have been set and applied between each room occupation.
We have also implemented additional safety measures such as:
– counter windows at the reception desk,
– hand sanitizer available anytime,
– adapted check-out ; we now offer remote payment as well as sending your invoice by email.
Beyond these measures, we are committed to a tailor-made service offering room service and recommending best local restaurants.
Flexibility of our offers, comfort of our rooms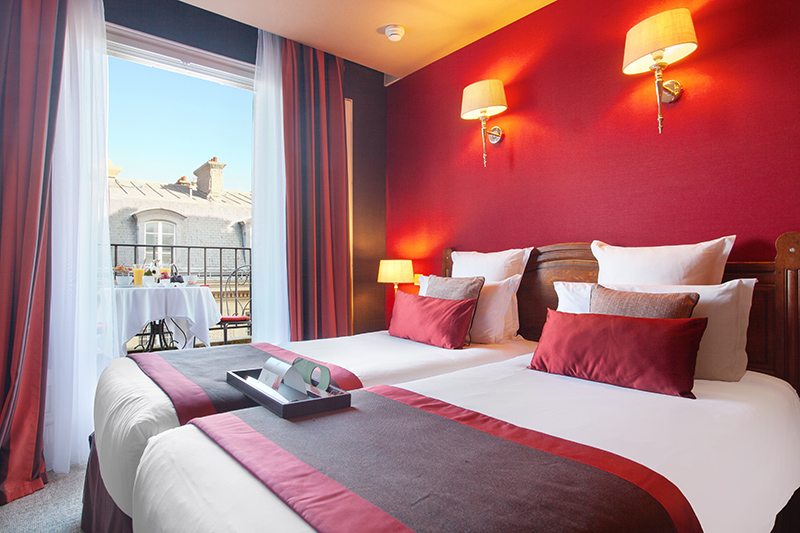 We are fully aware that the current situation is not for everyone to travel. We have therefore decided to propose flexible rates. You can change your mind and cancel your stay until 6:00 p.m. on the day of arrival.
Come and relax in our comfortable and very well-equipped rooms. Our superior rooms reveal a breathtaking view of Paris or a charming furnished balcony for a nice breakfast outside feeling alone in the world!
Our Deluxe rooms offer a large king-size bed and additional equipment such as an espresso machine or an aromatherapy shower.
Available in all rooms, enjoy bathrobes and slippers, satellite channels TV, branded bath products (Nuxe or Clarins), kettle and air conditioning, among others.
Proud to have passed the European Ecolabel certification, we offer you a sustainable stay, with many measures that reduce our ecological impact and promote direct or local suppliers.
We are particularly happy to offer hand-crafted jams for breakfast, fair trade coffee, PDO pastries or cheese, chocolate spread from organic farming. We even sponsor a beehive in order to offer you delicious Parisian honey!
News of the reopening of Parisian monuments and museums
For complete information, we are happy to provide the latest news from iconic places of the French capital:
The Orsay Museum reopens on June 23, 2020.
Wearing a mask is compulsory. To make the most of this magnificent place, you must book a time-specific ticket online here. Traffic directions are in place at the entrance and exit, but not inside the museum. Please note that access to lockers is limited, and that hand sanitizer is available.
The Eiffel Tower reopens on June 25, 2020,
This monument limits visits up to the second floor only at first. The elevator will be available from July 1st. Again, wearing a mask is mandatory, and it is recommended that you purchase your ticket in advance here. The last floor should open in the coming weeks, and in the meantime, traffic directions are in place (entry by the South or East corners, and exit by the North or West corners).
As for the Louvre Museum,
It reopens on July 6, 2020. As for the previous two, online ticket purchase (here) is mandatory, as is the wearing of a mask (always only for adults and children over 11). Against the Covid-19, sanitary measures and social distancing must also be respected in order to protect yourself and others.
In Latin Quarter and Saint Germain areas
In the neighborhood, we warmly recommend the Eugene Delacroix museum and art studio, already reopened and with free access all summer long! To take advantage of this intimate place and its secret garden, please do not carry a large bag or accessory (strollers in particular are not accepted). You can book a visit slot (telephone contact details here, office hours), or come on site and enter depending on the crowd.
Near our hotel, do not hesitate to go to Notre-Dame Cathedral. Even if it is still closed, the forecourt has reopened, and a walk in the narrow streets of Ile de la Cite and the river Seine banks is unforgettable. On the way back, after this nice walk, plan a short stop at "Odette" cake shop and its divine choux buns.
To pay tribute to the Great French Men, go to the Pantheon! The same instructions are applied, and the reservation (see here) is also imperative.
We don't forget families! Regarding Disneyland Paris, the reopening is announced for July 15, 2020. The security measures are obviously reinforced and the capacity limited. The physical distancing will be organized in the attractions, and even if there will be no parade or fireworks at first, the encounters with Disney characters will be increased to the delight of the youngest! Here is the official link for booking your tickets.
We look forward to hosting you again, the Trianon Rive Gauche Hotel Paris hotel is waiting for you to make life even better with an unforgettable Parisian stay!